So, we decided to take a trip across the pond. I stocked up on Snickers and gum, because everyone to a person warned me that the food in England is absolutely atrocious. I begged off bringing the ten or so Ben Sherman shirts I own in order to not look like an American asshole who went to London to stock up on English-made shirts on the cheap. The only dorky move I made in retrospect was lugging my fifty-pound Doc Martens with me. Oh well, it's hard being intercontinentally hip.
The funny thing about London is that it's essentially an older, smaller version of Manhattan. There's a theater district, a financial district, Chinatown and even a porn/sleaze district that is being squeezed out by the ever-growing surrounding hipster neighborhood. The place is packed with bars and restaurants and streets full of gawking tourists like myself. We, of course, decided to stay in the decidedly familiar 'hood called Soho. I highly recommend Hazlitt's Hotel, the cool, old-school joint we stayed in. With no elevator, crooked staircases and very funky rooms, it's like staying in a very nice, very expensive, version of your friends' studio in the West Village.

A view askew of Soho from our room window
We flew into Gatwick Airport, which is apparently somewhat akin to flying into Newark when visiting New York City. Either way, we found London way more user friendly than New York right off the bat. The porters for the Gatwick Express were friendly helpful andspoke fluent English! Unfortunately they didn't help me power-lift Mrs. Hipster's gargantuan bag onto the train, but it's my job to absorb another hernia, not theirs.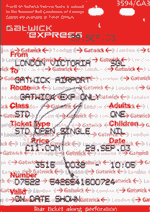 Always trepidacious about transportation in strange cities, we were very pleased with the crazy large taxis and their Cockneydrivers. Even better was the London Underground (a.k.a. "the Tube"). Ever stood around waiting a million years for the damn 6 train? Not in London. The trains actually come on a regular basis, are easy to navigate, and even supply a little countdown clock letting you know when the next train is coming. A pleasant man strolls the platforms with a device that broadcasts announcements that, despite the funny accent, are still way easier to understand than the garbled gibberish vomited by our crappy subway speakers. Here's their version of the Metrocard: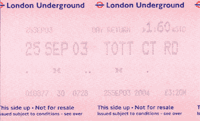 So, where did we go on our adventures? Well, besides pubs and restaurants, we did the tourist thing and checked out some of London's thrilling sites.

Ticket to the Tower of London where we got to hear a Beefeater tell us about a ton of poor chaps and lasses who got beheaded

Guide to Portobello Road, the world's most overrated and annoying antiques market, where we found nothing of interest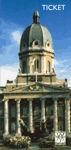 Ticket to the Imperial War Museum, where we got to see how much the British truly hate the Germans
Anyhow, as with all of my diary entries, I've stayed up way too late and petered out right when things are getting not so interesting. Perhaps one day I will share with you all the rest of my stay in merry old England, but for now you will just have to be stuck believing that all we did was troll The Underground, peruse some really old joints and sleep away the day in our fancy-schmancy hotel. Yes kiddies, our adventures in the Soho Club G-A-Y will have to wait for the second installment coming soon…