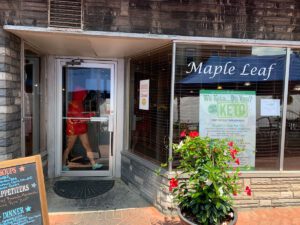 Nope, it ain't Canadian. Though you'd think from the name they'd serve… Man, we were just in Canada and I couldn't tell you what constitutes Canadian cuisine. Welp, both you and I don't have to worry about that here because this very traditional American diner is presumably named after the town in which it sits, Maplewood, and not that snowy-ass country to our North.
Why then go off on this whole tangent? Because, honestly, there's not a whole lot to say about this joint. Other than it is super-duper old school. If you were in a diner in 1976 and wondered, "What the hell is this place going to look like in 2012? Or 2022?" Turns out the answer to that question, if asked within the walls of The Maple Leaf is, "Exactly the same, my friend. Exactly the same." Granted, I was pretty young and living 3,000 miles away from this place in 1976 — and I have my doubt if anyone ever supposed that exact question back then — but it doesn't change the fact that it's a bit of a time warp walking in the doors here. It ain't modern. It ain't fancy. But is that really what you want out of your breakfast spots anyway?
And, yes, I'm getting to it. My cheddar omelette? Very diner-y. So were the hash browns. So was the rye toast. Blindfold me and I couldn't pick it out of a grouping of like diners in the Jersey suburbs. Unremarkable, I guess you could call it. But totally serviceable and no frills as far as eggs on a plate go. The prices are somewhere in the middle. Probably around $9 for the cheese omelet. Which, in theory, is a bit much to pay for a couple eggs, a couple slices of toast and a small pile of potatoes, but feels like around the going rate these days. I feel like perhaps the server was also the owner, so the service was probably the best part of the meal. It's nice to have someone care that you enjoy your meal. She also took Hipster Jr.'s weirdo order and made some "meal" out of it in order to save us a little on the scattered a la carte mish-mash that he inevitably threw together. Always appreciate that.
All in all, I could totally see coming here as regulars if we lived in town. When all things are equal egg-wise, why not go to a joint that feels warm, inviting and family-ish, even if the actual restaurant itself looks a little tired around the eyes.
---
165 Maplewood Ave. – Maplewood
(973) 763-8833
mymapleleafdiner.com
---