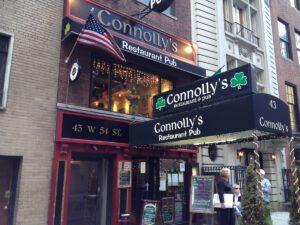 [CLOSED]
So, I'm starting off on a weird foot here. Apparently there are up to three of these Connolley's joints in NYC. And I've been to at least two of them (at least). I thought they were the same place, but I think this is the one I was very drunk at once. And not as much the second time. And the other one is in Times Square where I saw Ms. Hipster's band play on some strange-ass top floor somewhere. From what I recall this place is kind of odd, too. It's smaller and narrower than it should be. It's dingier than it should be. Something just ain't right.
I mean I seem to remember some dark-ish bars in Ireland, but this one came across as poky, lit only from some windows in the very front of the space. And that yellow color that may be very Ireland, but is not the most appetizing shade. And at least at the time of my imbibing, there were definitely some funky finishes in the space. As if it had a bad night or two of flung stools and broken bottles. Maybe it did. Maybe it didn't. But, like anything else, it's all about appearances. And it doesn't appear as if there is a whole lot of care put into this joint.
Now, far be it from me to criticize the shape of something. I haven't been to a gym since 2000. And I tend to like places with a little wear. But I also like places with a little unique personality. Then, Mr. Hipster, why would you come to a mini-chain Irish pub in midtown? Convenience, I suppose. After all, isn't that why anybody goes to bars in midtown? Because that's where a lot of people work. And if you can walk a few blocks to grab a beer and a burger in relative comfort, why struggle to point people to that hideaway in the East Village where you have to knock the beat to "Groove Is In the Heart" on a subterranean door to gain access? Besides, I may complain, but ultimately Connolly's had a really decent cheeseburger. And the fries were pretty sweet as well. I can't claim the service was stupendous, or that the crowd was particularly not touristy or after-worky, but sometimes that's just fine. Call it a pleasant Thursday night out with co-workers who don't care much about vibe, a decent beer list or style points.
---
43 W 54th St. (bet. 5th & 6th Ave.)
212/489-0271
connollyspubandrestaurant.com
---
View this post on Instagram