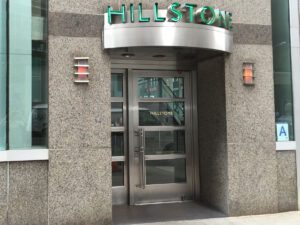 [CLOSED]
This is just a Houston's. Come at me, bro. You, bro. And you, bro. All you bros hanging out at the giant bar on your Tinder dates and Grinder dates and OkCupid dates and FarmersOnly and whatever else you non-married techlennials do on Thursday nights. I know because I had been here when it was a Houston's. Back before they had to take the exact same restaurant and literally just change the sign on the outside (and on the menus and cocktail napkins) to avoid having to go The Cheesecake Factory route and post their calorie counts.
Yes, it's true, I was told that once a restaurant chain reaches a certain number of restaurants, they have to put the real real on their menus, which would alert the general public that what they're eating is incredibly unhealthy. Remember that time you ordered a "salad" at The Cheesecake Factory? And then the next time you walked in, you found out that the thing was 3500 calories? So you ordered the clear soup, iceberg wedge without the blue cheese and a water? Yeah, that happened to all of us. So Houston's decided rather than expose the fact their incredibly delicious spinach and artichoke dip is more fattening than a softball-sized chunk of foie gras, they just incorporated as a different entity at some of their locations and otherwise kept their food, decor and everything else exactly the same. In fact, at this location, they not only changed the name, but also changed the address, even though it's in the exact same space as the former Houston's – Citicorp. Presumably moving it from the address of the front entrance to the address of the side entrance. Pretty sneaky.
So, if you like Houston's, you'll like Hillstone. If you love Houston's, you'll love Hillstone. If you like Cheesecake Factory… you probably died of a coronary twelve years ago and aren't reading this. This particular location is pretty much always busy, and as I hinted at, collects an inordinant amount of young urban professionals at the large round bar up front in the after-work hour. It's like the Men's Warehouse done blowed up in the joint. I don't want to say I saw a dude snort coke off a woman's cleavage, but I wouldn't be surprised if it happened.
Granted, I'm not in that demographic, so my forays here were mainly work lunches or welcome lunches for new employees. It's way classier than bringing them to Subway or something. The space is large and dark and relatively rich-feeling. Very masculine in an old-school steakhouse kind of way. Like many NYC restaurants, I imagine it wouldn't look so good with the lights on, but the pooled halogens manage to hide any accumulated grime. The food is not twee. The aforementioned dip is a must. I know people who would mainline that shit if given the chance. It's that good. The other food is very hearty and pretty decent. Although $24 for a burger is a bit steep. Even if it is pretty darned good. I've also had the French dip, which was also pretty good, although sometimes a more refined French dip isn't quite as tasty as a more fatty, rugged version. The fries are really good, of course.
I mean, overall it's a consistent meal that is sure to satisfy a group of co-workers. There's nothing remarkable about any of it other than the green glory of the spinach dip, but when it's on someone else's dime, one can hardly complain. Just make sure it is on someone else's card, though, as the bill is terribly steep for a lunch.
---
888 3rd Ave. (bet. 52nd & 53rd St.)
212/888-3828
---