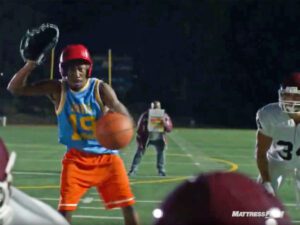 First off, nobody is fooled by the whole Mattress Firm thing. You're Sleepy's and you always will be. And Sleepy's was a depressing, horrible place. Which means, even with the rebrand, that Mattress Firm is equally depressing and horrible. A Sleepy's salesman once pretended to splash a jar full of some sort of liquid in my face to prove the amazing qualities of the upsell mattress cover he was trying to sell me. I came a nanosecond from punching him in the face. He sucked. That place sucks.
And the only fitting commercial for this shitshow company is this horrendous, confusing mish-mash of a spot that is ill-conceived, miscast and just an absolute mess. Yet it continues to haunt my television-watching with its foolishness. And, unless Sleepy's got such a bad reputation, or was under some sort of bankruptcy or legal filing, I'm not sure how the Mattress Firm name is an upgrade? What's "firm" in this name? Or is it "firm" in the sense of a law firm? It's somehow an even worse name than the original. They might as well have changed it to The Mattress Shack.
I think the commerical's concept is that a crappy mattress gives you garbage sleep. Which then causes you to be confused in your daily life. So much so that you apparently show up to your sports practices with the wrong equipment? This adult-ass man, who apparently plays baseball, basketball and football, shows up dressed like an absolute clown with his mitt, a basketball and a batting helmet to his football practice? That some poor PA clearly purchased at the local Dick's right before they started shooting on a dark high school field somewhere. He's apparently the QB and has been let on the field and into live play without any of his football equipment on? This same adult-ass man who is built like 70s era Jimmie Walker and dresses like Steve Urkel. Clearly not an athlete. And clearly too old to be a high school or college student who might actually go to sports practices. Because, as an adult-ass man, he's certainly not a professional athlete, so what is he up to? Stupidity is the answer.
The whole thing looks like someone hired the ex-manager of the Massapequa Sleepy's store to shoot it. It's amateurish and head-shaking in its silliness. Clearly whomever wrote this script has either never watched sports, or was just willfully ignorant about how they work. Sure, junk sleep is a thing, but why not just show some athlete playing a single sport and like falling asleep in the middle of a play? Or sleeping standing on first base. Or batting? Or whatever. And maybe cast a dude who looks like he's ever worn a glove before? Or dribbled a ball. And doesn't look like the before photo in a weight gainer ad. It's such a simple fix to a concept that was horribly flawed to begin with. Good riddance to Sleepy's, and hopefully Mattress Firm will follow in its failed wake.