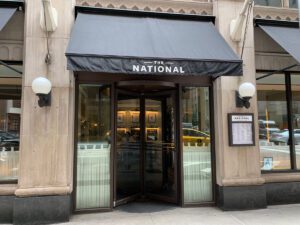 [INDEFINITELY CLOSED]
Frankly, I'm not certain what the dining rooms part of The National Bar & Dining Rooms is. But I definitely got familiar with the bar. My evening there reminded me of those scenes you see on those chef shows where the restaurant crew hangs out after hours drinking and shooting the shit. Granted, I'm not a chef, nor do I know what working in a kitchen is like (despite my summer at Humphrey Yogart), but it had that loose, chill feel that I imagine it's like.
So, yes, we weren't rapping after a night of slinging steaks or whatever, but we did end up here post holiday office party. You know, as the folks splinter into smaller and smaller groups and end up at various drinking establishments. This one felt like an odd choice — a bar in a hotel with a weird name.
But, you know what? It turns out hotel bars are actually kind of built for late night drinks. Which I suppose, when I think about it, makes perfect sense. After all, the tourists and inhabitants of the hotel hang out early and go to bed early, leaving the staff kind of hanging out looking for someone to play off of. Because bartenders are hams by nature and I imagine standing around wiping the same glass over and over again gets old pretty quick.
We just hung out at a large, round table in a setting that felt like a combo of a West Elm showroom and the "after" result of one of those higher-end renovation shows. Lots of white marble and light wood. Like a very cleaned-up version of a French bistro. You know, without the worn mirrors, hex floors and zinc. I drank something simple from one of the five basic beers on tap (the usual, Guinness, Stella, etc.) and I'm sure my co-workers imbibed something pink and wine-like or sparkling and white. It was pretty darned chill. Look, the fact is this place doesn't have a ton of personality. It's a nice space, sure. But it does indeed feel like a newly renovated townhouse than it does a NYC bar. Which, in this case, is just fine because sometimes your company creates that personality the shell into which is it poured doesn't project.
---
557 Lexington Ave. (at 50th St.)
(212) 715-2400
---