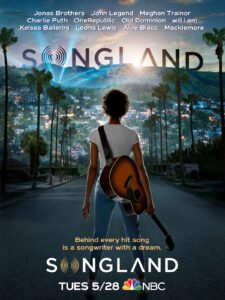 How many of these music reality shows have we watched? Well, there was American Idol. And then The Voice. And the worst of the worst, The X Factor. Oh shit, there was also Rockstar: Supernova and Rockstar: INXS and P. Diddy's Making the Band. I know there are a bunch of other ones that I didn't watch that involve lip synching and hip-hop and I think there was a competition back in the day to recreate The Partridge Family or something. And I think Emma Stone was on it! Anyhow, there have been a lot of these shows, but this one is a little different.
Rather than a performance show, it focuses on songwriting. Each episode, four aspiring songwriters appear before one artist (who rotates each episode) and the same three-person panel of songwriter/producers. They do end up performing their song, but the show is ostensibly about who can write the best song for the artist in question. Granted, in all cases the songwriters come in with a song that they had written for themselves prior to the competition; they don't write them specifically for the artist.
The artists themselves range from John Legend to Jonas Brothers to Meghan Trainor. There are eleven different artists, one for each episode. I'd heard of all of them with exception of some country act who people seemed to be familiar with. The interesting part was that they tried to bring in songwriters for each artist that might fit their styles best. And obviously the people bringing a song for will.i.am are probably going to write different stuff than those bringing a song for Kelsea Ballerini. So there was a decent variety of music.
The thing is, our three writer/producer panel made up of Ryan Tedder, Ester Dean and Shane McAnally seemed to be able to take any song and bend it in a way to make it fit the given artist. Some songs remained relatively in tact after they worked with the songwriter. Others barely resembled the song with which they auditioned.
I'm getting a little ahead of myself. The competition involves four potential songwriters auditioning their song for the artist and the panel. The artist then chooses his/her three favorites. Each of the remaining three songs are then taken by one of the panel members each, tweaked, rewritten, produced and whatnot. Then the person comes back and auditions the new version of their song for the artist, who picks one and is supposed to release it as a single or add it to their album or perform it live somewhere. That part isn't completely clear.
Anyhow, the songs vary in quality through the episodes, but they mostly all have something special about them. Certainly better than anything I could do — and mostly better than the vast majority of the garbage I hear on the radio. But the cool part is watching the three producers work the song. Granted, most of Tedder's songs end up sounding like OneRepublic tunes, but there is no denying the talent of the three, all of whom have very different styles and impressive resumes. McAnally is actually the most interesting of the three, however, as he's a country guy who seemed to be able to flex to any style and really put together a hook, complete with lyrical flourishes and surprising choices.
It was a little painful at times watching these writers come in and getting their songs blown up. Guys who came in with stripped-down tales of woe and left with a club banger about hangin' with the boys. I mean, Leona Lewis ain't gonna be singing about being ugly and lonely now is she? But, ultimately, for those whose songs were chosen, it was a great opportunity to gain exposure on a national level and get a writing credit on a big act's album, if that's what the artist decided to do.
Which is where the kind of "reward" part is a little questionable. In most cases the artist released the track on iTunes the same night as the episode — and a bunch of them went to #1. But not in all. One track was actually to be used in a Jeep commercial, which was also cool. But in the case of Charlie Puth, for instance, he never recorded the song and "gave it back" to the artist to release himself. Gee, thanks. Again, it was good exposure, but the music business is a fickle one. It would be interesting next season if they were to revisit some of these folks to see if they've gotten any interest from other artists or are back gigging in coffee houses or living under a bridge in Nashville.