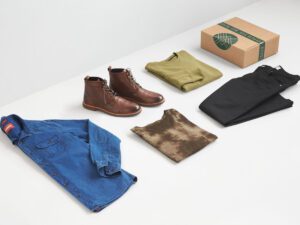 My wardrobe has waxed and waned over the years. There was a period between 1994 and probably 2003 when pretty much everything I owned was purchased at Urban Outfitters, second-hand stores or wherever I could find Levis on sale. It was a very fertile hipster period for me. And the genesis of this website. The was followed closely by my Lucky Brand period, during which every single shirt I owned was a pearl-snapped plaid number. To be fair, that look has pretty much lasted well into the new century and, minus the pearlized snaps, dominates my closet today.
The thing is, those UO clothes weren't built to last. Two washes and the threads started to fray, two more and holes developed. The pilling was absolutely insane on every v-neck I bought there when I was going through my work casual, 90s v-neck-and-t-shirt phase. Lucky is a bit better, but I managed to blow out the elbows in every single shirt with my pointy-ass arms. It wasn't until all the Lucky shirts went bad in the span of a few months that I came to the realization that most of them were at least a half decade old. By coincidence, all my jeans developed this oddball hole right by the fly seam at the same time. So, in summary, I needed a new wardrobe, had no interest in shopping in a store and wanted to be lazy about it.
Enter Stitch Fix. Ms. Hipster had been a long-time customer and thought it might do me good to have some grown-up clothes for work. Considering I wore one of four black zip-up hoodies over the aforementioned plaid shirts to work every day, she was probably right. So I went online, did some profile building and waited to for my first delivery. And you know what showed up? Lots and lots of plaid button-ups. To replace my old plaid button-ups. Which was both perfect and not perfect. Because they gave me exactly what I wanted — the same look I've been sporting since 1994-ish — but didn't really give me anything that might take me out of my comfort zone. No plastic trousers or mesh tanks or moon boots. Nope, all pretty conservative and down-the-middle Gen X gear.
And, yes, I know it's odd that I'd complain about a service that essentially gave me exactly what I asked for, but I'm going to anyway. I'm not sure exactly how the service works on the stylist's side, but they tended to send me clothes from the same random two or three companies over and over again. Which I suppose is fine, but nothing felt particularly unique or not generic. I suppose that had something to do with my price point and style choice. But I could also go to the Website of the manufacturer of said clothes and see that some of the styles they sent me were either on closeout from the previous season, or else deeply discounted in a way the ones sent to me weren't. And, yes, I know I'm paying for convenience and a "stylist," but if they're just going to the same well over and over again, I could have just gone to Lucky over and over again with one of their many sales and coupons and saved money and the effort of having to send back the 32nd plaid shirt from their in-house brand, Alesbury.
The thing is, I've now refreshed my wardrobe. The clothes certainly aren't edgy. They're comfortable and casual enough to wear to work and look like a middle-aged professional dude who maybe once wore a chain wallet and Doc Martens every day. The problem is, of course, there's no office to go back to. So now I have a bunch of plaid shirts and non-jean jean-like pants in my closet with the tags still on them. And even some nice chukkas that sit on my shelf unworn. Because I wear the same couple pairs of Adidas track pants and jeans every day. Every week. And the same t-shirts and hoodies and fleeces. And, honestly, I look at those nice-looking shirts hanging there every morning and I want so badly to put them on. But doing that would seem like admitting defeat in some way. I'm looking forward to one day snapping off those tags, striding back into my office with those lovely new chino-looking jeans, one of my 27 blue plaid shirts on and really showing those millennials that old guys can order shit off the Internet too!
SUBSCRIBE NOW! (with a free $25 from Mr. Hipster)