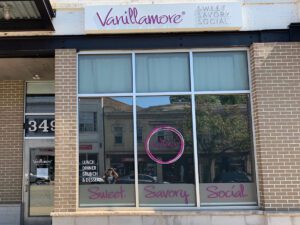 [CLOSED]
Vanillamore is a funny place. It's a restaurant that looks like a cafe whose namesake is essentially dessert-based. But those thinking all they can do is desserts is missing out on a an experience that is much more than that. Not that they're going to be rocking a giant menu filled with French delicacies or overly inventive fair, but in terms of tasty small bites and, of course dessert, this joint has the goods.
I suppose the food menu is sort of an Italian Mediterranean mashup thing. You know, that slab of wood with cheese and pig parts on it that everyone loves. Dips and spreads, which include hummus, romesco and a spinach artichoke dip with warm pita. And then a housemade ricotta with honey, hazelnuts and sea Salt with a toasted baguette. I could eat that shit until the end of time. Beyond apps, the small plates we ate were a sweet potato gnocchi (which was actually quite a lot) with crispy shallots and parmesan, tuna tartare with sesame vinaigrette, pickled cucumbers, sriracha mayo and wonton crisps. I feel like there were some sliders as well. All in all, a very solid experience.
The desserts are really their forte, even though the pre-dessert was super-tasty. And we went pretty deep, the four of us. If memory serves, we ordered a chocolate 'charcuterie.' Which involved dark & milk chocolate "salamis," banana bread, ginger-molasses cookies, chocolate shortbread, olive oil cake, candied almonds and hazelnuts, espresso caramel, coffee hazelnut mousse and some other stuff. Some of it was delicious and some of it was a little weird, like the salamis. We also did milk and cookies. Which was triple chocolate with espresso hazelnut mousse, chocolate chip cookies with dark chocolate fudge, ginger-molasses cookies with toasted marshmallow served with vanilla malted milk. That was the shiz. And chocolate obsession, which was dark chocolate cake with almond cream and espresso caramel, spicy chocolate ganache tartlet with hazelnuts and sea salt and a chocolate chip cookie sandwich with fudge and malted milk. And then I exploded.
The other nice little feature is that the chef/owner, Risa Magid Boyer, came out and asked us how everything was and was very nice. The same reason I'm having a little trouble remembering everything I ate is probably the same reason I probably gushed a little too hard when meeting her: red wine. It's a fun little local place that clearly cares for their food and their customers and is worth a fun evening out if you don't mind risking the chocolate hangover.
---
349 Bloomfield Ave. – Montclair
973/707-5373
---