So, the government is closed. Well, technically it's partially closed. Hopefully, by the time you're reading this it's back open and garbage hasn't totally subsumed Washington, D.C. Some say there's already enough garbage in the White House to stink up the joint, but this isn't a political blog, so I'll refrain (for the most part).
Now, we planned this trip well before the shutdown, but it turns out that even during a shutdown the city lives on. It did definitely seem quiet, although this might have just been due to the fact that it was the week between Christmas and New Years. Our Uber drivers said it was definitely slow, but better for us, I suppose.
We decided to stay in Georgetown. We didn't go see Patrick Ewing or anything, and didn't run into Javanka, but basically picked it because there are restaurants and bars within blocks of the hotel and each other. It was nice enough that I thought about moving there for a millisecond and then remembered that I don't have a job in government and also that a studio apartment is like 1.3 billion dollars because everyone who owns places there are either sons of billionaires or from the UAE.
We drove down from the NYC area and made it in about five hours with 37 bathroom stops and maybe no food. May I suggest eating a large breakfast or brunch prior to making this drive? It's not a bad trip, but the traffic is unpredictable.
As usual, here's a list of all the joints we visited:
HOTEL
Georgetown Suites
This is definitely one of the weirder joints we've ever stayed at. It may have once been an apartment building or a dorm or public housing. It's a little unclear, but certainly doesn't feel like it was originally built as a hotel. Regardless, we needed to fit Ms. Hipster, Hipster Jr., Hipster Jr. Jr. and myself in one hotel room with the Jrs having their own beds. And this suite-y place, which came complete with a living room and kitchen, afforded us that without breaking the bank. Plus, the location was perfect and they had free breakfast every morning. Was it high-class or frill-filled? Not at all. But it was functional and didn't smell terrible.
RESTAURANTS
Farmers Fishers Bakers (Dinner)
This Georgetown joint was an unmitigated disaster. It was so bad that we ended up eating for free. They comped our entire meal for six, drinks and all. It's a shame, as the bustling restaurant had a positive vibe and the menu — a mix of land and sea — was actually decent. The food itself, when it finally came out, was actually pretty ok. We had some pretzel appetizers and the hot crab and artichoke dip (which we ironically ordered because it "comes out fast.") I had something called a Whiskey Mule, which was weird and very not good, but my seafood jambalaya was serviceable and free.
Holocaust Museum Cafe (Lunch)
It felt weird eating lunch in a museum dedicated to the Holocaust, but my people always mix food with sorrow. This place was pretty typical, but my salmon wrap seemed relatively fresh and the soda had bubbles. Also, it was clean and overpriced. Just as you'd expect.
Newseum Cafe (Lunch)
Another museum cafe, but this one is catered by Wolfgang Puck, somehow. It has sandwiches and pizzas makde to order. My pizza was thrown and cooked in front of me and was actually fine — certainly better than the weird, pre-cooked thing the kids ordered at the Holocaust Museum. With few outside options, you could certainly do worse.
American Eats Tavern (Dinner)
Another Georgetown eatery, this time one by José Andrés. He seems like the kind of guy we want to support, plus he has an affordable BBQ restaurant, so what could we possibly have to lose? Well, they didn't end up comping this meal, so there's that. My Manhattan was really good. The skillet corn bread and hush puppies were delicious and my brisket was super tender. Several in our party ordered the half rack of pork ribs for only $18 and there was enough meat on each order to serve at least two people. While I don't necessarily dig on swine, I tasted theirs and it was really tasty. The vermicelli mac and cheese was different, but super-creamy and a perfect accompaniment to everything else. The space is open and friendly and so is the staff. Once again, the service was a little spotty at times, but we'll blame it on the shutdown.
Rí Rá (Dinner)
An Irish pub in Georgetown, the owners of this place clearly went out of their way to make the Victorian bar and all the dining areas feel as authentic as possible. Going on their site and reading about all of their eight locations, they meticulously chose buildings and spaces of some historical value or age and imported large and small elements salvaged from Ireland to make it as design-y as possible. Very admirable. There is also a whiskey room upstairs, which looked awesome, but we were with the Jr. folk, so that wasn't an option. My Guinness burger was very tasty and the beer list was decent. Definitely a good option for a night of pub food and picky eaters.
OTHER
Baked & Wired
This coffee shop/bakery seemed like a great local joint. We went there after dinner so didn't sample any of the muffins, cupcakes or ice cream sandwiches, but had an Americano that did its business. Definitely had that hipsterish vibe that everyone wants in their local caffeinery.
MUSEUMS
United States Holocaust Memorial Museum
This was destination number one for Hipster Jr. He was supposed to go here on a school trip, but there was some SNAFU with the tickets and they didn't end up going. He was pissed. So, in low season as it is now, tickets aren't even necessary. We lined up like 15 minutes prior to opening and were like 20th in line. We walked right in and started. It's a pretty intense experience, as you'd imagine. The museum itself is modern and clean, but understated as it should be. There is lots on the rise of Naziism and Hitler himself. There are displays and films, some of which relate eerily to today's orange monster. There is a room full of discarded shoes from the concentration camps and an iron door from the crematorium. There are some really disturbing films from the time, including human experimentation and the clean up of bodies using a bulldozer. They put those behind low walls so that people are shielded from them unless you proactively approach them. My ancestors moved to the US in the early 1900s, so they avoided the fate of the millions, but the museum humanizes those who did die in a very real way. Also, the museum does a decent job of relaying the fact that others, including Gypsies, Catholics, the infirm and mentally challenged were all victims of the Nazis. And, oddly, lots of Jehovah's Witnesses. Who knew?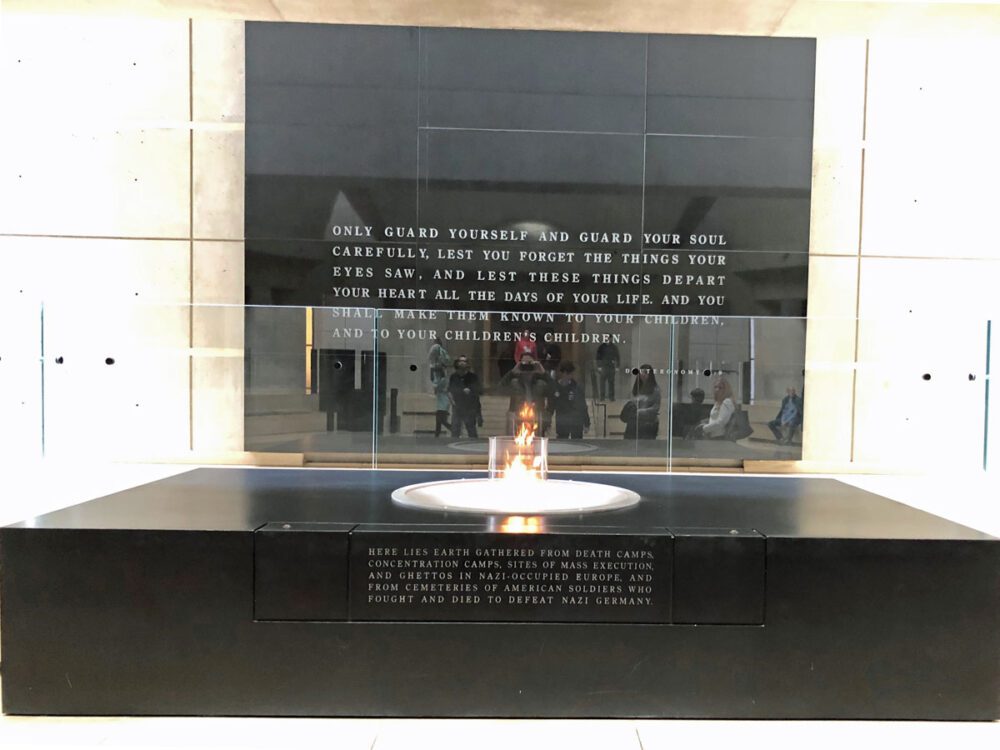 National Museum of Natural History
This was the longest of the lines we waited in, and the request of Hipster Jr. Jr. Still, though, it wasn't terrible. Granted, we have the best natural history museum in the world in NYC, so I'm not sure what this was going to have that ours doesn't. We ended up kind of wandering around looking at a ton of humanoid skulls and then spent a long time in the hall of minerals and gems. And, honestly, it's been quite a while since I've been to the one in NYC, but this might have actually been more robust. They even have their own ceiling whale. Also, it was air conditioned, which is more than I can say for sections of the NYC version. I actually thought it was pretty decent and would have spent longer here, but I think we were all pretty burnt from the Holocaust museum.
Newseum
While not a free, Smithsonian museum, it was well worth the money. It was the highlight of the trip. A thoroughly modern space, the museum is dedicated to everything news and news related. It's a walk through the last century of news-making events and goings on. They have a cast of the shoe bombers' shoes, the actual car that some other terrorist drove, the Unibomber's actual shack and tons more oddball stuff. They have sections about the FBI and how they track criminals and a section on the Berlin wall (including an actual section of the Berlin wall). There are sections dedicated to the first amendment and protest and the history of the news medium itself. There are memorials to fallen journalists, 9/11, Vietnam and the entire visual history of Pulitzer Prize winning photographs. There are films and a green screen studio where you can be part of the news. But mostly there's a lot of Trump trolling. There's a section on "fake news" and an up-to-date video montage of late night comedy, mostly making fun of the Trump administration. We were all a little surprised by this, but assume that anyone willing to pay to come to the Newseum might actually care about reality and truth. So they know their audience. Anyhow, this is a really fascinating place and something you don't want to miss.
National Air and Space Museum
This was a last-minute decision and turned out to be just one too many. This place was a zoo (and, unfortunately, not a real zoo) and had sections that clearly hadn't been updated since 1967. There were small children oozing out of everywhere. There are airplanes and drones hanging from the ceiling and Hipster Jr. Jr. went on some sort of flight simulator thing that she waited in line to ride for an hour (and cost extra). I think they have a space shuttle somewhere in there, but we didn't see it (although we saw the Endeavor shuttle in LA). If you don't like masses of humanity, I would skip it.