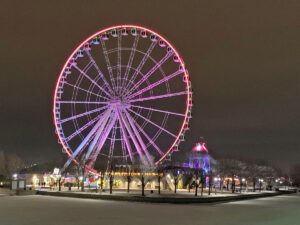 Now, you may ask: who the hell goes to Canada in the middle of the winter? Well, The Hipsters do. We're the same family who ventured to Gettysburg, Lancaster and Macedon, NY for Christmas. Because Ms. Hipster grew up in a cold place and seems to be okay with freezing to death. It's not as if we only go to cold locations. No, we only go to cold places when it's cold. And, actually, we only go to warm places when it's cold. Or like really, really hot. We have this thing with traveling off-season, I suppose.
But, to be fair, Montreal is supposed to be beautiful for Christmas. And during non-COVID times, people actually flock there to see all the lights, enjoy the sights and learn a little French. A language with which I have no familiarity beyond being able to count to twenty. A skill I learned in fourth grade — the last time I took French. The Montreal we found was mostly empty. The outdoor Christmas markets abandoned. The streets merely dotted with what I have to assume where non-Christians like myself. Well, not exactly like myself religion or skin-tone wise. More of the Sikh and possibly Muslim and Hindu variety and less, well, Jew-y. Which certainly gave the city an international feel that may not be the norm, what with a bunch of French-speaking white folks buying trinkets and whatnot. Here's a photo of the Hipster family on the streets of Old Montreal at 9:15 p.m. on Christmas Eve. It's very European, but very quiet.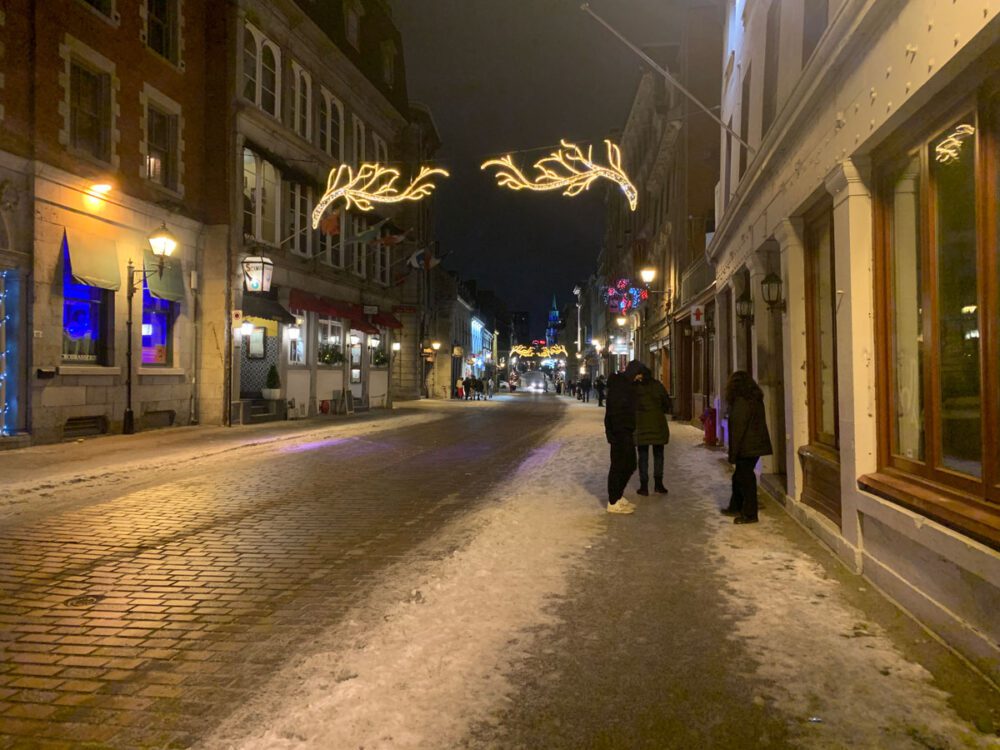 As usual Ms. Hipster booked a very cool flat/loft for us in Old Montreal, within walking distance of just about everything. Not that anyone loves spending a ton of time outside in nine-degree weather. Shit, Hipster Jr. doesn't even own a jacket and had to borrow one of mine. But at least the time we did spend inside included some wacky design choices and, best of all, some very large TVs and a Coke fridge filled with a variety of tons of sodas. Hipster Jr. almost lost his mind. And, for some reason, decided he wanted to watch all of the Star Wars movies in the STar Wars universe chronological order. And, boy, rewatching it, Episode One really did suck worse than I even remembered. But it provided an excellent space to chill when we weren't out foraging for food or walking to markets that didn't exist.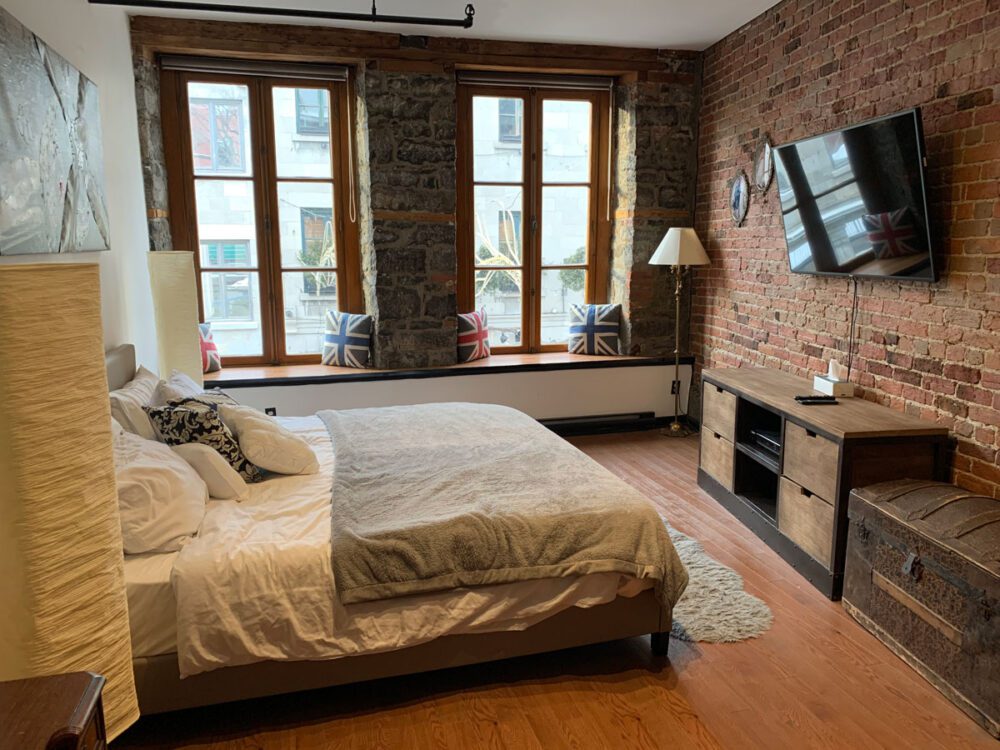 Honestly, we mostly ended up eating. Because that's what one does in a city where the only thing that's really open are eateries. Even at 50% capacity. And even though all bars (that don't serve food) were closed. So sad. Here's a list of stuff.
Day 1
Dinner (After driving up from the US of A)
BEVO Bar + Pizzeria
Have you ever wanted to eat brick oven pizza in a European night club? Well, at this joint you're going to get some of that vibe. The space itself is pretty cool, with a mix of modern and rustic, but the music was that indescribable Euro nonsense that gave you the feeling that at any moment they were going to clear the tables out of the space and some coked-up models and their much older boyfriends would exit their Lambos and sweep in for bottle service and some light dancing. Luckily, none of that happened and it turned out to just be a mellow modern Italian, brick oven pizza joint (with a DJ, I think). We started with some surprisingly decent fried calamari (though $23 seems a little steep) and each got our own individual pizza. I went with a white pizza covered in mushrooms. Ms. Hipster got something that looked like a ham salad. Hipster Jr. did a margarita and Hipster Jr. Jr. did a traditional cheese pizza. They were all totally fine. The dough was nice, the toppings were decent. I can't say they were remarkable compared to other brick oven pizzas I've had locally, but certainly not bad. The Nutella pizza for desert is always good, and theirs was generous with the topping and not overly sweet. This was our first experience with Montreal taxes, however. Of course, not specific to BEVO, but the 15% tax on food is absolutely absurd. Food that is, frankly, pretty overpriced to begin with. So you have overpriced food, a 15% tax on that food and then a tip. Payment is done with one of those little card machines at your table as the server stares at you. So you don't have time to use your fingers or check an app. It suggests how much a 15%, 18% and 20% tip is and really only gives you those options. Thing is, that math is done POST-tax. So you have a $150 food bill. Which ends up being a $172.50 food bill after tax. You give 20% and you end with a $34.50 tip, which puts your final bill at $207. In other words, 38% of your money goes to tax and tip. So prepare to spend. Of course the Canadian dollar is worth about .80 on the US dollar, so the total bill is actually $165.60. So, a mixed bag, but definitely a little jarring at first.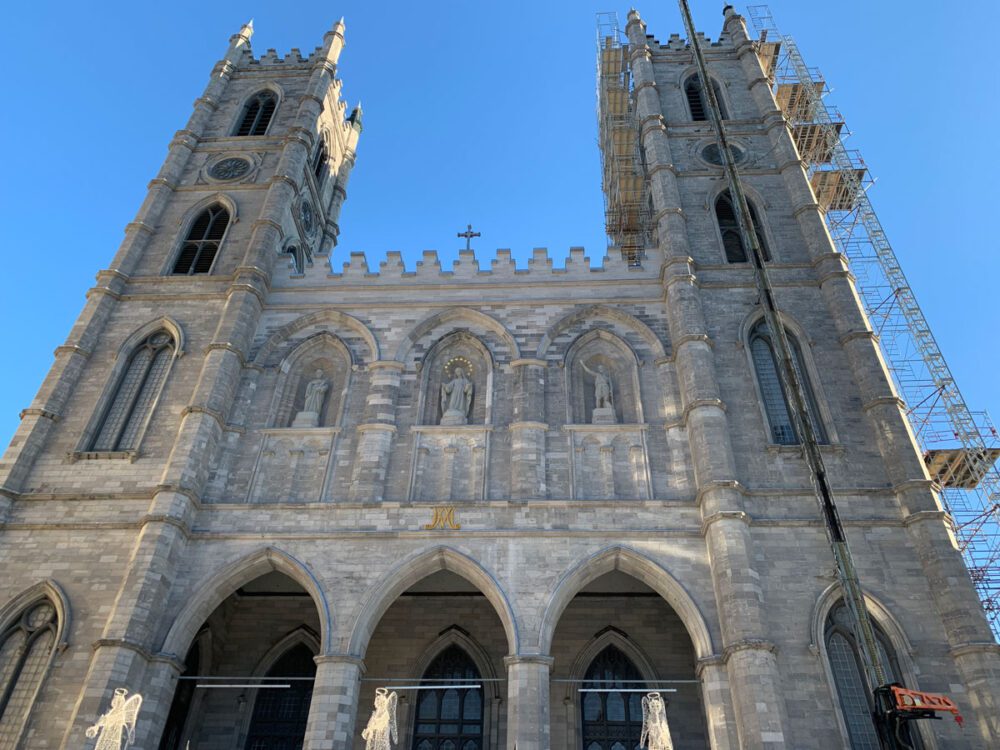 Day 2 [Christmas Eve]
Breakfast
Café Olimpico at Hôtel William Gray
Tucked away in a little stone and tin-ceilinged corner of a hotel lobby, this Italian coffee joint is warm and pleasant and super Canadian friendly. And, honestly, I'm not sure if it's typically this popular on a Friday morning, or if it was just a matter of most everything else being closed for COVID or Christmas Eve day, but it was pretty stuffed full of customers in a very narrow space. All of us with our giant winter jackets on. But the dude working the espresso machine was not only amazingly friendly and chatty and chill, but was the fastest milk frother I've ever seen. The dude was a pro. The Americano was appropriately, uh, European and strong, Ms. Hipster's cappuccino was milky and rich. And the kid's hot chocolates were finished without complaint. The mini croissants were decent as well. Was it cheap? Nope, just like everything else, it was not at all. But overall, it beat the hell out of a faceless, sterile Starbucks experience any day.
Food/Snack Shopping
Le Beau Marché
A small fancy market with cheese and meat and, oddly, a strange number of sugary Japanese snacks. Ms. Hipster bought a dozen fancy-pants eggs and some butter that she was very excited about. Like really excited. The children bought some French cookies and gummy candies and, as usual, I got nothing. The dudes who ran it really wanted to speak French to us, but, as I've said, I don't speak a word. They were super-cool, and their store was super-twee in a good way, but that didn't improve my language skills. Though I appreciate the fact they thought I was Quebecois. Which, for you dummies, means "from Quebec" in some language or other. Oh, and also Hipster Jr. got some very expensive local organic jerky that he was convinced was not beef because it was so much better than the rancid Jack Link's that he normally eats. Turns out, nope, it was beef (which we had to go to their Website to find out), and now he's pretty much convinced we're going to order a case of this Les Fermes Valens stuff from a Canadian farm for like $200,000. Nope.
Lunch
La Fabrique de Bagel Montreal at Centre de Commerce Mondial
We really wanted to try Montreal bagels. Even though we get NYC/Jersey bagels where we live. Good ones. But this is like the Chicago pizza thing; the same but different. I think they like wood fire their bagels after boiling them with honey. Or something like that. Whatever the case, you can't read anything about Montreal without them mentioning the bagels. Because apparently my people hit up Canada as well. Not a thing I realized, truth be told. But, hey, we can't all land in Brooklyn. This particular bagel store is a six-store chain in the city, so I'm not certain how authentic these things are, but they certainly didn't disappoint. Sure, the hole is a little bigger and the bagel circumference a little smaller. And they really, really love their sesame seeds. I can't say I tasted the sweetness of the honey, but the texture — while different than "our" bagels — was pretty cool. Crunchier on the outside than is customary, but nice and chewy but dense on the inside. I was afraid they were going to be bready, which is like the biggest sin for a bagel, but they managed to be a really decent mixture of textures. And they amazingly held up without getting stale for three days. I'd do it again.
Dinner
Taverne Gaspar
Another very pleasant, warm environment in which to gorge ourselves. To start, Ms. Hipster ordered an incredibly expensive charcuterie plate that was supposedly to share, but ended up mostly cheese for her, some very thin meats for the children and a whole bunch of fruit, giant capers and tiny pickles that didn't really get touched. I got French onion soup because I can't help myself. For dinner Hipster Jr. got the $40 full rack of BBQ ribs because he has a penchant for ordering the most expensive thing on the menu. Hipster Jr. Jr. got a $23 burger, which would have been decent if they hadn't cooked the ever-loving shit out of it. Frankly, I'm not sure if her "medium rare" made it from her mouth to the server's ears. Or this is just how Canadians cook their meat. I got a braised beef cheek risotto, which had all the right elements, but was a little clunky and lots salty. It wasn't bad, but after my Montréal old fashioned (which has maple syrup in it, of course) and the sodium in my meal, I had to chug water until I almost burst. Overall, though, it's a nice place to be, they have booze and the food is warm and filling.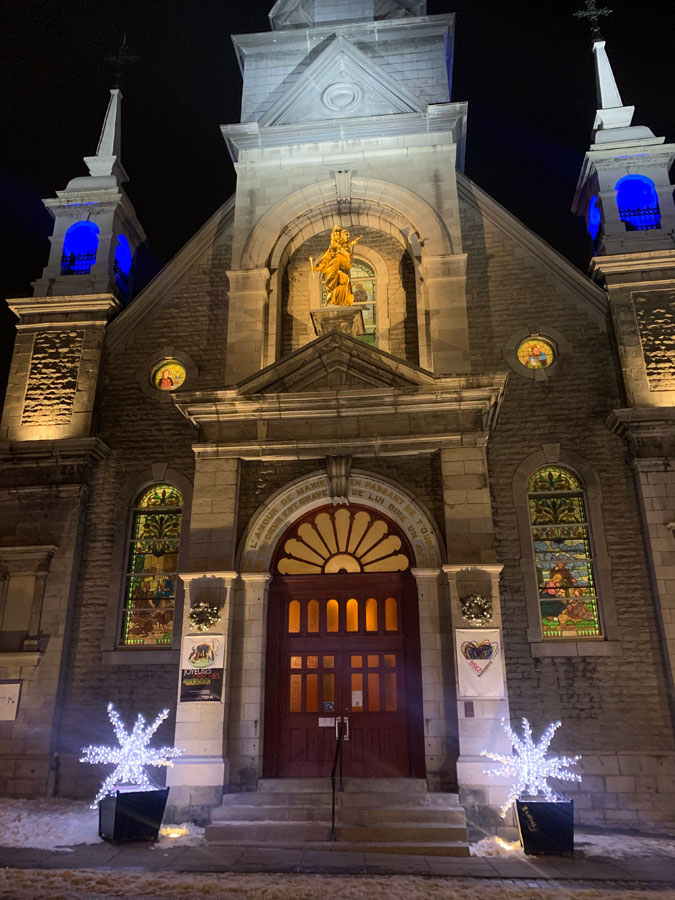 Day 3 [Christmas]
Brunch
Creperie chez Suzette
For some bizarre reason we thought maybe our children would challenge their palates even the teensiest bit. After all, a crepe is a delicious… Actually, I realize now — even after eating one — that I have no clue what a crepe is. Like a really thin tortilla? But they seem innocuous enough that even the pickiest of people would be like, "Hmm, I enjoy this, uh, egg-based thing that really only tastes like what you put in it." Plus fondue. Which is melted cheese. An item that we know Hipster Jr. Jr. loves. But apparently not in melty form. Dammit. So Ms. Hipster and I ordered the Swiss fondue with white wine and kirsh. It was… fine. Honestly, it was a bit of a letdown for $25. Some white bread and a fondue pot that lacked panache in general. The restaurant in general was a little lacking decor-wise. It was fine, mind you, but after the first few places we went to with their oldy-time warmth mixed with a little swag, this one just felt kind of ordinary. We talked the kids into a beef fondue, which they were kind of skeptical about. The beef came in super-thin slices on a couple silver dishes and they dipped them in hot beef broth to cook them. It came with a plate full of sauces, which the kids didn't even glance at. I tried some, and the beef had little to no taste, but the sauces gave it some flavor. The kids didn't even eat their allotment, but clearly didn't want to complain on Christmas. Damn them. I also got a crepe with chicken, parmesan béchamel and mushrooms. In retrospect, I ordered poorly. The crepe was just okay, but was quite a bit of food. I should have skipped that and just gone straight to a desert crepe with bananas, nutella and ice cream. But I'm a jackass and I choked. The kids ended up getting chocolate milkshakes, which saved the meal for them. They claimed to enjoy them very much. Merry Christmas.
Dinner
Ruby Rouge
This was an unmitigated disaster. We tried to follow tradition and get Chinese food on Christmas night. Turns out most of the city had the same idea. We ordered online, were told the food would be ready in 20 minutes and Hipster Jr. and I headed out into the freezing night to pick the stuff up. We walked into what amounts to a mini-mall, headed upstairs and were faced with a mob of Ubereats drivers looking like the last scene in Trading Places. The restaurant seating itself was closed, but there was this tiny space where about seven women ran around pulling tickets, yelling in Chinese and occasionally wandering over with a bag of food and saying a number out loud. While the all-male group of drivers (all of whom were cool and considerate, but just wanted to move on) showed their phones with the order numbers to the overwhelmed staff. There was one very old man in a sport jacket who seemingly just stood there getting in the way as they brought hot food out on a cart to be bagged and tagged. Each new dude who rolled up tried to make his way to front of the group to yell his number to the incredibly disorganized staff, sometimes getting a reaction. But other times looking back at the rest of us as we shrugged. A couple bags would be dispersed and then it would slow to a trickle. And then nothing for five minutes. While bags that looked like they could be ours just sat there getting cold. I asked at least five times if our order was up there. And each time the woman asked me which service I was from and I told her I ordered online and the food was mine and I didn't drive for GrubHub or whatever. And she managed to forget that each time and seemed confused. But, frankly, I stuck out in that crowd. I was standing with a teenager, had no giant DoorDash bag with me and was rocking neither religious headgear nor a robust beard. Finally, just as Hipster Jr. was about to lose his mind about 45 minutes in, I took one last stab at it, showed the woman my phone once again and she was like "Oh, why didn't you tell me you weren't picking up for a delivery service?" She snatched a waiting bag and handed to me. I was incredulous and could only laugh and give her a "c'mon." Even a couple of the drivers gave me "can you even believe that shit?" look. We finally got the food home and it was a little bit weird. It was Chinese, sure, but it wasn't our Chinese. I feel like maybe they use a different kind of oil up there, so it just didn't quite have the same taste. The same with the fry on the food. Also, it turns out that in Canada General Tso's Chicken, Sweet & Sour Chicken and Orange Beef are all the exact same thing. Just with different sauces — on the side. Also, none of it came with rice. Weird. It was serviceable, but I certainly wouldn't have gone had I known the journey we would endure. And the murderous look in Hipster kids' eyes when they realized there was no rice was not worth it.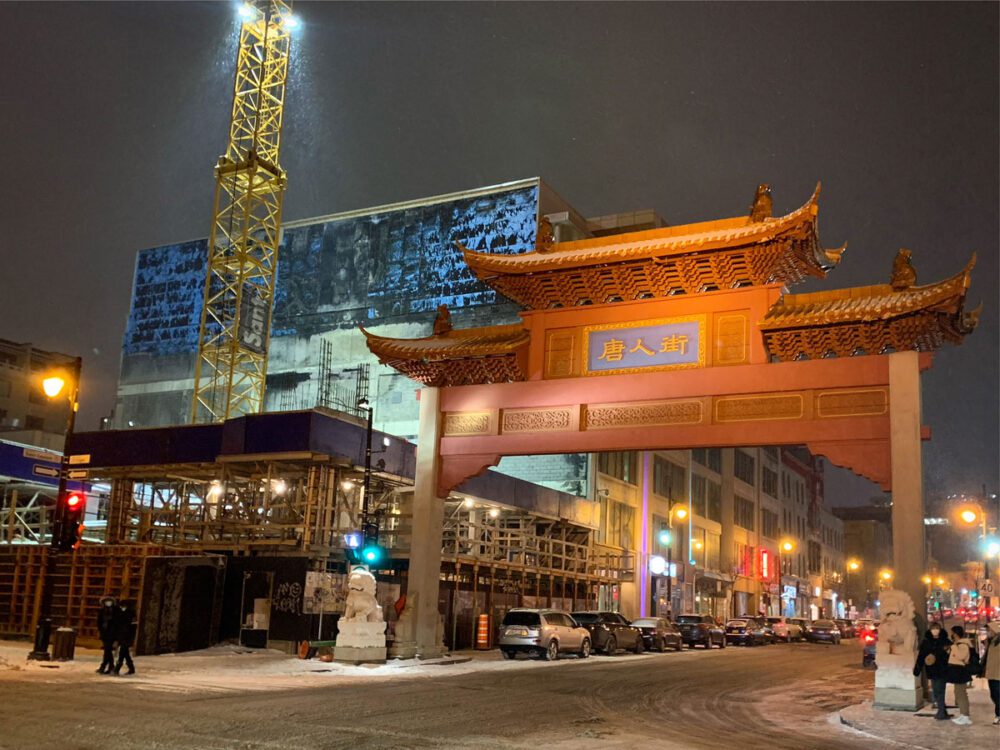 Day 4
Brunch
Leftover bagels and eggs we picked up the day before. I was ready to eat Chinese, but I felt like warming it in the microwave may have killed my family. And possibly some other folks in the loft building. They were just as good as the first day. In fact, maybe a little better, as I'd imbibed some Scotch and bourbon the night before and was really craving some starch covered in cream cheese.
Midday Snack
Queues de Castor – BeaverTails (Vieux Montreal)
Ms. Hipster was super-into the idea of this joint. Weirdly, she almost had to twist the kids' arms to go there. The unappetizing-sounding beaver tail at BeaverTails is, in fact, just a slab of fried dough. Shaped vaguely like a beaver's tail. Ms. Hipster's grandmother used to make fried dough when she was around. Though she was Lebanese and not French Canadian. So I've no idea what the genesis of dough dipped in boiling oil is, though I know it's good. BeaverTails takes that dough and throws lots of shit on top of it. Though Ms. Hipster went for the classic, which is just cinnamon and sugar. That was probably the best move. The kids each got a Brwownie. That's not a typo, it's a pun or something. But it's also a slab of fried dough with Nutella schmeared on it with brownie pieces and white chocolate chunks sprinkled on top of that. That was way too much stuff. One or two bites would have been fine. But a whole tail was insane. We didn't know. Anyhow, get a churro. Get a zeppole. This place is kind of a second-place choice.
Dinner
Vieux-Port Steakhouse
This was the one where we were pulling out all the stops. Fancy pants! And, again, the space was dark and warm and the place was actually pretty well populated. It was pleasant and oddly sprawling. The food, though, was just okay. I ordered French onion soup once again because I'm obsessive. And Ms. Hipster had a lobster bisque. Both were passable. Not the worst, not the best. The most intriguing thing was Hipster Jr. Jr.'s desire to get a bacon wrapped filet. Something that kind of blew her mind and generally married her two favorite meats into one. She jumped at the chance and Ms. Hipster followed suit. Hipster Jr. questioned us about the miso-glazed black cod for about 20 minutes. I had a little trouble explaining umami to him and the "creamy" texture of the fish. But he went with it nonetheless. I got a hanger steak that didn't look like any hanger steak I've ever seen. I mean it kind of did, but generally a hanger steak is kind of long and comes sliced. This one was short and was not sliced. The lackluster presentation made it look like garlic mashed potatoes with a… well with a… smallish dog turd on top of it. I'm just happy I got an appetizer, as it was not what one would typically expect from a steakhouse size-wise. Maybe it's a Canadian portion, I guess? More likely than that, the obviously short-handed staff kind of rushed it out and either picked a random chunk of steak that they'd normally not, or else forgot to slice said chunk of steak. It was strange. It tasted fine, but just looked odd. I also supplemented with a crème brûlée classique à la vanille. Which, unlike the steak, was gigantic. But it, like the steak, was a little off. The custard was cold, which is standard. But the top was also cold. Which means they fired it way earlier and then stuck the whole thing in the fridge. Or fired it and it just sat there. Either way, it missed on the whole warm/cold dynamic that makes creme brulee worth it. Whatever the case, I left stuffed and able to say I went to a steakhouse in another country.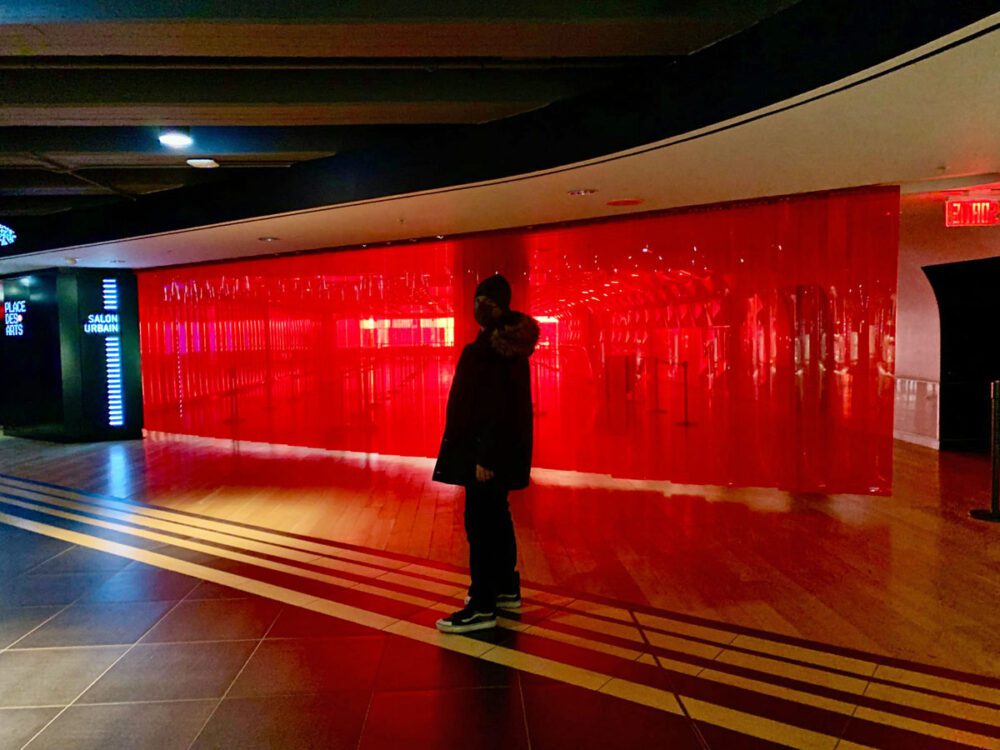 Day 5
Breakfast
Bar à Beurre
A fun, little Italian and French bakery with these wacky things that in English translate to "ball of butter," but were macron-like giant pastry things with buttercream and stuff inside. Lemon curd, one of them. Nutella or similar, the other. Very cool. Ms. Hipster is a croissant connoisseur and claims this joint's were very good. The plain, the chocolate and the almond. The dude who ran the place was friendly, just like everyone else in the city we encountered. Like the barista before him, he seemed genuinely happy to be selling coffees and pastries and hanging out listening to 80s pop R&B music.
Shopping
Marché Bonsecours
This is apparently a mall of sorts. Inside a pretty cool, old building. But the stores themselves are a mixture of tourist trinkets, jewelry and cultural appropriation. Hipster Jr. Jr. is a bit of a social justice warrior. As a ten year old she rejected an inauthentic dream catcher as cultural appropriation and went on to school us about why. And then gave us a lesson on sexuality versus gender and all the possible pronoun mixtures. But there is a lot of Inuit and Native American "art" for sale all over Old Montréal. Like seriously, a ton. And this little mall is filled with paintings and little Indian dolls and tons of stone sculpture. All being sold as presumably authentic by shop owners who don't appear to be so. Not all the stores were open, but I don't think we missed out on anything. Unless we were in the market for fucking miniature totem pole.
Lunch
Pizzeria Bros. – Old Montreal
We needed to grab something before hitting the road home. And pizza was the easiest solve. This joint looks to be yet another mini-chain of about six restaurants. It's essentially a menu of personal brickoven pizzas. The thing with this type of pie is that it turns ice cold within three minutes of exiting the oven. So between the walk there and the walk back in the freezing cold, the pizzas were less fresh than they probably could or should have been. I thought mine was fine, but the Hipster kids thought the dough was weird and didn't particularly enjoy their lunch. Oh well. At least Hipster Jr. and I got a little entertainment as the blue-haired girl at the counter berated her co-worker because he asked a question that she'd clearly answered 100 times that day. Kids.
Epilogue
Montréal (the accent makes it French) seems very cool. The parking was bizarre, though, as our flat didn't have its own space. So we parked in an open lot down the street, paid some dude in a booth for two days, were told in broken English that there was no "in and out" and that we should come back in two days and pay for the additional time with whomever was in the booth. Nobody ever showed up. So we paid the max in the machine and lined the tickets on the dash like lunatics. Nobody ever showed. Holidays, I guess. Also, there's apparently a red light district in the city. We walked by the edge of it on our way somewhere and Hipster Jr. Jr. was delighted at the weird signs on some building. They were in French, but she got it. Coming back across the US border was funny. The dude in the booth was like, "Man, what are you guys doing in Canada? You see we have ten booths and there are only three cars here? Because no Americans are going to Canada right now…" He laughed and waved us through. Lastly, there ain't shit between the Canadian border and Albany. We drove in pitch blackness down a winding highway with snow and wet sticking like crazy to our windshield. It was so empty and so black as to be claustrophobic. And filled with poorly-driven trucks. Thank god for podcasts. And thank god for the US of A. Au re​voir Canada!