Sure, it's kind of lame taking a "vacation" like ninety minutes from one's house, but I suppose it's better than a weekend in Newark. That said, why not visit the second largest city in the area and enjoy some of its history, food and drinking establishments. But mostly its drinking establishments.
So here's a quick list (and any pictures) of places at which I ate and drank–or remember drinking.
Monk's Cafe: This is one of those wacky Belgian brewery places with all sorts of beers that taste like bitter herbs and wheat fields. The front room was a little beat, but the back room was nice and cool. We had some decent mussels and I had a delicious duck sandwich. We went through about a hundred bucks worth of beer, and left with some serious headspins.
McGillin's Olde Ale House: This place is old as dirt. I'm talking like dudes in those little pince-nez glasses and walrus mustaches. Now it's filled with what appeared to be college students and young kids just looking to hang out and drink lots and lots of beers. There was some serious drunken debauchery going on here, but the crowd was friendly and not at all interested in punching anyone.
El Vez: I stuck to Negro Modelos, but the rest of our party drank margaritas. The guacamole was decent, but not spectacular, and the second batch we ordered with goat cheese and pistachio was just too rich and weird, but it was certainly interesting. The real surprise came with my enchilada tasting plate, which included black bean, chicken and crab enchiladas. I didn't expect good Mexican food in a trendy joint in Philadelphia, but those damn enchiladas were so damn tasty I didn't know what to do with myself. All of us absolutely loved our meals and couldn't stop talking about the incredible sauces all weekend. Who knew? Oh, and there was some dude from the Sixers there with his hot date, and the crowd was young and active.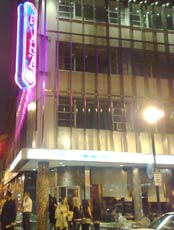 Rouge: We stopped here for brunch after looking for another joint and not finding it. It was a weird place to say the least. It felt a bit like sitting in a drapery showroom that was actually a lounge that put out tables to make some money for morning crowd. I stuck with the safe bagel, lox and "Philadelphia" cream cheese. It was fine, but still just plain strange.
Pat's Steaks vs. Geno's Steaks: I mean why come to Philly if not to get a cheesesteak? And if you're going to get a steak, why not go to the most famous joints in the city? Of course, as we know, the most famous doesn't necessarily mean the best. We went on a dreary, cold day, tried Pat's first and then crossed the street to eat some Geno's. The lines at both were relatively long, but moved quickly as we ordered "steaks wit–provolone." In Philly cheesesteak vernacular, that means a cheesesteak with onions and provolone. The kind of default cheese is actually cheeze wiz, which has always wigged me out a bit, but whatever. I can't say that I was really impressed with either place. Pat's steak was a bit overcooked and had the livery taste that inferior meat sometimes gets when it's cooked for too long. Geno's tasted much better (although there was much less meat on the sandwich), but was still missing that something that made it anything special. What we should have done is go to Jim's Steaks, a joint that I had gone to years ago and I seem to recall tasting a bit more like what I expected from a Philly cheesesteak. Despite the disappointment in the steaks themselves, these places are true institutions and shouldn't be missed for that true Philly experience (despite the slight whiff of old school racism at Geno's).
vs.

Fergie's Pub: We stopped in here for some afternoon beers. We were a little stuffed from sampling cheesesteaks, so we were only able to choke down three or four. This joint has live music at night, and is a pretty mellow pub-like place during the day. Drinking when the sun is up is always a good time.
13: This is some sort of bar/lounge/restaurant in the Downtown Marriott where we stayed. It has to be one of the worst run places in the entire country. They couldn't figure out how to work the TVs, made their bloody Marys with some sort of crap from a bottle and had a bartender with as much personality as the bacteria-laden comforter on my rent-a-bed.
Franks A-Lot: This is just a hot dog stand in the Reading Terminal Market, which is just a giant food court. We came in on a Friday, and most of the vendors were closing up. Starving, we went for some hot dogs that were rolling on one of those hot dog rolling cooker things. They weren't half bad. The market itself was a smorgasbord of meat and fish vendors, along with your more typical sandwiches, Asian food and whatnot. I'm sure it's packed with office workers during the week.
Marathon Grill: We were just wandering around Market Street looking for somewhere to catch a hung-over breakfast prior to getting on the road back up North and ran into this joint. It's a little weird in its set-up, but the breakfast food turned out to be pretty tasty. It looks to be a chain of some sort.
Oh, and there was some historical shit and stuff, too.