It is my goal to visit every off-brand wine region in the country. Okay, it's not so much a goal as a coincidence. I've done the Santa Ynez region in California, the Finger Lakes Wine Region in Upstate New York and now the Temecula Valley in Cali. I mean, anyone can go to Sonoma or Napa Valley, but it takes a real cheapskate to opt for one of these inferior regions. Though perhaps it's just an inferiority complex and not an inferior experience. That's what I say.
So, Hipster Parents moved from Los Angeles to Laguna Beach last year. It definitely puts a dent in the hipster profile, but I imagine it gives the family a tinge of WASP that we never had before. This is all to say that Temecula was now within our reach on a day trip from Laguna to the inland California valley. Though who the hell wants to make the drive back to Laguna after sampling wine all day? Not I. So we chose to spend the night. The whole thing turned out to be a terrific idea.
After a lovely drive around what looks like a relatively large mountain on a map, we stopped at our first winery of the day. It sat along a long road that had absolutely no traffic and basically felt like it might meander off to a ranch you'd see in an old movie. Hipster parents hadn't been to Temecula since before it apparently started taking itself a little more seriously, so they really didn't prepare us for the choices that we had — which were certainly numerous.
Cougar Vineyard & Winery
The first thing we concluded was that we would not be taking any wine away from the winery. The cost to ship to our East Coast city was cost prohibitive to the point that the shipping would cost more than the wine. Granted, this was pretty reasonably-priced stuff, but that's some ridiculous shit. Ms. Hipster asked if we might be able to find the wine in NY or the surrounding states, but apparently this and most of the wineries in the region (with the possible exception of Callaway Winery) are so low-production that they really only sell out of the wineries themselves and don't distribute past local restaurants. I'm no sommelier. In fact, my wine expertise barely reaches beyond the wine tasting class I took in college back before the Internet. But the wine samples tasted good and the man working there was essentially Wilford Brimley with a pourer. Our panini out on the patio was also tasty and the surroundings picturesque and peaceful.

Masia De La Vinya
Then is was on to our second winery. This one was also super-chill and the ladies who worked there seemed pretty plugged into the local scene. Definitely more hip than Wilford, but equally as knowledgable. This was where I realized I like Spanish wines, or Spanish grapes, I guess. Tempranillo is good. This was a fun little place. And we got to watch a middle-aged mom and her 20-something daughter drunkenly crawl out of the place and disappear into the desert-like surroundings. I'm sure they're fine, but if you see a late model, silver Mercedes in a ditch somewhere, you know where they came from.
Danza del Sol
Sadly, this was our last winery of the day. Three and out. It was the largest of the three and certainly the most crowded / popular. Our pourer couldn't have been more chipper. She was like a Kristen Chenoweth look-alike who was really into the wine and described it like a mixture between an orgasm and an acid trip. It was pretty spectacular. She even gave us some of the club-only Super Tuscan because we used some special code word or something. I have no idea if it was really that super, but just the fact it was special made me think it tasted great.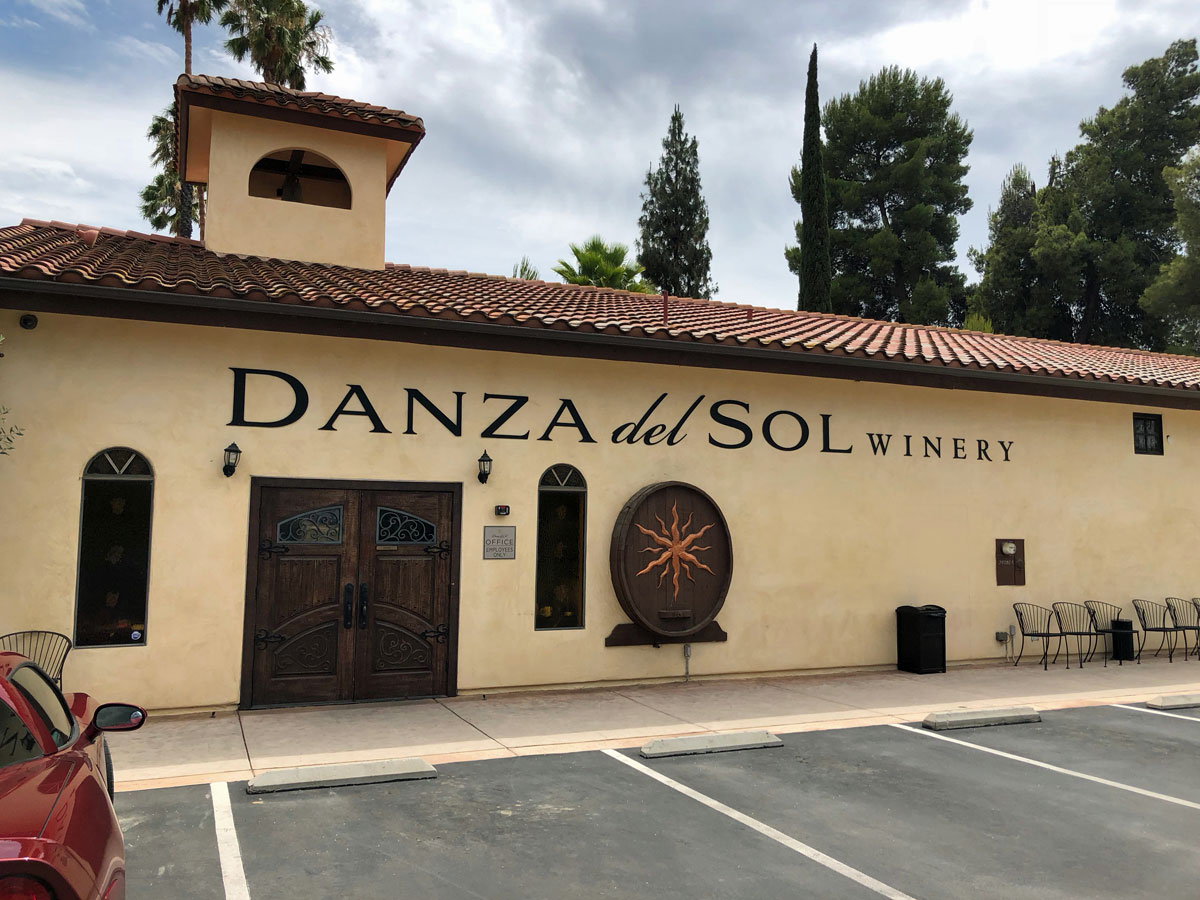 Ponte Vineyard Inn
This joint is both a vineyard and an inn! Though I'm not sure what the definition of an inn is, really. It's more like a small-ish hotel. And as a hotel, it was pretty darn nice. We sat out at the large pool, which neighbored acres of grapevines, with a nice wine buzz and a decent light breeze. Pretty cool. The place was quiet and tranquil and our room was clean and comfortable and had a little balcony on which to drink our morning coffee and look out on the vineyard.
The Vineyard Rose Restaurant
We booked dinner next door to our hotel at the South Coast Winery's fancy-pants restaurant. Finding the actual restaurant was a little more difficult than we expected, as we circled the winery's large building looking for something that looked even remotely like an entrance. We finally happened upon it and entered into what is a pretty pricey joint through the kind of corridor you might expect to go down to get a conference room for some sort of off-site work event. Certainly an awkward and inauspicious start to an evening of fine dining. The restaurant space itself is actually soaring and oddly large with sashes draped over wood beams on the ceiling. It's kind of cool, but not particularly intimate. I gotta say that I didn't expect much from the food, but it was actually quite decent. There was some calamari, some clam chowder, a super-sized bowl of wild mushroom risotto and a short rib with polenta. And, of course, wine. I could have done without the family across from us with the kids, but otherwise a very pleasant — and very filling — experience.
The Cellar Lounge
What amounts to a subterranean bar in the basement of our hotel, people remarked that it's essentially the only fully-stocked bar in the Temecula Valley. I took advantage, ordering a Manhattan that was boozy as hell. The space itself is a little weird, it being windowless and all. It felt like the club from Goodfellas or something, complete with a stage with a red curtain that was big enough for maybe a command performance by Alvin and the Chipmunks. It felt a little incongruous with the old-world Spanish style of the hotel and winery, but I think people only care that there's something besides wine and beer to be had.
Boquet Restaurant
This was a nice little outdoor restaurant at our hotel where we ate a slightly hung-over breakfast the next day. The food was fine (I hear the bacon was well-cooked), but the setting was the best part. Outside under a nice trellis is how all eggs should be eaten. Even eggs as expensive as these.
Old Town Temecula
Knowing that we had to get back to Laguna, we made our way over to Temecula's downtown area for some antiquing and whatnot. One step into town and it's pretty clear why it's named the way it's named. I think — and this is just based on my exposure to the Universal Studios Wild Wild Wild West Stunt Show as a kid — a bunch of the buildings are outfitted with these kind of fronts that make them look as if they've been around since the stagecoach days. My thought is that they probably went up more towards the Carter administration, but what do I know? We moseyed on down the main strip in the 1001-degree heat and visited candle shops and tchotchke shops and some antique malls filled with old perfume bottles and those free glasses you used to get from McDonald's in the '70s. It was about what we expected, but with way more right-wing Jesus stuff. Seriously, we found ourselves in some weird red-state weirdness that we weren't expecting after visiting the wineries the day before. And it was hot. Really hot. Like Old West hot. It made us wish we'd scheduled differently and made one last winery visit, but regrets are for suckers. Instead, I just stood in front of this machine, put in a quarter and wished to be big.