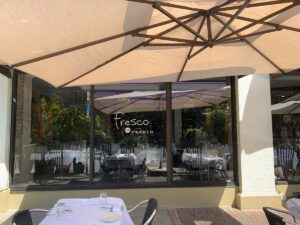 Church Street in Montclair is a lovely street. About as lovely as they come. But you always take your chances sitting outside. Especially in NJ, where every asshole seems to either own a motorcycle or a '93 Honda with a muffler bigger than a howitzer. Also, drunks out for a night of revelry think that volume control isn't a thing when you're outside. Behavior and decibels that would be uncouth inside suddenly become totally acceptable in the open night air. Hint: that's not a thing. Loud is loud. Rude is rude. Luckily we only had a little of the former and a bit more of the latter. Plus, I'm not as old and crotchety as my complaints may suggest.
Needless to say, we plunked down at one of the outside tables for our dinner reservation at Fresco Da Franco. Not a great name, but what are you gonna do? It's one of about a million Italian restaurants in Montclair, but has the advantage of a great location and a menu just non-traditional enough (and not overly fancy) to attract a mixed crowd.
So, how did it go? Well, it was honestly a bit of a mixed bag. From what I could tell there was exactly one server. He handled the inside and the outside tables. And while it wasn't terribly busy — and they managed to spread things out enough that it didn't feel like we were waiting forever at any given point — we were there for a very long time. Perhaps they serve "European style" or something, but I don't need my weeknight dinner to be an all-night affair. I think there must have been some understanding somewhere that service was going to be slower than usual because they comped us an appetizer. Kind of a preemptive move.
We did that whole thing where we came to the meal hungry. And their appetizers all sounded delicious. So we ended up with way too much food up front. Including a salumi and cheese board, fried calamari with some sort of yellow peppers, figs with balsamic glaze and ricotta and the comped squash blossoms. Plus Hipster Parents split a Caesar. All were tasty, though some of the cheese on the board was a little weird and the blossoms were prettier than they were delicious. The figs were charred in a really good way and were pretty incredible, though. Sweet, salty and texturally interesting.
I ended up with a homemade black ink pasta with elephant garlic, chickpeas, rock shrimp, chili flakes, Meyer lemon and sweet basil for my entrée. Homemade pasta is really good. The kind of al dente, but a little sticky and a little toothy thing is awesome. I can't say I've ever had chickpeas (or garbanzo beans where I'm from) in my pasta, and rock shrimp are a little weird, but overall it was a nice bowl of food. Ms. Hipster got a rigatoni with a spicy sausage that she said was delicious. Hipster Dad got risotto of some sort because he always orders risotto when it's on the menu. He doesn't give up much facially unless he's eating flourless chocolate cake, but he didn't complain. Hipster Mom got something I don't recall, but she asked the waiter about everything on the menu, so she probably got her fill. Hipster Jr. got a good looking pizza, of course. Hipster Jr. Jr. got the second-most expensive thing on the menu  at $36.96 — a skirt steak with gulf shrimp — and it was super-disappointing. It came with literally two very small shriveled, dried-out shrimp in a little bowl. I'm not sure why they bothered. The steak was supposed to be medium rare but was south of medium and was described by Ms. Hipster, after tasting it, as "livery." It sat there on the plate sad and lonely, not even boxed up with some of the other food to make second-day steak quesadillas or anything. They were nice enough to take it off the bill.
It was Hipster Mom's birthday and they lowered the lights (despite us sitting out on the street), played some music and gave her a giant sparkler to hold while we sang. She ordered a warm apple cobbler to wash everything down and we wandered home full and mostly satisfied. I'm sure we'll be back to order some more Italian food. Just book yourself a couple hours and pass on the steak.
---
15 Church St. – Montclair
973/337-5100
frescodafranco.com
---