While not one of my sexier trips, Dallas is definitely a city. No, I swear, it's a real place, not just something that sprung from Montgomery Burns wannabe Jerry Jones' head. Sure, the television series, Dallas, that ran for thirteen years between the 70s and the 90s, made the whole town seem like a cartoonish place filled with oil dudes in ten-gallon hats, but it has come a long way in the intervening decades. I mean, you got your Walker, Texas Ranger, some Fox show called Lone Star that was canceled after two episodes in 2010 and, uh, oh, the first two seasons of Halt and Catch Fire, which was set in early-90s Dallas, but was actually filmed in Atlanta. So, okay, not a rich history of being depicted on the small screen, but it's been in plenty of feature films, though those most revolve around the JFK assassination or is Wes Anderson's debut. The city — or at least the downtown Sheraton where I was staying — doesn't have a whole lot of personality, and the streets are often empty…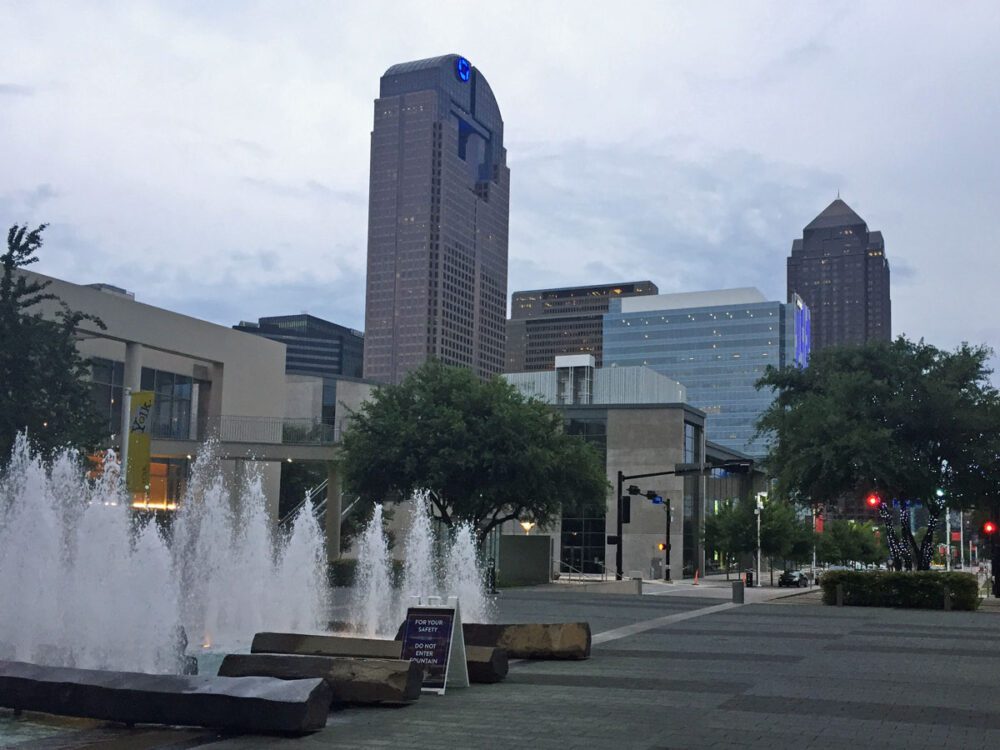 Thing is, the first item people bring up when you mention Dallas is the heat. No matter who I told I was going there, they told me what the temperature was going to be that week. Turns out, it was 98, but it was a dry heat and not as unpleasant as it sounds. They'll then tell me that nobody actually walks around in Dallas. I found that that is completely true. I walked a mile to dinner my first night there and was relentlessly chastised, despite walking further many times in Manhattan for sustenance. Turns out they have Uber in Dallas, so maybe the derision was warranted.
Anyway, I did a couple quick trips to Dallas for work and on my second trip took a little more liberty with my wanderings. Here's where I ate and drank. I know there's a lot more to offer — and I plan to branch out the next time I have to fly down there for work — but I feel like I started to crack the code during my last trip.
Dinner – 1st Trip: Meso Maya
This is where I walked to because I wanted Mexican food that badly. Being from California, and having now lived in the East for the majority of my life, I missed that authentic Mexican thing (or Tex-Mex, whatever). This joint didn't disappoint with their excellent chicken mole enchiladas, a fun, party atmosphere and a chill bartender who did his city proud.
Dinner – 1st Trip: Proof + Pantry
We were brought here by one of our Dallas-based co-workers who knew the chef. It felt like one of those small joints you might find in Culver City that serves hearty American food with flair. The grub was very tasty and made me realize that prices in Dallas are way lower than they are in NYC for the same shit.
Dinner – 2nd Trip: Draft Media Sports Lounge
I was starving after my flight and this restaurant/bar was in my hotel. That's the last time I make that mistake. I had some sort of flatbread that sounded wonderful on the menu but tasted as if someone left a Stouffer's out on the counter for too long. The beer list was decent, but my brew came not-that-cold and flatter than it should have been. This place was such garbage that it looks like it may have possibly closed since I was there like a month ago.
Lunch – 2nd Trip: Quiznos
I needed something quick before a meeting and this was right across the street. I remember when Quiznos was a revelation (back when all you could get was Subway), but now it's just lame.
And then I discovered Deep Ellum. I asked someone where the cool shit was, and I swear they said D-Bellum, which made me think of cerebellum, but it turns out I just misheard.
Dinner – 2nd Trip: St. Pete's Dancing Marlin
It turns out people in Texas are really nice. The owner of this place, appropriately named Pete, stands behind the bar of his large, nautical-themed, bar and restaurant greeting everyone by asking your name. This was the first, but not the last, place at which this happened. He then chats you up a little, makes recommendations off the menu and is just an all-around nice dude. I ended up with the grilled dancing tuna sandwich on his recommendation, which was essentially a medium-rare tuna steak sandwich on a whole grain bun with fries. And that shit was deeeeelicious. No, seriously, one of the more simple, but tasty sandwiches I've had in quite a while. I would have spent more time here, but I needed to explore.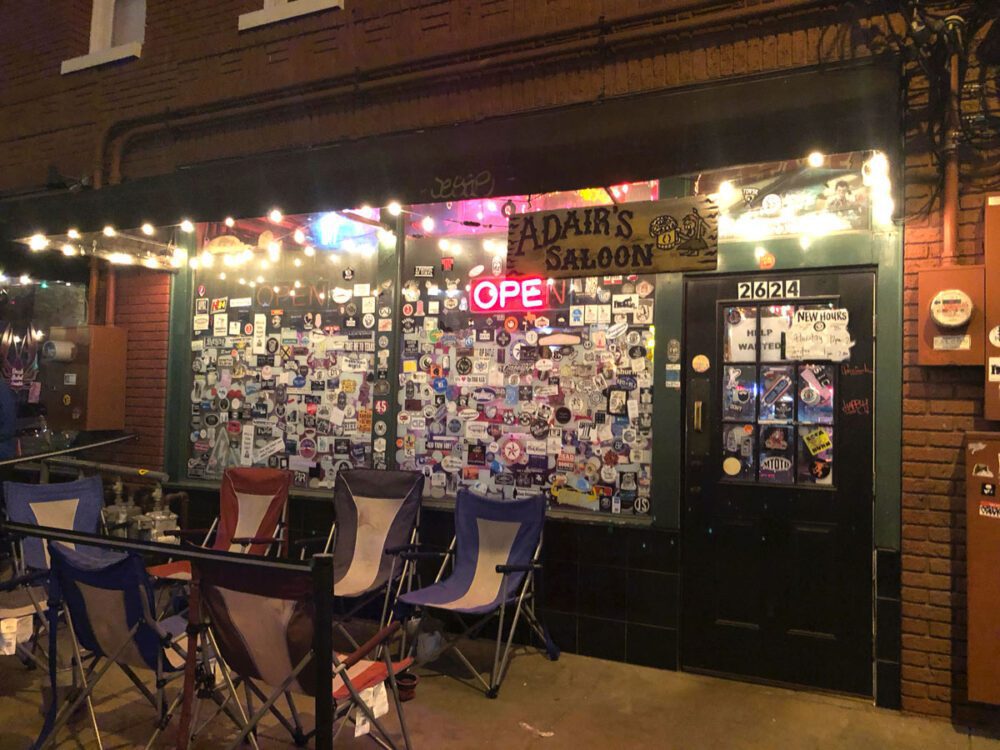 Drinks – 2nd Trip: Adair's Saloon
This is the honky-tonk I was looking for. Granted, I don't even know if this is what a honky-tonk is, but if it's a dive bar with live music, this is it. Four dudes in sunglasses playing Waylon Jennings covers with a drunk couple spinning on the make-shift dance floor while three bros with bad tattoos chat it up with the female bartender while I eavesdrop over a Shiner draught… Heaven, man.
Drinks – 2nd Trip: Ruins
I walked around a little after Adair's searching for a place to land, mostly giving my best NYC scowl to the many panhandler/grifters that seemed to come at me and decided on this place mostly because of the cool look of the exterior. Turns out it's a mezcal bar and kind of Yucatan peninsula themed (or something like that). The vibe was very From Dusk Till Dawn-ish, but, once again, the bartenders were super-nice and they had a terrific selection of local Texas brews to choose from and tons of mezcal should I have not had to work the next morning.
Lunch – 2nd Trip: St. Paul Cafe
I ventured a little further than the Quiznos this time, but landed at what I think was possibly a cafeteria inside a church? I had a super-simple grilled chicken sandwich served by a very nice lady in a hairnet and felt like I did my part to further a religion that I don't generally support. And the sandwich didn't kill me, so there's that.
Dinner/Drinks – 2nd Trip: Press Box Grill
I had big plans to go to this BBQ joint in some other neighborhood, but it just looked too far away and I chose to wander by foot instead. I ended up at what amounts to a downtown sports bar, which definitely was a come down after Deep Ellum, but turned into a pretty decent find. There were 36 beers on tap, many of which were from Texas. Who knew the state made so much booze? And then I had what was honestly one of the tastiest burgers I've ever had. It makes no sense, but their brisket burger, which is just a burger topped with chopped brisket, cheddar cheese and fried jalapeño onion strings made me actually make a yum-like sound out loud. I gotta say, these Texans know how to cook a piece of meat. And, once again, the bartender asked my name, remembered it and was pleasant in that way only Southerners can be.