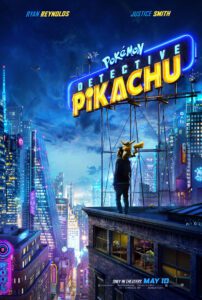 Ok, I've hit rock bottom. No, seriously, this is me pretty much giving up. Hipster Jr. Jr. didn't even have to lead me into the abyss. I asked her if she wanted to watch this absolute piece of shit. So much for me trying to bond through art. Instead we waste almost an hour and forty-five minutes rolling our eyes at each other. Which I suppose made the time worth it. I just wish we didn't have to be tortured with this soul-gouging nonsense.
Even if you've never been exposed to the world of Pokémon, you still probably know that it's super Japanese. Like not American in any kind of way. So taking that very "other" world and weirdly dropping one American, Justice Smith, and one Canadian, Ryan Reynolds, into the middle of it just seems, I don't know, like some sort of cultural appropriation. But that aside, the whole thing feels like a fantasy that they don't go far enough to explain. And therein lies the largest issue with this shitshow. If you're going to world-build, you have to explain the rules of the world. Especially when half that world is made up of weird Japanese CGI characters that are maybe, kinda bonded to human beings. But only sometimes.
So it's a mess from the start. And the plot just kind of goes downhill from there. I feel like it's a weird mash-up of what I imagine a live-action GoBots movie would be like, and any number of the Batman movies where they put something in the water or spray something in the air to control a large populous. It's really stupid.
But at the heart of the movie is a story about a boy with a missing father. Who somehow gets the power to understand Pokémon. To everyone else they just speak gibberish. But for this young man this Pikachu befriends him and talks to him in Ryan Reynolds' voice. Which on the surface feels weird. And is also really, really obvious what's going to happen. You don't hire a good looking matinee star to just be the voice of a little, yellow CGI character. Just sayin'.
And, like everything else in the film, we know next to nothing about this Pokémon creature. Like why is this cute little yellow squirrel-looking thing so nice, but also a badass? Is it like a prince Pokémon? Or like a king or something? Is Pikachu the only Pikachu, or are there others? I mean, he's the second lead in the film and we don't have any backstory, personal stats or anything else. Other than the fact that he, once again, sounds like Ryan Reynolds.
The only positive thing I can say about this movie is that it looks like they spent some money on it. I'm sure all those computer-generated creatures cost a pretty penny. But it's like having pretty garbage in a garbage can. Who cares. Even when they throw in a twist at the end that was pretty much completely obvious from the opening credits. Also, Pikachu may have the hat, but are we sure he's such a good detective?