While not one of my sexier trips, Dallas is definitely a city. No, I swear, it's a real place, not just something that sprung from Montgomery Burns wannabe Jerry Jones' head. Sure, the television series, Dallas, that ran for thirteen years between the 70s and the 90s, made the whole town seem like a cartoonish place filled with oil dudes in ten-gallon hats, but it has come a long way in the intervening decades. I mean, you got your Walker, Texas Ranger, some Fox show called Lone Star that was canceled after two episodes in 2010 and, uh, oh, the first two seasons of Halt and Catch Fire, which was set in early-90s Dallas, but was actually filmed in Atlanta. So, okay, not a rich history of being depicted on the small screen, but it's been in plenty of feature films, though those most revolve around the JFK assassination or is Wes Anderson's debut. The city — or at least the downtown Sheraton where I was staying — doesn't have a whole lot of personality, and the streets are often empty…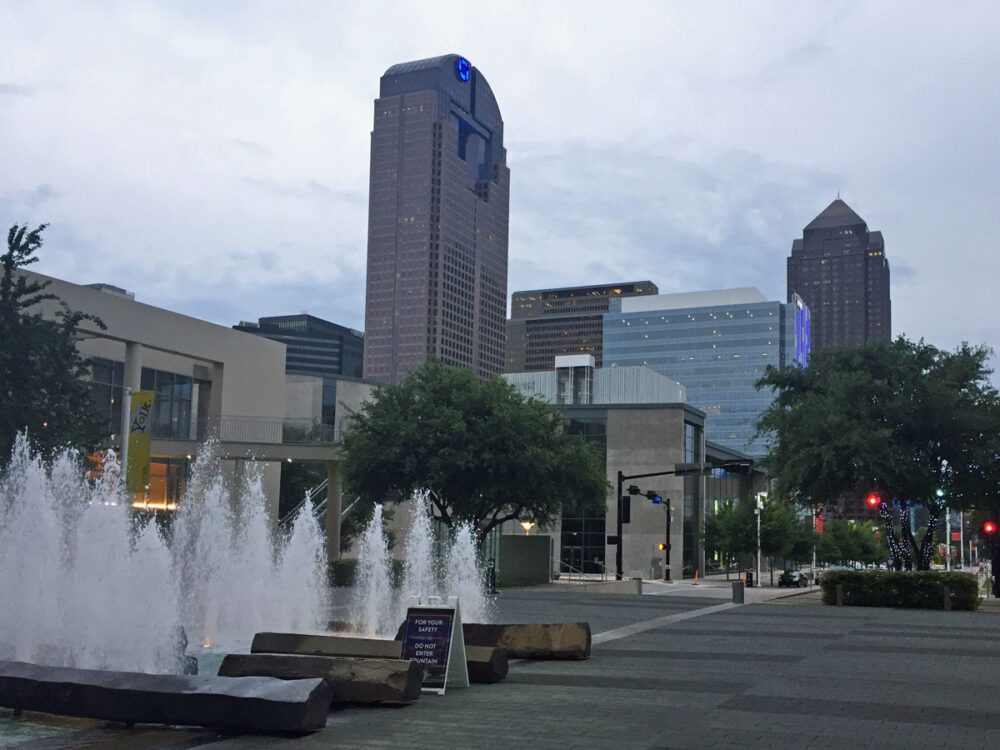 Thing is, the first item people bring up when you mention Dallas is the heat. No matter who I told I was going there, they told me what the temperature was going to be that week. Turns out, it was 98, but it was a dry heat and not as unpleasant as it sounds. They'll then tell me that nobody actually walks around in Dallas. I found that that is completely true. I walked a mile to dinner my first night there and was relentlessly chastised, despite walking further many times in Manhattan for sustenance. Turns out they have Uber in Dallas, so maybe the derision was warranted.
Anyway, I did a couple quick trips to Dallas for work and on my second trip took a little more liberty with my wanderings. Here's where I ate and drank. I know there's a lot more to offer — and I plan to branch out the next time I have to fly down there for work — but I feel like I started to crack the code during my last trip.
Dinner – 1st Trip: Meso Maya
This is where I walked to because I wanted Mexican food that badly. Being from California, and having now lived in the East for the majority of my life, I missed that authentic Mexican thing (or Tex-Mex, whatever). This joint didn't disappoint with their excellent chicken mole enchiladas, a fun, party atmosphere and a chill bartender who did his city proud.
Dinner – 1st Trip: Proof + Pantry
We were brought here by one of our Dallas-based co-workers who knew the chef. It felt like one of those small joints you might find in Culver City that serves hearty American food with flair. The grub was very tasty and made me realize that prices in Dallas are way lower than they are in NYC for the same shit.
Dinner – 2nd Trip: Draft Media Sports Lounge
I was starving after my flight and this restaurant/bar was in my hotel. That's the last time I make that mistake. I had some sort of flatbread that sounded wonderful on the menu but tasted as if someone left a Stouffer's out on the counter for too long. The beer list was decent, but my brew came not-that-cold and flatter than it should have been. This place was such garbage that it looks like it may have possibly closed since I was there like a month ago.
Lunch – 2nd Trip: Quiznos
I needed something quick before a meeting and this was right across the street. I remember when Quiznos was a revelation (back when all you could get was Subway), but now it's just lame.
And then I discovered Deep Ellum. I asked someone where the cool shit was, and I swear they said D-Bellum, which made me think of cerebellum, but it turns out I just misheard.
Dinner – 2nd Trip: St. Pete's Dancing Marlin
It turns out people in Texas are really nice. The owner of this place, appropriately named Pete, stands behind the bar of his large, nautical-themed, bar and restaurant greeting everyone by asking your name. This was the first, but not the last, place at which this happened. He then chats you up a little, makes recommendations off the menu and is just an all-around nice dude. I ended up with the grilled dancing tuna sandwich on his recommendation, which was essentially a medium-rare tuna steak sandwich on a whole grain bun with fries. And that shit was deeeeelicious. No, seriously, one of the more simple, but tasty sandwiches I've had in quite a while. I would have spent more time here, but I needed to explore.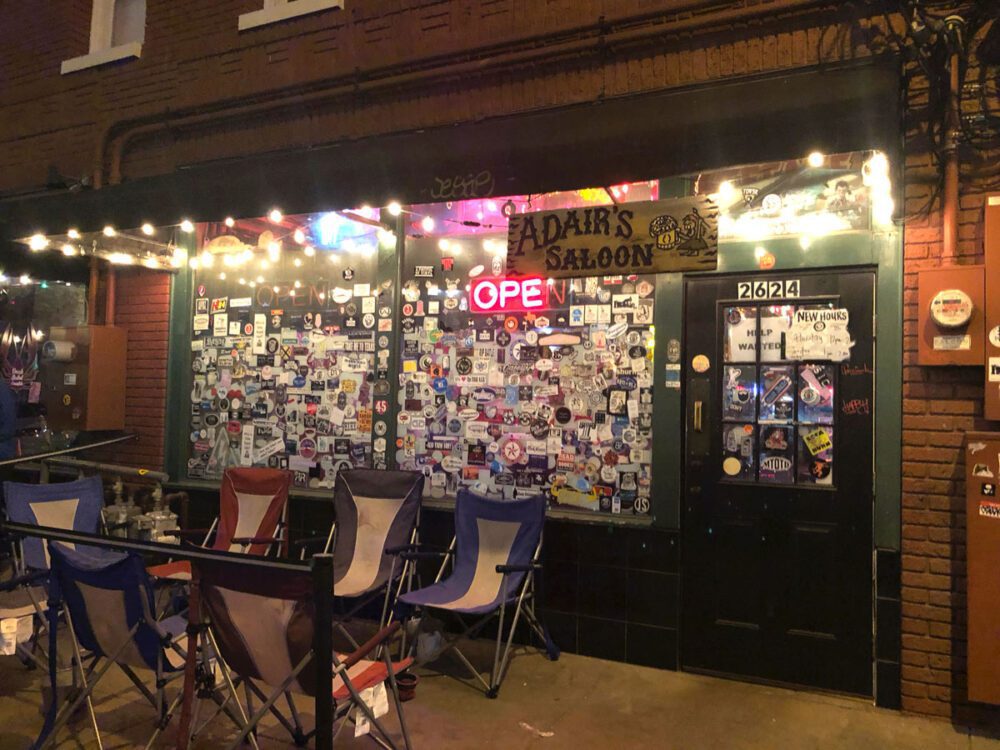 Drinks – 2nd Trip: Adair's Saloon
This is the honky-tonk I was looking for. Granted, I don't even know if this is what a honky-tonk is, but if it's a dive bar with live music, this is it. Four dudes in sunglasses playing Waylon Jennings covers with a drunk couple spinning on the make-shift dance floor while three bros with bad tattoos chat it up with the female bartender while I eavesdrop over a Shiner draught… Heaven, man.
Drinks – 2nd Trip: Ruins
I walked around a little after Adair's searching for a place to land, mostly giving my best NYC scowl to the many panhandler/grifters that seemed to come at me and decided on this place mostly because of the cool look of the exterior. Turns out it's a mezcal bar and kind of Yucatan peninsula themed (or something like that). The vibe was very From Dusk Till Dawn-ish, but, once again, the bartenders were super-nice and they had a terrific selection of local Texas brews to choose from and tons of mezcal should I have not had to work the next morning.
Lunch – 2nd Trip: St. Paul Cafe
I ventured a little further than the Quiznos this time, but landed at what I think was possibly a cafeteria inside a church? I had a super-simple grilled chicken sandwich served by a very nice lady in a hairnet and felt like I did my part to further a religion that I don't generally support. And the sandwich didn't kill me, so there's that.
Dinner/Drinks – 2nd Trip: Press Box Grill
I had big plans to go to this BBQ joint in some other neighborhood, but it just looked too far away and I chose to wander by foot instead. I ended up at what amounts to a downtown sports bar, which definitely was a come down after Deep Ellum, but turned into a pretty decent find. There were 36 beers on tap, many of which were from Texas. Who knew the state made so much booze? And then I had what was honestly one of the tastiest burgers I've ever had. It makes no sense, but their brisket burger, which is just a burger topped with chopped brisket, cheddar cheese and fried jalapeño onion strings made me actually make a yum-like sound out loud. I gotta say, these Texans know how to cook a piece of meat. And, once again, the bartender asked my name, remembered it and was pleasant in that way only Southerners can be.
And then a 3rd, 4th, 5th & 6th trip. Here's just a summary of places:
Hotels
Hilton Garden Inn Downtown Dallas
Three Uber drivers in a row couldn't find this place and a pipe burst in the morning flooding the elevators and the lobby. Though I got some serious exercise taking the stairs. Avoid this place at all costs.
Cambria Hotel Downtown Dallas
This place was pretty cool. Housed in what looks to be a rehabbed deco-style building, they definitely put some thought into all the trimmings.
The Statler Dallas
My fourth hotel in downtown Dallas, this one was definitely the most interesting. It's like a marvel of mid-century weirdness. Like an episode of I Dream of Jeannie on steroids. I stayed on the "apartment" side, which are apparently long-stay rooms that include a kitchenette, living room, two bathrooms and a bedroom, of course. Not too shabby, but definitely an odd experience.
Hampton Inn & Suites Dallas Downtown
Yet another hotel in boring-ass downtown Dallas. This one was the worst of the bunch. Sure, there was free breaksfast, which was nice, but my hotel room smelled like cheap perfume and it was as quiet as a crypt. Also, my room looked over what amounted to an air shaft with a giant fan at the bottom of it that I heard spinning all night and a parking garage.
Lorenzo Hotel
A hotel surrounded by vacant lots and wild dogs, this joint feels like some sort of Tim Burton fever dream. Or like a Missing Persons album cover gone horribly wrong. The lobby looks like a 1980s rave in St. Petersburg, and I believe there are dismembered mannequin bodies embedded in a trestle overhanging the pool. The rooms have unfinished cement ceilings, clocks on the ceilings over the bed, giant, leaning mirrors against the wall and a strange baroque style painted in gloss black and white. I suppose it's cooler than your typical boring corporate hotel, but it's also a touch too much. The converted storage containers in the parking lot that serve pastries and tacos lend their vibe to the post-apocalyptic landscape around the hotel and the weirdness that it all is.
Lunches
Uncle Uber's Sammich Shop
People really seem to love this joint. A large menu of fun sandwiches — including a "secret" menu behind this little sliding box thing — seems like it has something for everyone. I had a roast beef sandwich, which turned out to be a cheesesteak-ish thing. It was not bad, but I'd definitely come back again and try one of the other 20 things on the menu that sounded decent.
Dakota's Steakhouse
A little more fancy than my typical lunch experience, it's a strange subterranean (or seemingly subterranean) experience that feels like one of those NYC midtown suit joints (though with Dallas prices). I had some fish, which was actually pretty good, but way too much food for noon on a Tuesday. These Texans eat lunch really early!
Murphy's Deli
It's your typical schlocky sandwich place. It's fine for people looking to not challenge their tastebuds.
The Metropolitan Cafe
It's not at all surprising that this joint doesn't have its own website. A lunch sandwich and salad place, it's an adorable space with high ceilings and shit all over the walls, but the owner/cook/server makes the experience so unnerving, it's almost insane. A long line waits as one dude seemingly does everything short of cleaning the bathroom. He throws plates and pushes his hair out of his face and grumbles and serves and takes orders and grumbles some more. I understand from a local that he's been doing this for years. I don't know how he doesn't have a heart attack. My panini was super-weird and probably would have been interesting if they had the time to actually heat it properly. I think they just needed to get the food in the window so people in the slow-moving line didn't continue to bail.
Zoës Kitchen [catered]
I'm not sure why there's no apostrophe in this place's name, but I will chalk it up to some southern thing. Apparently this is a chain, and while the Mediterranean food isn't horrendous, there were a few weird things about it. Hummus in Texas. Ok.
East Hampton Sandwich Co. [catered]
Another chain, this is a straight-up sandwich place. Though they don't really make interesting sandwiches, or particularly tasty ones. That could have just been poor ordering, as the little side salads were ok, but I've certainly had better.
Snappy Salads – Harwood, Downtown Dallas
I'm from the home of the lunchtime salad, son. So you can't impress me with your one salad joint that apparently everyone in the Downtown Dallas area goes to. Seriously, after seeing the lines coming out of this place, I thought about moving down here to open a Chopt. The salads were fine, but nothing special. It just seems it might be the only game in town. Until the one time when I rolled down from the office and saw a single taco food truck right outside Snappy Salads, whose line was probably 50 deep.  I'm trying to imagine these peoples' heads exploding if they visited NYC and saw 12 salad joints on every midtown block and an army of food trucks lining every midtown street.
Drinks
CBD Provisions
Ah, this place was nice. It's a large, after-work bar/restaurant with the whole open-kitchen, brasserie feel. The appetizers were tasty, the drinks strong and the servers very sweet. Definitely worth a stop.
Petro Bar & Bistro
This was a bar/restaurant in the Cambria Hotel. It's a nice, open modern space. The beer list is actually really decent and the servers very efficient and nice. If you're staying in the hotel, it's worth a stop.
Scout
Had a work event at this bizarro bar/play space within the Statler hotel. A large, sprawling bar with a couple bowling alleys, foosball, ping pong and maybe a couple other things make for a bustling time. The food wasn't too bad (queso is still a thing I'm getting used to, but was kind of addictive) and the drinks were actually decent and came quick, fast and in a hurry. I decent bar for a larger after-work crowd if I were to judge it. Which I will.
Dinners
Wild Salsa Dallas
This restaurant is kind of weird. Like a slightly better version of Chevy's, but it's a close call. The margaritas are clearly pretty boozy, but the ambiance and food could use a boost.
Iron Cactus
I can't help but eat Tex-Mex in Dallas. But this place is super fucking weird. I ate in this like turret area on the second floor, which was awkward and seemed kind of half-finished. My mole enchiladas were just okay, but the bartender (who was also the server) was cool and the people were pretty chill.
The Crafty Irishman
This joint was actually better than I expected. I mean, it was still a small Irish bar in the bottom of a retail building of some sort, but the help was pleasant, the bar crowded on a Monday night and what seemed like a decent mix of older regulars and younger out-of-towners like myself. My pub curry was actually pretty good, though I would have liked a little better beer list.
Zenna Downtown Dallas
I got in on a late flight, hemmed and hawed about dinner and then decided to just go out and wander the streets. It seems — like a lot of "downtowns" — that Dallas kind of shutters early. But this weird-ass Thai/Japanese joint was open. At first I wasn't actually sure it was a restaurant. It felt more like a sad dance club in Mexico in low season. Blaring music, oddball, echoey empty space and not exactly what one might call clean. Weirdly, though, my pad thai wasn't bad. I was honestly shocked as I sat there mawing the stuff in my hotel room. And then I started to worry what it might do to me later that night, but I was so hungry I didn't care. It was fine, btw.
Tortaco
If ever Hot Topic started serving tacos, this place might be its inspiration. A barbwire tattoo come to life, Tortaco smells of date rape and Jager. I'm joking, of course. The people were very nice, but something about the style of the joint and its industrial-meets-heavy-metal thing just made me feel like someone sold their D&D lead figures to build an above-ground sex dungeon where they happen to serve Mexican fare. That said, my tacos were actually pretty tasty, the beer was cold and it was generally pleasant.
Random
The Room on Main
Had one of those all-day work events here. It's actually a pretty cool, old space surrounded by windows and a nice view. A large, very high-ceilinged room with a bar and coat room. I imagine people do weddings and stuff here, which makes total sense.