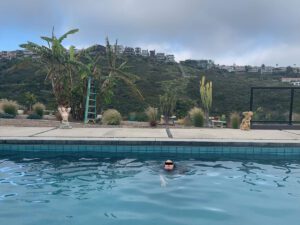 The thing is, I grew up in Southern California. Los Angeles, to be exact. So when Hipster Parents took their retirement and moved to Laguna Beach a couple years ago, it opened all sorts of opportunity to visit new venues and eating establishments and all sorts of other stuff that the more Southern part of Southern California affords us. This last trip we decided to go even more South to San Diego, which is about as South as you can get without being in another country. Here, as usual, was our itinerary:
Day 1
John Wayne Airport
After years of flying into LAX, it was an amazing pleasure to land in an airport that isn't a total fucking mess. It was pleasant strolling down the escalator to the calmness of a single row of baggage claims and then wandering outside to Hipster Parents' VW Atlas. Meaning that between Hipster Parents and the East Coast Hipster household, there are three VWs. That's a lot of gassed baboons.
The Stand – Newport Beach
I thought we'd been to The Stand at some other location, but it turns out we've been to the similarly-named burger join, The Counter. Like many meals we eat while in California, it was an oddball time, so I ended up just ordering chili fries (a normal standby for me at three joints in LA: Fat Burger, Carneys and Tommy's) which were, like a lot of not-great chili fries, just too sweet. Or something just wasn't right about them. Whataya want from a joint in a mini-mall in Newport Beach, I guess?
Javier's Grill & Cantina (Newport Beach)
A six-restaurant chain of fancy-pants Mexican food, this one is really nice to look at, but the food is only kinda-sorta authentic. I've gone on at length about higher-end Mexican grub and my feelings about that, but my skirt steak fajitas resembled something a chef might come up with rather than a Mexican cook. Funny, of course, because fajitas naturally come deconstructed. So in this case they were, uh, constructed. They were tasty, but just not what I was looking for. The atmosphere, however, was lovely. I also came to a quick realization that there are way more blonde people in Newport Beach than anywhere I've ever been, and the plastic surgery quotient is darn high. There was a table of girls Hipster Jr.'s age that there is no way in a million years he could have handled. I think they consider brunettes "ethnic" in this part of the state.
Day 2
Shirley's Bagels (Laguna Beach)
You can imagine what bagels from Laguna Beach taste like. It was very sweet of Hipster Father to drive down the twisty-turny road to go get them. But we might as well have eaten the sponge from the sink. If anyone wants to open a business in Laguna Beach, perhaps we could get some Chosen people up in this joint and teach them how to boil some dough.
Surf & Sand Spa (Laguna Beach)
Massages aren't something I do a lot of, but Hipster Mom was awesome enough to treat Ms. Hipster and me to like a 90 hour massage at the hotel down the aforementioned twisty-turny road from their house. And, let me tell you, I get it now. That shit feels good. Even when it really doesn't. Like they push you to your pain limit and right when you're about to squeal, they relent. It's a strange thing that only human beings could think to do. There were very few people there, the place smelled of lovely candles and essential oils and, of course, there was a naked, fat guy in the locker room who insisted on talking to me while he was naked and fat. I was so chill from the massage, though, I hardly cared.
Splashes Restaurant & Bar (Laguna Beach)
This is a multi-use restaurant in the Surf & Sand Hotel. We went for the more casual, tiny bar portion, which is kind of tucked away behind the small restaurant and features open-air views of the ocean and a super-relaxed vibe. Ms. Hipster had a crispy chicken sandwich that she said was surprisingly delicious. And I had the mahi mahi fish tacos, which were equally awesome. I had an AleSmith Sublime Mexican Lager and a Cigar City Maduro Brown Ale to help wash them down, and it was an overall really pleasant and remarkably tasty little lunch.
Starfish (Laguna Beach)
It seems all we do is eat when visiting parents. A lot. And Starfish is a joint that allows you to gorge in really unhealthy ways. Not that the food is necessarily unhealthy, but it is plentiful. And it is flavorful. We started with Wok Fried Edamame, which were perfectly seasoned and addictive. There were some buns, which I don't eat and some sort of fancy sushi roll that I don't recall, but the entrees were memorable. Hipster Dad got Candy Dragon Prawns, which were super-weird, but bizarrely sweet and salty and delicious. I got Mongolian Beef, which was just a giant pile of scrumptious, soy-glazed steak and was amazing with their coconut rice. Ms. Hipster got Pad Thai, which was typical, but it was Hipster Jr. Jr.'s off-the-wall Cantonese Coastal Baby Back Dry Ribs that kind of won the day. She didn't like them, but Ms. Hipster and I bit into those dry-rubbed-in-seven-spice angels and both looked at each other as if we'd just had a chocolate=covered espresso bean for the first time. It was a "what the hell am I eating… this is amazingly weird and great" look that overtook us. So strange. I probably had a Manhattan and an Anderson Valley Boont Amber Ale, whatever the heck that's supposed to be.
Day 3
Bahia Resort Hotel (San Diego)
This was our side trip to San Diego. So we pull up to our hotel and I am immediately reminded of Hawaii circa 1967. Not that I was alive back then, but I feel like I saw it on shows like The Brady Bunch or something. The "resort" has different sections with different types of housing. Ours was in the motel-ish part. There are also beachfront cabin-like things. And then something that looks like a 60's block apartment building. It's all very throw-backy. To add to the flavor, there is a video arcade off the pool area that features free video games, including one of those multi machines that has classic video games that have everything from Centipede to Dig Dug to like every spinoff of every popular game from 1982 you've never heard of. And, as I actually predicted, an air hockey table with no puck. There is also a riverboat that departs at different times that was unfortunately docked for the season when we were there. And, I shit you not, two harbor seals in what amounts to a shallow pool. Not the same pool that people swim in, mind you, but like a pool behind the bar/restaurant in the parking lot. It's absolutely one of thew weirdest things I've ever experienced. It still makes no sense to me.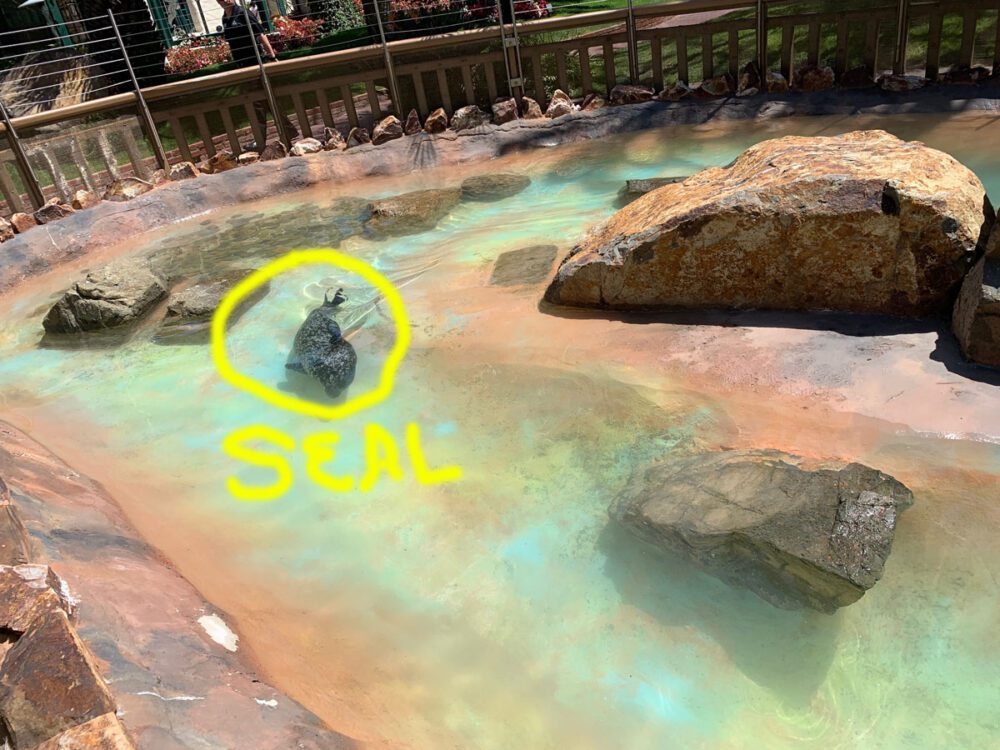 Fiesta de Reyes – Old Town San Diego
I can't really explain what's going on with this other than to say it's like a little town inside a little town. Like a village green surrounded by a couple restaurants and a bunch of shops. Well, okay, I guess I can explain it. It sounds like they sometimes have music and entertainment on the green, but mostly it's a car-free square that features a handful of historical sites (an old school house, a hacienda, etc.) and stores with candy, semi-precious stones and pottery.
Barra Barra Saloon (Old Town San Diego)
We chose this particular Mexican joint for lunch because Hipster Mom thought the seats looked more comfortable than the other restaurant in Fiesta de Reyes. It actually turned out to be a pleasant choice, as we sat outside under one of those trees that looks really nice but definitely has a propensity to drop shit in your margarita. My Chicken Mole Verde Oaxaca was actually pretty darn good when paired with some Modelo Especial. But, again, you could put mole on a stale cracker and I would eat the shit out of it. But, luckily, this was on a moist, fall-off-the-bone chicken. Good stuff.
Civico 1845 (San Diego)
I don't remember downtown San Diego from my youth. But this version of it was pretty cool. At least the Little Italy neighborhood that we happened to be in, which was filled with young people strolling, young people smoking and bars and restaurants that young people looked to be patronizing. We went to Civico for Hipster Dad's birthday-ish, an Italian joint that Hipster Parents had some personal friend connection to. It's one of those trendy Italian joint that's definitely not your grandfather's red sauce restaurant. It was loud, which honestly I don't mind. It means that people are having a good time. And we had a good time. We had some bread, some mussels and some fried calamari and I had a homemade Pappardelle Brasato with a short rib and red wine ragu. Nice. And then our host came out and comped us three really good deserts for Hipster Dad's birthday and talked to us about what honestly sounds like the worst job in the world trying to run multiple restaurants. It was extremely sweet of him. And it's not as if the prices there break the bank in the first place, but it makes you appreciate just how overpriced food is in NYC.
Day 4
The Mission – (San Diego)
We did a quick Google search and found our way to this joint for breakfast. The whole Mission Beach neighborhood in which it sits reminds me a lot of Venice Beach and is the perfect place to eat a nice brunchy breakfast while watching dudes walk with their surfboards to wherever they're headed. I ordered breakfast burritos, which were eggs scrambled with cheese, scallions and tomatoes wrapped in two handmade tortillas. With a side of black beans and salsa. Not only were they really tasty, I've decided I should eat all my breakfasts with black beans. It makes me happy. The staff were just as crunchy and friendly as you'd expect.
San Diego Zoo Safari Park
I feel like the last safari park I was at was in Florida with Hipster Grandma and Grandpa in the early 1980s. I seem to recall a macaque sitting on his Buick, but I'm pretty sure that didn't happen. There was something about being warned the vinyl top (a classic 80s thing where you faked like your Buick was a convertible or something) would attract things with sharp claws to maybe attack and we had to sign a waiver. But, again, I may be imagining things. Anyhow, the 2019 safari parks don't let you drive through them. Probably because hitting an endangered animal with your stupid Range Rover is bad for everyone involved. Instead, you walk around the rather large park the way you'd walk around a zoo. It's really a zoo, just with larger enclosures. You can walk through the kangaroo enclosure with no walls between you and them. They don't care about you. You can peer at elephants over a large wall and strain to see them if they aren't feeling it. Some with the gorillas. I think you have to pay to see the cheetah race a dog or something. And the lions are right there against the glass, but they don't do party tricks. And if they feel like sleeping on their backs with their tongues lolling out, they'll loll the fuck out. So the real attraction is the actual safari part where they take you out in a big truck, like a very long, very expensive haunted hayride. But instead of some dude trying to scare you with a chainsaw, you get to feed leaves to giraffes and apples to rhinos. Both of which are pretty damned cool.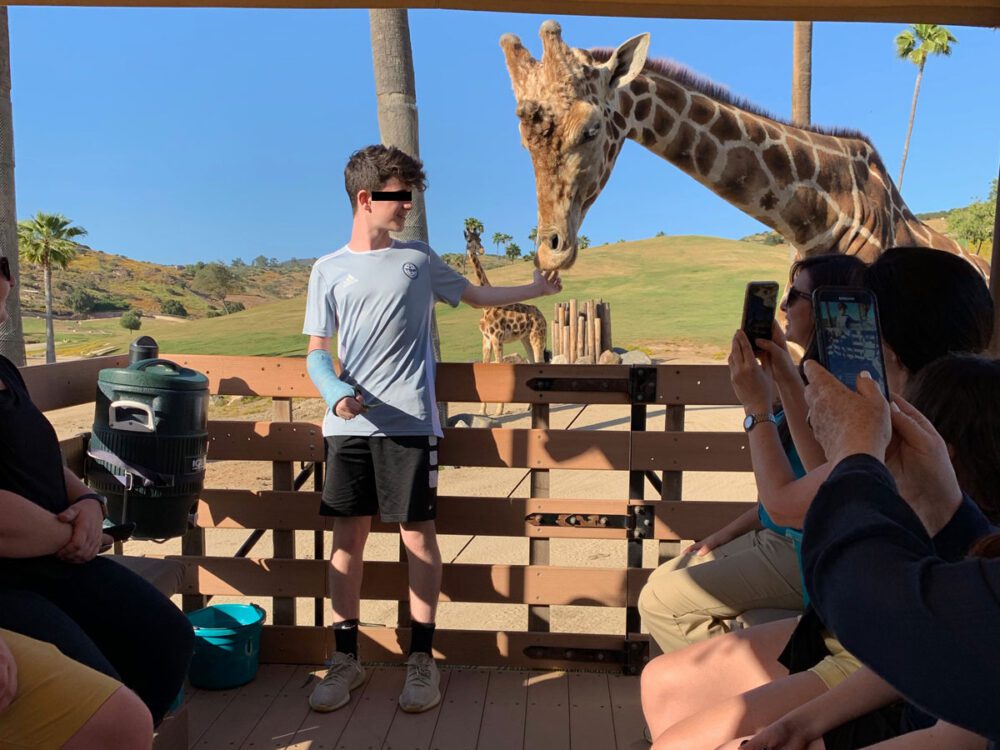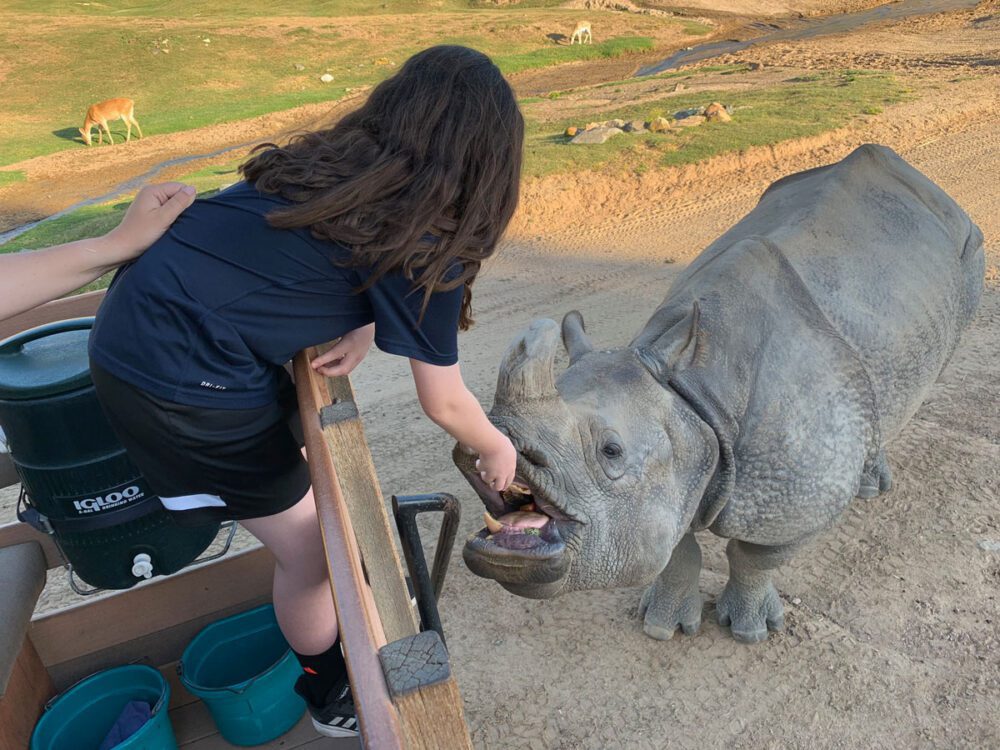 Stone Brewing World Bistro & Gardens (Escondido)
San Diego and the surrounding area is filled with breweries. Honestly, I would have loved a whole day to explore them all, but after a long day in the sun feeding wild animals, Stone Brewery proved the closest and easiest to get to. Plus, I've enjoyed many of their beers over the years. We were there for dinner and not a brewery tour, but the space is a really cool blend of industrial and natural and the atmosphere laid back and appropriately California mellow. Their menu is what I'd call classy bar food, with a really decent mac 'n' cheese, tasty little sticky ribs and "The Burger," which sounds better than it tastes. The Stone Tropic of Thunder Lager straight out of the vat was pretty nice. Wish I could have had more, but nobody likes drunk dad. So I got a t-shirt to commemorate the occasion.
Day 5
Breakfast Republic (Pacific Beach, San Diego)
Another serendipitous find, which turned out to be the same joint everyone else also found based on the wait. Like the name implies, this is all about breakfast — despite the fact that the restaurant and its bordering-on-themey take on the day's first meal also has a bar in it. Signs inside and out claim many awards for best breakfast in some county or other, and its popularity (and seven locations) bore this out. My pancakes weren't bad. Not the best, but certainly serviceable. However, Ms. Hipster declared her Veggie Breakfast Tostadas not only the best, uh, breakfast tostadas she'd ever had, but possibly the best breakfast she's had in her life. I mean…
Birch Aquarium at Scripps Institution of Oceanography (La Jolla)
We'd planned on going to the world famous San Diego Zoo, but after our long day at the safari park the day before we opted to hang at the way smaller (and cheaper) option. It turned out to be just right. It's a pretty small aquarium, but has the requisite number of jellyfish, eels and sharks to make everyone happy. Plus we walked out on a large patio and could see a gray whale breaching the water in the ocean below. I also got to see the campus of a UC school I probably wouldn't have gotten into had I even considered it.
Ellen Browning Scripps Park (La Jolla)
We took a little drive down to the ocean to check out more seals. This super-popular area is like a very clean version of the Venice boardwalk or a stinkier version of the Palisades Park walk along Ocean Ave. in Santa Monica. But with way more seals (thus the horrible stink). The thing is, you're not supposed to get near the sea creatures. There are signs saying as much. Mostly because you'll screw up the ecology and breeding habitat. But, also, those things don't look friendly. But, of course, assholes jump the low walls and take selfies with the seals anyway. Fucking idiots all.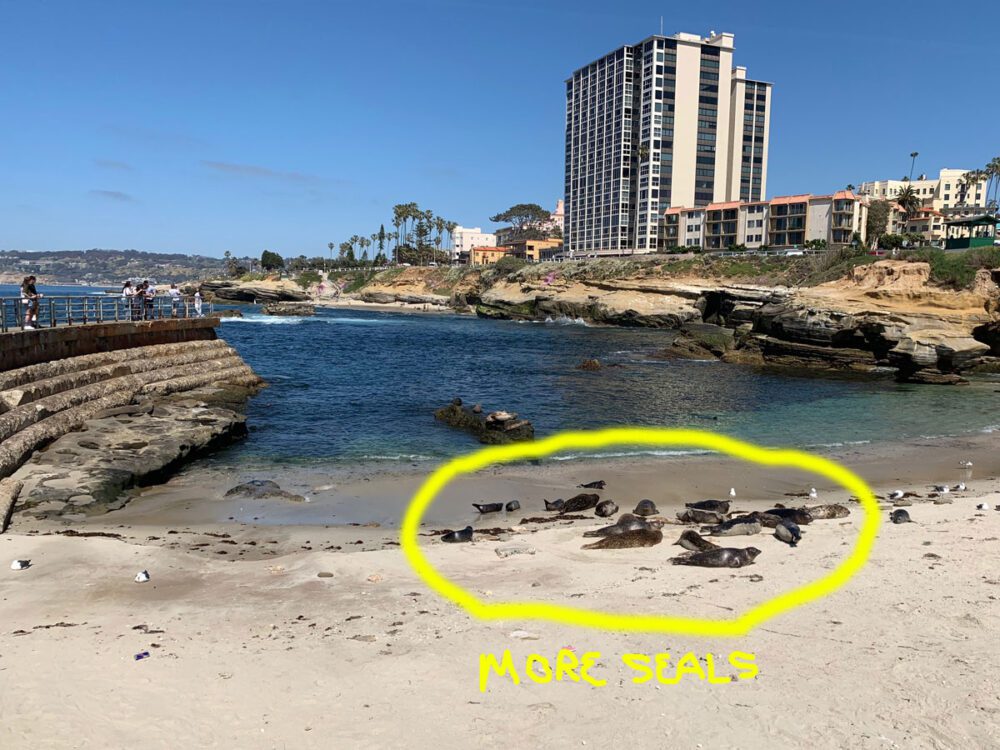 242 Cafe Fusion Sushi (Laguna Beach)
Owned by a female sushi chef and staffed completely with women chefs, this tiny sushi joint feels like the perfect amalgamation of authentic sushi restaurant and old-school Laguna Beach. Decorated like a shore house rental, it's definitely not chic. But chef Miki Izumisawa makes a wickedly fun omakase. We watched her make it all right in front of us, and some of it was just out there. Including one dish that was sushi on top of watermelon in place of rice. There was lots of fish, with all sorts of great "fusion sashimi" that used chili oils and sauces and all sorts of things that just popped with flavor. She definitely wants you to taste what she puts on the plate, as the place doesn't even furnish soy sauce with any of their sushi. Probably because they know Americans drown their fish in the stuff. It wasn't cheap, but it was a really great to be surprised by every dish. Definitely unlike anything I've eaten anywhere else. Thus the crazy walk-up wait times.
Marine Room (Laguna Beach)
Who needs more drinks after having some drinks (and some sushi)? I do! We took the short walk into "town" and found this pretty cool-looking bar. We talked to the bouncer for a second, a military guy who had never seen an ID from our era. The bar itself was stocked with walls of whiskeys and really well designed in that sophisticated GQ way. But with a touch of college-guy bro just to be, you know, dangerous or something. They book live music and the bartender/booker was sufficiently tattooed and clearly lightly harassed by some of the lonely male clientele. She could definitely handle herself, though. She could also handle pouring a drink and suggesting a spirit. She gave me a Baller Single Malt Whiskey, which, as it turns out, is like $300 a bottle. That's over three times more than I've ever paid for a bottle, so she managed to upsell me for sure. Though I don't recall it being extraordinarily expensive. I'd definitely go back here when visiting the folks in the future.
Day 6
More bagels we won't talk about.
Ruby's Diner (Laguna Beach)
This is a favorite of the Jrs. I, however, could easily skip it. Though we manage to go here multiple times a visit. Every time. We brought this in for a nice day by the pool (thought the weather refused to cooperate). I got what amounts to a tuna melt and it was verging on inedible. I think it had finely chopped sweet pickles in the tuna. Ms. Hipster likes that. Nobody else does. Including me. Tuna shouldn't be sweet. It's gross. And so was the sandwich. The fries were fine.
Marché Moderne (Newport Beach)
Back to that Crystal Cove Shopping Center that also houses Javier's from above for Hipster Dad's real birthday. It's so SoCal to have a classy joint in a shopping center. Of course, they also have an Aston Martin dealership there, so this isn't your grandmother's Dress Barn bullshit mall. It's also a French place in a mall with an Aston Martin dealership, so that apparently means 65-year-old men with their 32-year-old dates whose faces and boobs are even younger than that. It's super-Cali. But it's also a very Cali take on a French restaurant, meaning its breezy glassed-in, but open kitchen and casual upscale air could be anything, because Cali doesn't really do "ethnic." It could be Italian or even Chinese and nobody would be surprised. But it is indeed French, so I started with French onion soup, of course. And it was good. And for my entree I order a special, the oxtail lasagna. Sacrilege, I know, but it just spoke to me. And it was rich and creamy and umami and probably about four days' worth of calories. But that's what French food is all about. Hipster Parents brought a nice bottle of red wine and we had some desert and all left appropriately stuffed.
Day 7
I think we ate those bagels again. God help us.
SoleStage (Irvine)
Hipster Jr. wanted to cop some Supreme gear or something, so we journeyed to the weirdly empty and sadly desolate-looking city of Irvine to a maxi-mall at which we were the only people not of Asian descent. There honestly looked to be some awesome places to eat, but instead we had to go upstairs to this small store that had $4,000 sneakers wrapped in plastic and smelled of recently departed vape. The kids love this stuff. I kind of get it, but can't help but feel everyone is getting ripped off. We left without anything because only suckers pay retail!
Balboa Island
Made famous by Arrested Development, but weirdly part of my childhood, this is a small, uh, island off Newport Beach that is accessible by a bridge roughly the size of the one that Dumbledore takes to get into the Shire. It feels like a little New England tourist town with its cheesy nautical themed craft stores, prepwear and various real estate offices offering up houses that somehow cost more than the GDP of Azerbaijan. We walked the main street through town and around the marina where I used to roller skate from our friend's apartment as a kid. There is a ferry that holds about four cars and travels all of about 200 yards to the shore opposite the marina, which just looks ridiculous, but is quaint much in the way that town in Jaws was.
Dad's Original Frozen Banana
There's money in the banana stand! Okay, there's not much money in this one. Maybe in the other banana stand, Sugar 'n Spice, which is 100 feet up the block, but not necessarily in this one. Another treat I recall eating as a kid when we came to visit our friend on the island, this one didn't quite live up to the memory. The chocolate just didn't have any discernible taste. Maybe we just chose the wrong stand. And we honestly only chose this one because the line was a lot shorter. Proving that there is something to be said about popularity.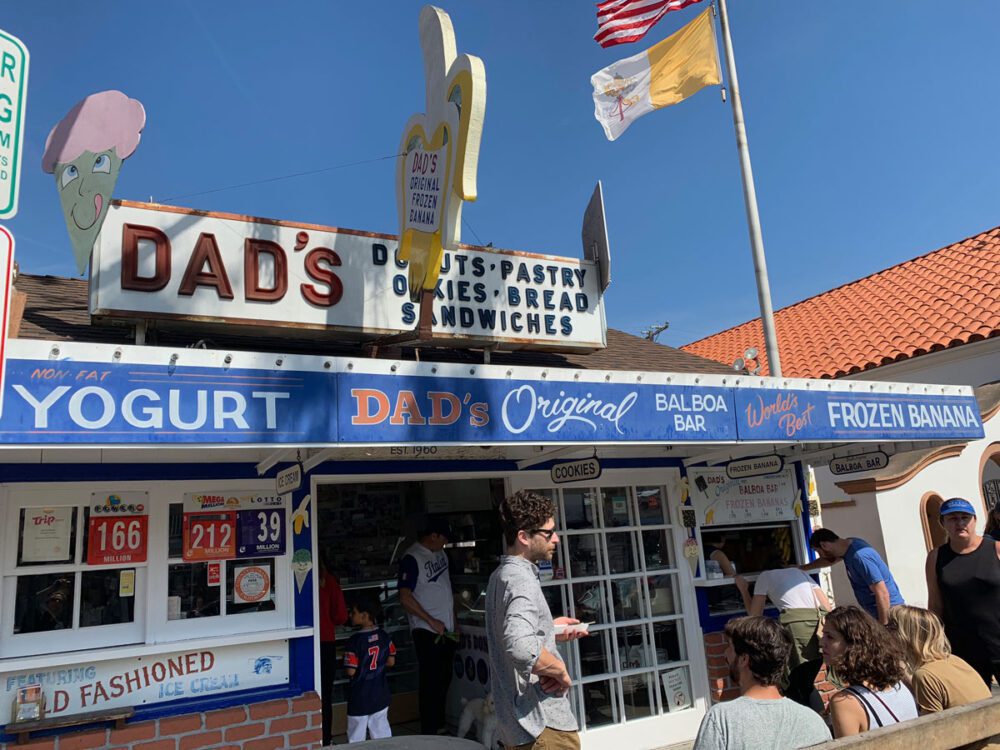 We ate dinner at Ruby's and I don't want to talk about it. We also went to the airport, our plane took off late, but didn't really take off. Turns out there's a curfew because the people who live around the airport don't like jet noise after 10PM, so we had to be re-picked up and sleep over only to come back in the morning. Not optimal, but it was nice to get a normal night's sleep instead of suffering through the redeye. Until next time…