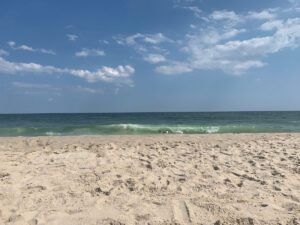 Some say Long Beach Island (LBI) is the French Riviera of New Jersey. Not a lot of people, but some people. Mostly drunk people. But, still. Truth be told, I'm not sure there's a European equivalent of LBI. Unless somewhere in that vast continent there too is a beach town where 1953 came and went and time just kind of stood still. And families came in year in and year out to sit or ride bikes and eat and do not much more than that. Where tedium is kind of the point.
Long Beach Island tells it like it is. It is literally a long beach island, with the ocean on one side and bay on the other. It's only a few blocks wide with one main boulevard running down the middle. There are several towns within Long Beach Island, with names like Beach Haven, Ship Bottom, Harvey Cedars and Loveladies. Driving the boulevard the towns all kind of blend into one another. Though those last two I seem to recall being more modern and filled with red sports cars. We don't fuck with those.
The Hipster family has been to LBI many times over the years. There was the year of excruciating heat. The year of never-ending rain. And, best of all, the summer of the biting black flies. But normally, like this year, it's a mellow and remarkably unremarkable week of not-tons-of-fun in the sun. We rent a house. Not a fancy house. One that has a kitchen, some bedrooms and a couple bathrooms. Some outdoor space and a grill. It's like two houses from the beach (so everyone can pee and grab drinks easily) and you can sleep and eat in it. Otherwise your time is spent sitting in a beach chair under an umbrella ignoring your kids as they play in the water and you read some mystery novel (or sci-fi if that's your jam) you've been saving specifically for sitting on the beach. Or sitting in whatever outside space your house has drinking beers and stuff.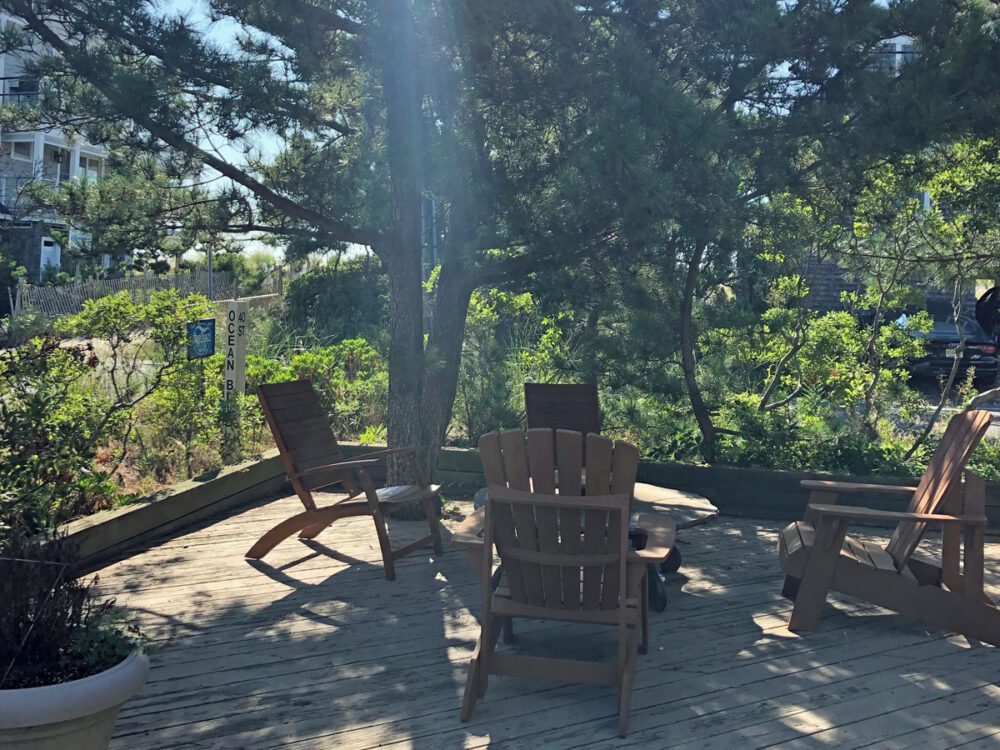 And when you're not sitting on the beach, you can go to Fantasy Island, which is essentially an amusement park your grandparents might have gone to mashed-up with a down-home Dave and Busters. I think Hipster Jr. Jr. won a stuffed Mario dressed as raccoon for knocking down some shit with a softball and an Ant-Man bobblehead for us putting money on a card and her pushing some buttons. It's a good way to waste a couple hours and $100 amongst girls in jorts and more men in Red Sox hats than you'd expect.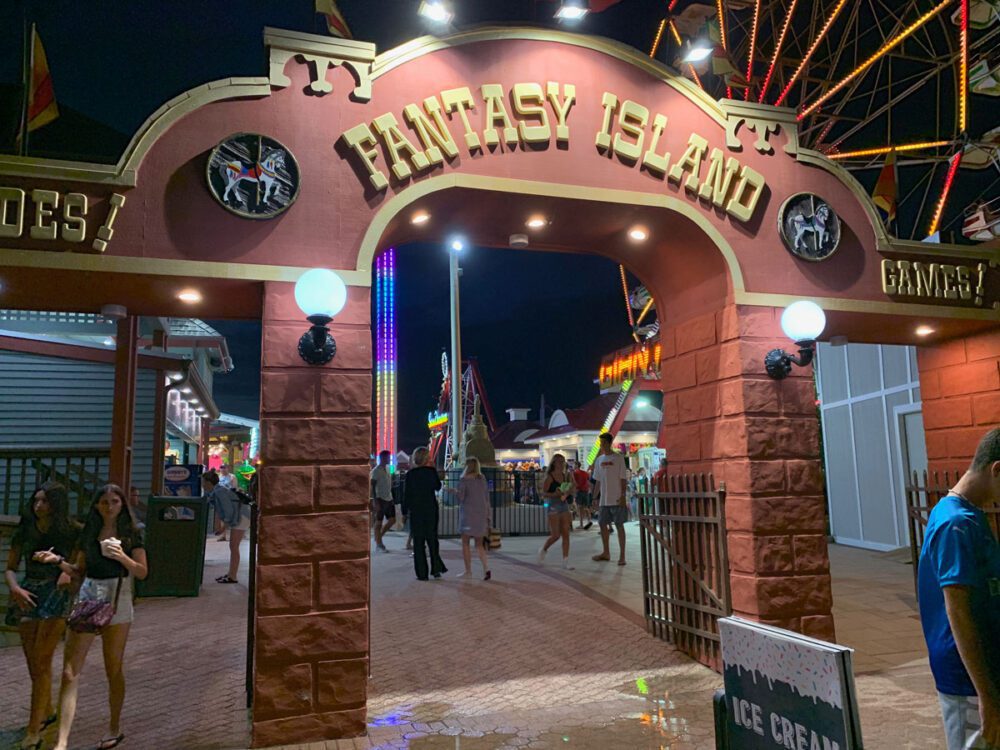 Otherwise it all comes down to where you eat, I guess. Over the years we've pretty much been to every restaurant, bar and store on the island. But here's a little rundown of where we hit up this go 'round in the summer of '19.
Dom's Drive In
I'm pretty sure we rented the house we rented because it was so damn close to Dom's. It is by far the place we eat at more than any other. And when you're at Dom's, you're eating cheesesteaks. I've been to Philly. I've eaten at those cheesesteak places. These are better. Just be warned that they don't give out plastic bags, which is problematic when getting your stuff to go on your bike. I'm sure that bush will forgive me.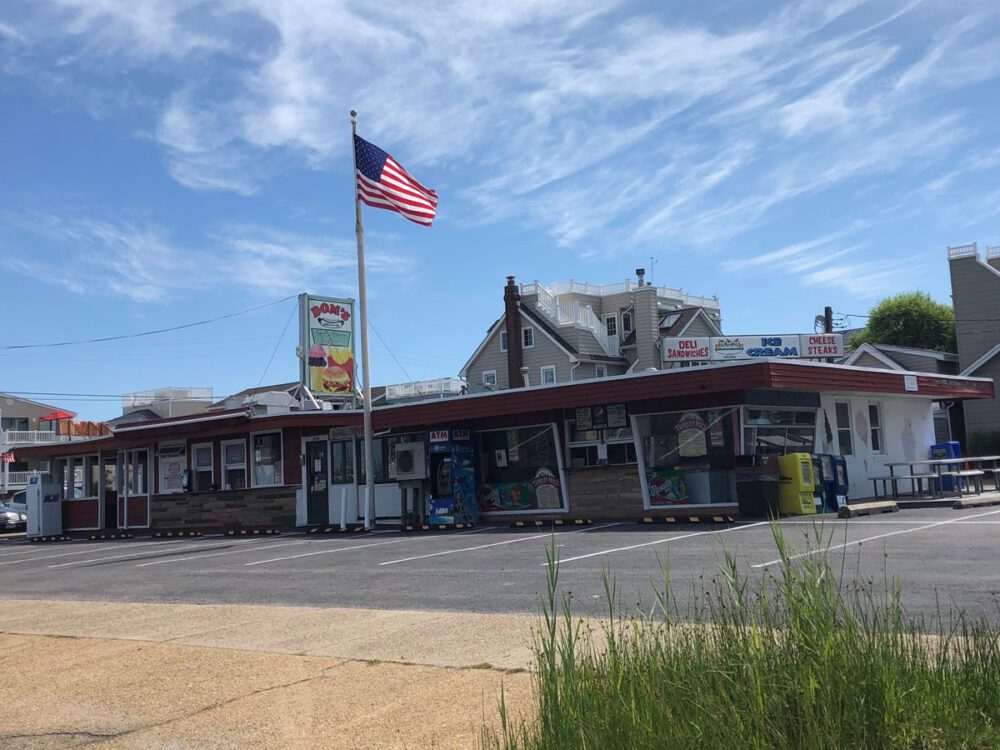 Pinky Shrimp's
We've been to this oddly-named joint close to a million times. This latest turn, however, will most likely be the last. We ordered late, thinking that was a smart move. Turns out, like LaGuardia Airport, the orders just pile up, making the end of the night absolutely insane in terms of wait times. I think ours took about an hour and forty-five minutes for takeout. For food that was cold and not particularly good. My salmon was ok. Hipster Jr.'s fish and chips were super-weird and one of the more disappointing things of 2019. Hipster Jr. Jr.'s fried chicken was inedible. Embarrassingly bad. All-in-all the experience was garbage.
Parker's Garage & Oyster Saloon
We've been to this harbor-side restaurant in like 42 different iterations over the years. The space, which is open and loud, but very shore-like, is always the same, but the food has gone up and down depending on the owners. The BYOB makes it better, however. It seems they've hit on a decent formula with this one. Ms. Hipster and I got a really decent "tuna cracker" as an appetizer. I liked the fried brussels sprouts with mustard vinaigrette a lot, but I may have been the only one. My $28 halibut was about the size of a deck of cards and was served a la carte with a very small ramekin of citrus beurre blanc on the side. It was cooked well, but very white fish in the middle of a very white plate made for an all-around boring experience. At least it wasn't dried out. Hipster Jr. Jr. got a hangar steak that she claimed was the best she's ever had. And she's a tough customer. It's a fun place to go with a crowd and a bucket of beers like we did.
La Bamba
Ordering Mexican food on an island in NJ is risky. But this joint feels about as authentic as it could possibly be. Everyone was super-happy with their food, including Hipster Jr.' fish tacos, Hipster Jr. Jr.'s steak fajitas and Ms. Hipster's chicken enchiladas verde. I saw mole and I ordered it because I always do. And it didn't disappoint. It's clearly a family-owned restaurant, which is exactly what you want in your Mexican joints. A nice find. And way cheaper than a lot of other options.
Uncle Louis G Ice Cream
This is apparently a chain with ten locations in Brooklyn alone. But, shit, if this wasn't some of the best ice cream I've had in a while. I had some sort of cappuccino chip thing and it was luscious. And I don't care that much about ice cream normally. Win.
The Chicken or the Egg
This has got to be one of the more popular joints on all of LBI. It's primarily a breakfast/brunch place, but we went for a late dinner and somehow managed to only wait like fifteen minutes. Which is rare, even for a place that's open 24-7. They are known for their chicken wings. Hipster Jr. is a real fan of wings. These wings were both massive and, well, massive. Like Chernobyl big. Hipster Jr. Jr. had chocolate chip pancakes and bacon. Ms. Hipster and I both had the very thick (but tasty) New England clam chowder. I had the fried clams, which were rich and full-bodied and good. Ms. Hipster had a Reuben, which she said was really good. The prices are also decent. No wonder this place is so popular.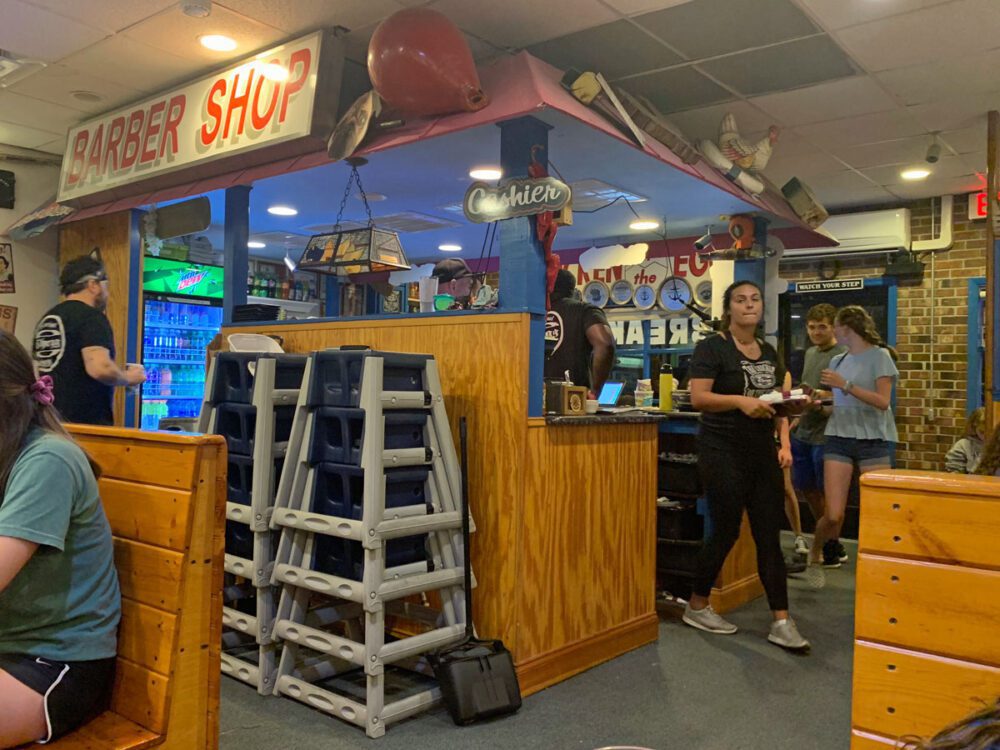 Ship Bottom Shellfish
After being burned by Pink Shrimp's, we decided to hit up this joint. Out pickup food only took about 20 minutes, though the chaos in picking it up (all places in LBI are manned by teenaged blonde high-school girls) didn't give me great confidence that I'd actually get what I ordered. Turns out those blonde girls are military in their fish precision. I did the fried clam thing again, which were decent. The rest of the family did fried fish sampler things, which was good for takeout fish parts. Hipster Jr. Jr. did a cheeseburger because she's boring. She ate it, so that's always a plus. This is definitely the go to takeout fish joint.
Shore Good Donuts
I'm not a donut guy, but these things are damn good. You choose your toppings and the donuts come out fresh down a conveyor belt and are made on the spot. They're warm and fresh and light and tasty. If I could steal this recipe/process I could make a mint just about anywhere. Hit this place up super-early like Ms. Hipster did, pour some coffee and hunker down for the sweet stuff.
—
We've been to practically every restaurant, bar, store and liquor locker on LBI over the past ten years or so. You have your live music (generally provided by shore bands like The Nerds) and more bars and grills than you can shake a stick at. There are plenty of overpriced liquor stores and probably more ice cream places per capita than anywhere on the planet Earth. This is not a place you go to diet.
It is amazing that people actually live here offseason, but there are churches and schools, so it must be so. It took about fifteen minutes to explain that to the Jrs. And I still don't think they got it. A beach cruiser bike is a great way to get around. We rented from Shore Break Cyclery, who were very cool and super low pressure. Plus it was right around the corner from our house and right next to Dom's. A perfect location!
Ultimately, it's a family place. It's also a very homogenous place. Like there's a lot of suntan lotion being sold to 99.9% of the crowd (if you know what I'm saying). That is to say, it's not real life. It's this weird frozen-in-time, languid trip that is both divorced from reality and also just so is what it is that there's no way to pretend it's anything else.