Jamaica is an odd place. It's mostly known for reggae and track stars, but it's also a country that has also had intense issues with crime, violence and murder and some pretty ugly anti-gay stuff in recent times. That aside, it's also a beautiful island country that attracts heavy tourist traffic and a loyal crowd of Americans that swear by the place either because of or in spite of the loose laws on the smoking of the weed. I'm not sure how that audience will or won't be affected by the legalization of pot in several American states, but if you're getting on a plane to a foreign country in order to smoke dope, you really need to get your priorities together.
Our trip there was typical of how we roll when we go on vacations. We generally don't pick crowded resorts, large hotels packed with dudes in tropical shorts and annoying children in flippers. We like to go farther afield to boutique joints that may not have some of the resources or amenities of the Sandals and Beaches of the world, but do have charm, privacy and seem to cost multiples more due to the lack of economies of scale and the lack of the all-inclusive thing that these others offer.
So this is how we settled on GoldenEye in Oracabessa. And, no, nobody else has ever heard of Oracabessa either. That's because it's really in the middle of nowhere. Well, it's about an hour and forty-five minutes drive East from the Montego Bay Airport and about 25 – 30 minutes or so past the closest point of civilization on the north coast in Ocho Rios, where there are a bunch of the aforementioned large resorts. GoldenEye, if it rings a bell, has a really interesting history. It was, in fact, the vacation home of James Bond author, Ian Fleming. He ended up writing a good number of the Bond novels at the estate and a couple of the Bond films were actually filmed right in that area. After Fleming died, the property was purchased by the most famous Jamaican of all time, Bob Marley. Apparently Bob had a little too much wanderlust in him to be tied down, and after owning the property for only a year, sold it to Chris Blackwell, the founder of his music label and former employer of Mr. Hipster himself, Island Records. Blackwell's mother had been friends with Fleming and Blackwell had an attachment to the joint after going there a bunch in his younger days. Anyhow, the place was a hang-out for all sorts of film and music people, and over time Blackwell bought up parcels of land around the original property and just kind of joined them together into what would eventually become the multi-beached resort we came to rest our tired asses on.
It was immediately obvious that the four of us were pretty much the only people in the entire resort. There was a dreadlocked dude who worked for the resort picking rocks off the beach and combing the sand, but otherwise we pretty much had the place to ourselves for most of the trip.
We stayed in a little villa right on the beach for the first couple nights. It had a full kitchen that we totally didn't use, but came with a free bottle of Blackwell Rum (replenished daily), which we totally did. It was really nice, temperature controlled with all the modern touches and a comfy bed and room enough for a family of four. And even had an outdoor shower out back. It looked like this: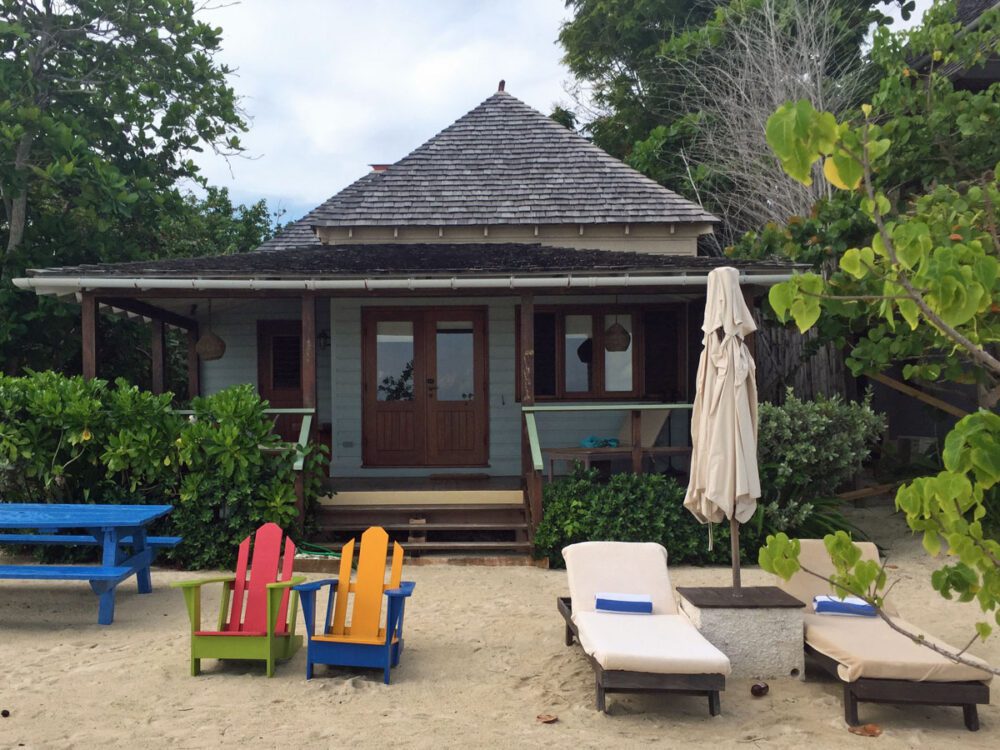 The view from the front door looked like this: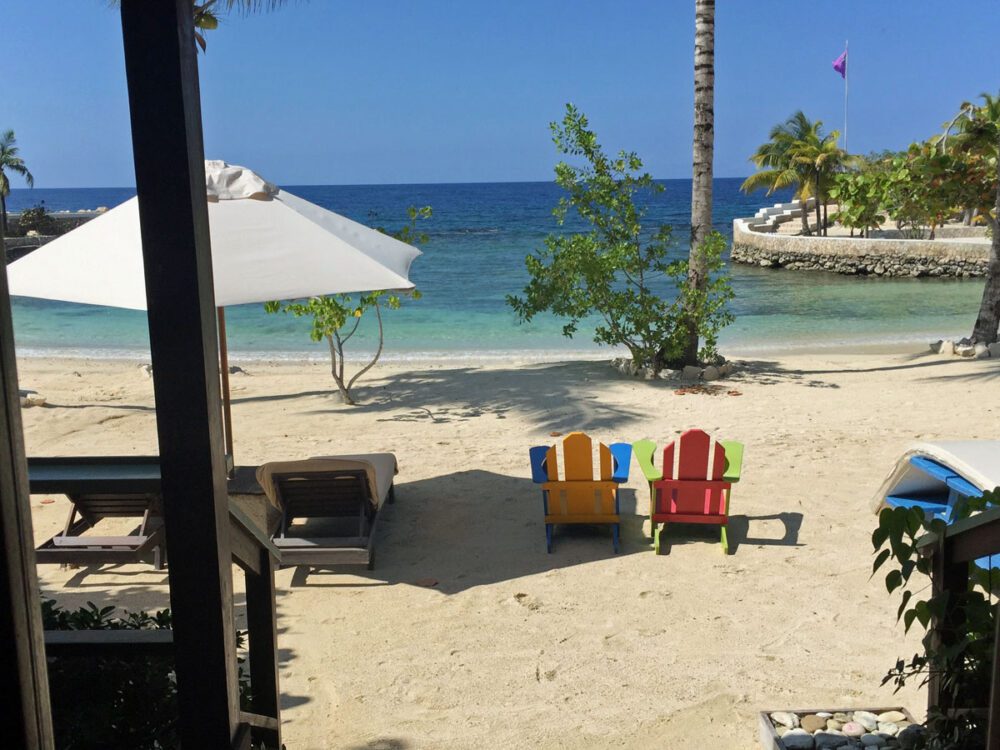 The GoldenEye property itself is sort of sprawling and nonsensical in its setup due to Blackwell's knitting together of several properties into one. So there is not only the main beach (as I said, sans a soul save us and apparently this one interloper I caught in this photo — though she may have worked there and/or been the ghost of some British colonial person)…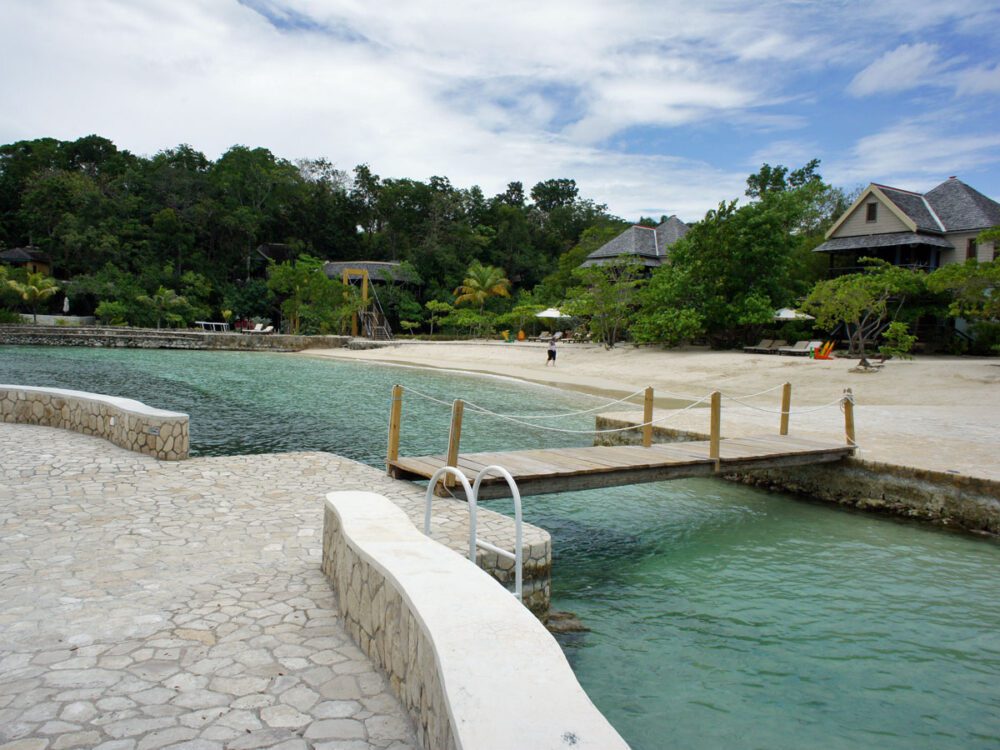 but also another whole large beach area that you can kind of see in the next photo, if it wasn't blocked by the other activity we ended up doing a lot of since there honestly was very little to do other than to chill and drink: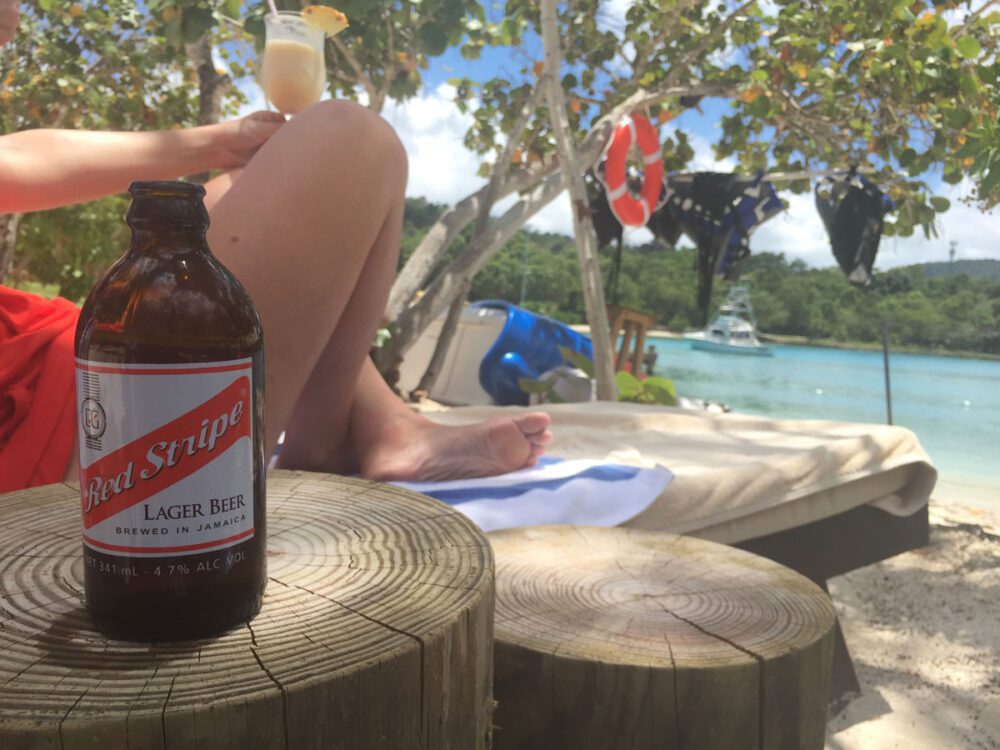 Oh, we also snorkeled in the incredibly warm, calm water that only occasionally exposed us to something that looked remarkably like a barracuda and some other sea life like baby squid and some other fish that I don't recall seeing in the local pet store.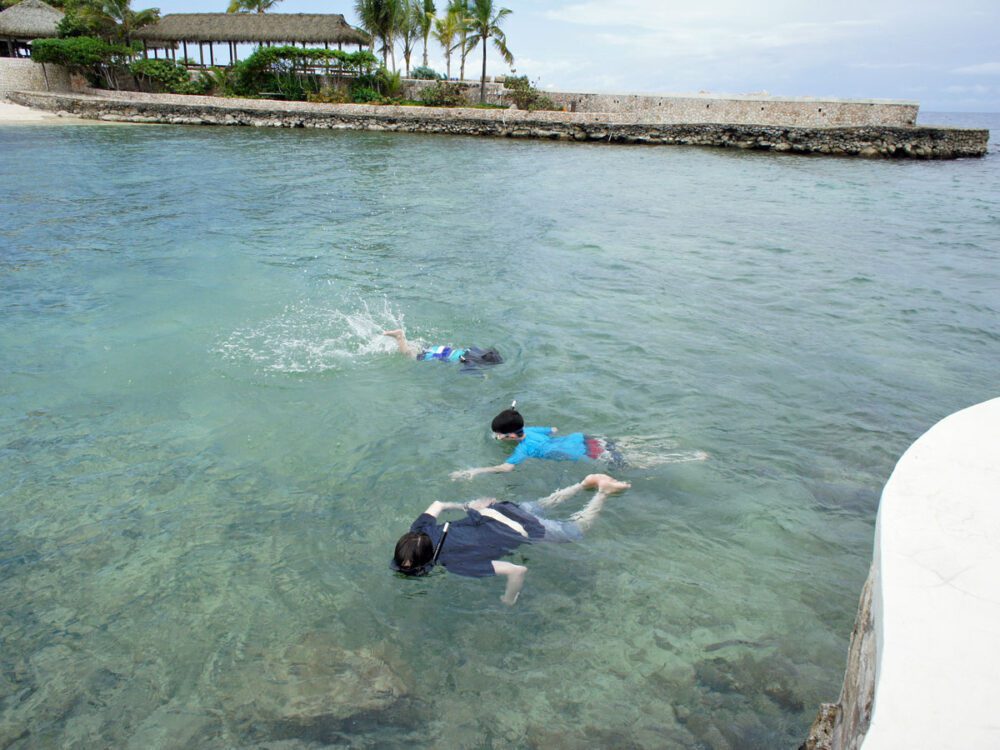 We — well, mostly Hipster Jr. and Hipster Jr. Jr. — spent a lot of time in the multiple pools, including the gnarly pool that just kind of hung out over the ocean and is shaped like an actual eye, and the main pool that skirted one of the two restaurants that we ended up eating lunch at every day. I could have done with some more variety in the food area, quite honestly, but what grub we did have was pretty decent and not as eye-poppingly expensive as you'd think given the fact we really had no other choice.
We spent our last three nights in what they call their Beach Huts. They're apparently new to the resort, as we were the like the first people to stay in our particular hut — or so it seemed — and we could hear more still being built as we left in the morning for the beach. For a family they were really cool, as we had a two-story hut, both floors with their own bed and facilities. So we could separate from children and be comfortable in our own space. There is an interior hatch to go from one floor to the other, but we locked that thing up tight so as to keep the kids out of our business and prevent any major head injuries or the like. The rooms were spacious and had a nice balcony off the top floor and large wet-room bathrooms in both. They had new TVs, Sonos and most of the modern amenities you'd expect in a high-end room, save air conditioning. Now, I don't know about you, but it is really hot in Jamaica, even in April when we were there. We were assured the ocean breeze would help to cool us off. That, unfortunately, wasn't the case. The heat was pretty unbearable, as were the mosquitoes. We had to sleep with the robust mosquito net over the bed, (Zika was a big thing at the time, which could have been the cause of us being alone most of the time) which dulled the one source of wind we might otherwise have had from the fan and forced us to mostly close the open slats on the windows to keep out the disease-carrying critters. Heat and bugs aside, the planned hut village was really cool and the huts themselves were conceptually a great idea.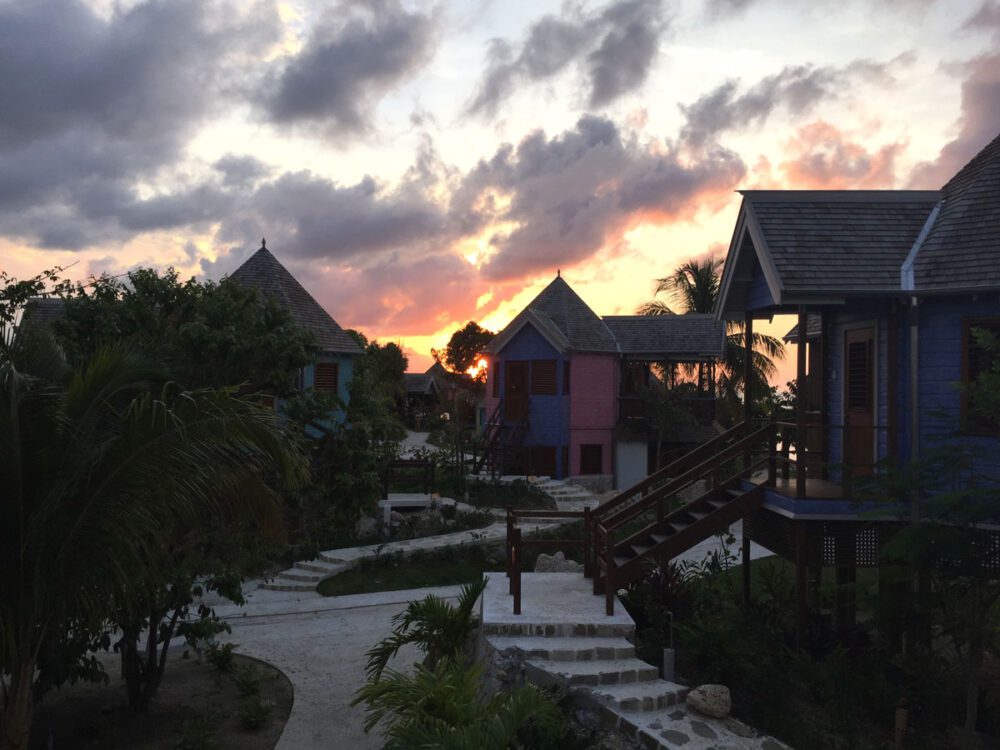 Despite my characterization of the joint being a ghost town (which it was about 80% of the time), folks did come out of the woodwork at dinner time on the nights where we had "special" meals. One was a poolside barbecue that involved a lovely array of cooked fish and meats and the other was a sushi night al fresco, which was similarly nice and featured stations of, well, sushi. Each night had a menu of complementary original drink concoctions as well, which involved rum and more rum. I'm honestly not sure where some of these people came from (maybe from outside the resort somehow) as I didn't see them during the day, but to call it a crowd is an overstatement. I mean, we're talking like maybe 20 people, not including the plentiful staff. So it all felt very intimate and inviting.
While we really didn't run into much in the way of people, there was one who piqued our curiosity. A kid played in the pool with Hipster Jr. Jr., sometimes throwing a frisbee with her back and forth, sometimes dunking her head under the water. Regardless, he seemed to be sans adult supervision. Though the staff clearly knew him, called him by name and were apparently charged with babysitting him. We speculated up and down the line as to who he might be. Was he a Blackwell or even a Fleming? Or was he a street urchin who somehow got free use of the resort's facilities? It was unclear until we made the connection with another mysterious resort resident who seemed equally as comfortable and familiar with the staff, but who was clearly not just another vacationer like us. He sat at the bar talking on the phone, watching reggae videos on his device at high volume while sitting at dinner and generally skulked around in varying degrees of relaxation and agitation. It turns out these two belonged to each other (which was not immediately evident just by looking at them, but they even shared the same first name) and our suspicions that he was "somebody" was uncovered after some snooping online. Turns out he's the head of a reggae label and promotions company called Downsound Records, which apparently has a rich history in Jamaican music. The dude himself, Josef Bogdanovich, is an interesting guy, married to a now deceased Jamaican music artist (and mother to the aforementioned Joseph Jr.) named Toya, and a white American who wended his way into the fabric of the Jamaican festival culture and ingratiated himself with the local reggae and dancehall community in and around Kingston. Local flavor, amiright?
The best part about the resort? The folks who work there. Thee nicest and friendliest bunch of people I've experienced on a vacation anywhere. Every interaction is met with a "yeah, mon" or a "no problem, mon," a warm smile and the personal touch. Hipster Jr. managed to blaze his calves in the hot Jamaican sun while snorkeling and, noticing his struggle to even walk, and on separate occasions, one of the dudes went and harvested an aloe plant, broke it open and showed him how to apply it to his burnin' skin. No waiting for a tip, no expectations of anything other than doing his jobs and doing it well. Granted, we seemed to have the entire resort's staff to ourselves, but it's always cool to hang with super-mellow folks who embody the incredible chill attitude of the island.
If you're looking to ride a giant banana towed by a speed boat or dance the night away in a Señor Frog's-like club thing, you'd be better off going somewhere way far away from here. If you want to relax — like truly relax — in a place that treats you like you're their exclusive guest, this is the joint to hit up. It will set you back a pretty penny, no doubt, but sometimes it's worth paying to be left to your own devices and progressing at your own pace. The pace of reggae — the pace of Jamaica.