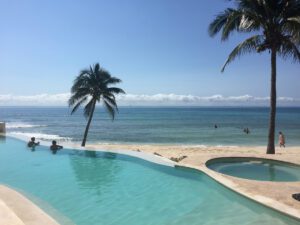 Oh, Mexico! It's been a while since I've swum in your blue waters and drank the water from your, uh, beautiful plastic bottles… But here we found ourselves at the Mahekal Beach Resort in downtown Playa del Carmen in the country that our president loves beyond all others. And it was glorious. And rainy. And kind of a weird mixture of resort-y and touristy and everything in between. Apparently Playa del Carmen is like the new place to go, as almost everyone I told I was going there said. After going there, I'm not quite sure why, but imagine that maybe folks who are looking for that Cancún experience with a lower douchbag quotient have discovered this as their perfect destination.
Our resort, as I mentioned, was anything but off the beaten path. It wasn't right on the main walking strip with all the bars and restaurants and stores, though those do exist, but obviously don't have beach access or any kind of resortiness. Ours was a resort, but within very close proximity to everything. Kinda cool. And while it wasn't an all-inclusive, we got some special deal (which is always available as an option, but we got upgraded for free somehow) that allowed us to have breakfast every morning at one of two on-resort restaurants and then either lunch or dinner at one of the three restaurants in total, Cocina, Las Olas and Fuego. Pretty good deal. And, as is typical of resort hotels, the food varied from ho-hum, to mediocre to relatively decent. The best thing I had was actually a random lunch choice called a chicken molcajete, which was essentially a rockin' mixture of chicken, cheese, peppers, avocado (cactus?) and a shitton of other stuff all kind of cooked together in one of those stone bowls that you make guacamole in (which is, not coincidentally, called a molcajete) that you can pull out and wrap in a warm tortilla. It was so amazingly flavorful and spicy and creamy and cheesy and just damn good. Washing it down with a nice Bohemia was a dream.
Along with the food, there were several pools. One of which was literally right outside our room in the "jungle." Like we walked out on our balcony from our second-floor room, which was adorned with two lovely hammocks and looked out over what felt like our own private swimming hole. It was an awesome eyes-on option for Hipster Jr. and Hipster Jr. Jr. to swim when the monsoon moved in and they didn't want to leave the water. We could read and swing and they could do the dumb things children do.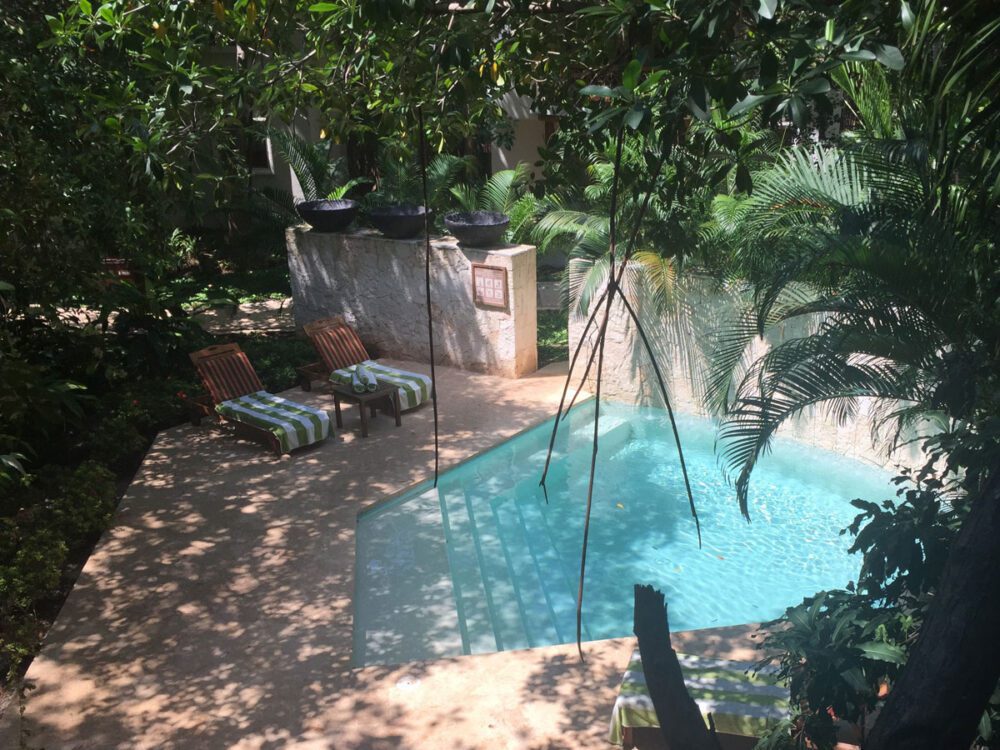 So there were pools. Pools in which we also hung out a lot. But we sat in the hot tub while the rain fell talking to some dude who flew helicopters in Iraq and now flies into storms to save drowning people off the Pacific Coast. It made my shitty desk job and pipe-cleaner arms feel very less like a man. But he — and everyone else we met — were incredibly nice. Hipster Jr. was a little disturbed by some of the Europeans and their banana hammocks, but he got over it when I told him they were all suffering from a mild form of brain-worm mania. And there was also a beach. Though the first day we went out there, the thing had been attacked by seaweed. Hipster Kids emerged from the sea looking like something from the Black Lagoon. One day and they were kind of done with it. Until we went out in a gale to go snorkeling. A 25-minute, choppy boat ride south into sideways rain and wind that ended at a pretty damn cool coral reef. We saw giant rays and sea turtles and fish of all shapes and sizes. I followed Hipster Jr. Jr. through the reefs, pushing her through tight squeezes and feeling pretty damn happy that she was having this experience.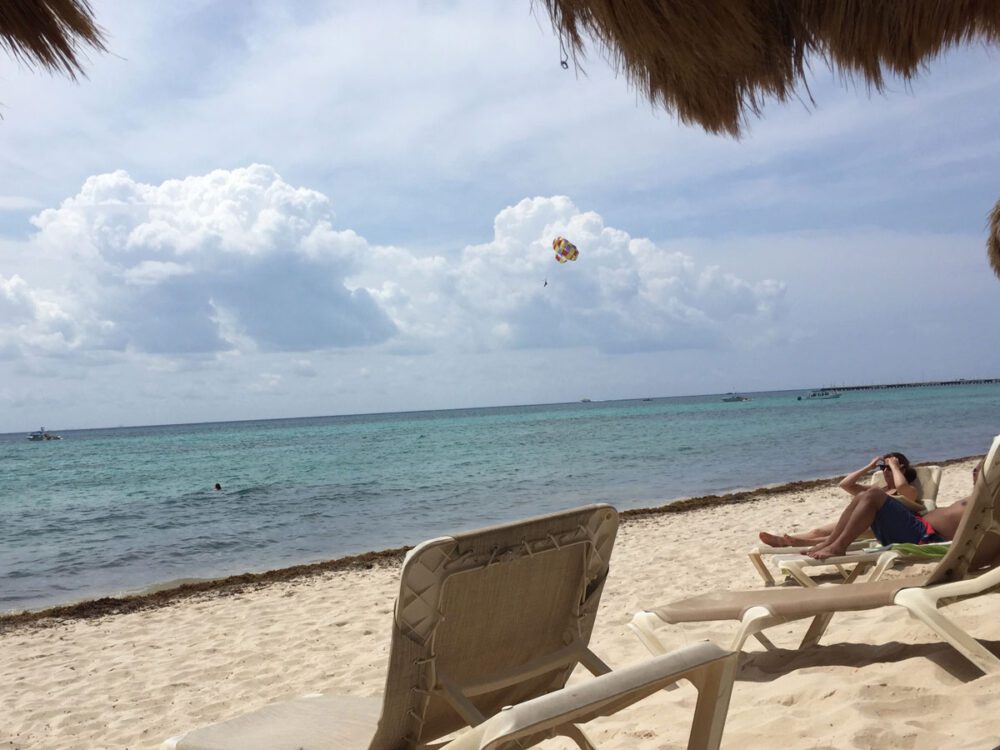 Outside of the resort is a whole city that essentially involves a very, very long street that drives all of the tourist activity in the city. Blocks and blocks of bars, restaurants, trinket stores, a fucking Guy Fiere's and lots of ice cream and little stalls where people were having the skin eaten off their disgusting feet by tiny fish. And all the Hipster Kids wanted were Mexican Wrestling masks. Because of course they did. We hit up a couple restaurants, including some place our hotel probably got a kickback from called La Parrilla, which felt a bit tourist trappy and I'm sure is stuffed with drinking bros galore during spring break. It was fine and Hipster Jr. could watch the soldiers and their giant guns drive by on the main drag while we downed tacos. A couple nights later we did one of those stupid things you do on vacation where you wait until way too late after a long day out to go to dinner and you just go to the closest option while the kids practically (or in the case of Hipster Jr.) fall asleep at the table. In this case, we actually ended up a not-half-bad place near our resort called Piola. Which is apparently some sort of weird chain that's all over the place, but the combo of adorable waitresses, good music, nice twinkle lights and a surprisingly decent plate of penne bolognese made for a pretty chill experience. And then I kinda screwed the pooch. I had to choose the restaurant for a night out with some friends who happened to be down in Playa del Carmen. I decided to go with something "authentic." Bad idea. So we went to La Perla Pixan Cuisine, which is apparently both a restaurant and mezcal joint. I can say, without equivocation, that the best thing we had all night was the complimentary mezcal shot they gave us at the end of our dinner. Otherwise, I've rarely seen so many adults leave their food relatively untouched after a meal. Honestly, the only person who wolfed his food was Hipster Jr., who, oddly, ordered duck tacos and seemed to really like them. The food was weird. Like super-weird. And not in a good way. And I'm now no longer eating octopus. I was on the fence about octopus for a while now, as it really goes against my "I don't eat anything cute or smart" doctrine. But, after being served what amounted to a whole creature (including half the head) covered in some sort of bizarre stale-tasting, tiny popcorn-like material, I'm done. No mas.
Anyhow, the resort itself was very nice. Everything was well-maintained, the beds incredibly comfortable (like way more comfortable than my own bed) and the staff incredibly nice. There was one server, Angel, who remembered us every time he saw us. Our names. Everything. Though he called Hipster Jr. "Alexis" because the first day we met he was wearing the #7 Arsenal jersey of Alexis Sánchez. A popular choice with the Mexican crowd — despite Alexis actually being Chilean. But the grounds were really lush and the general facilities modern without being sterile. There were plenty of bars and ways to get drinks regularly and we even saw a few iguanas (one of which Hipster Jr. thought was a statue for some reason), an agouti (which looks like a very large guinea pig or very small capybara) and what at least one wacky European and his selfie stick thought was a coati (which is like a wacky-looking raccoon thing), but I honestly think was just a squirrel. After a few trips in a row to Caribbean islands, and their general need to import just about everything, it was actually nice to get a break on cost on some of the staples, to be honest. Beers were completely reasonable by even NYC bar prices, drinks weren't astronomical, and it was completely possible to not break the bank with every meal. This is just another reason why Mexico is an attractive option. I also got a chance to practice my pretty crappy (and fading) Spanish, which is always a great ROI on those college classes. So if you can, go to Mexico, our most amazingly awesome geographically contiguous neighbors to the south. You too can check into a lobby that looks like one of those catalogs your wife shows you and asks why you can't do this in the back yard.