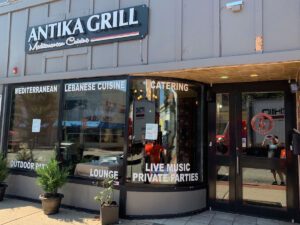 I have to believe Antika Grill is the only restaurant in the area that has its own bong store. Oh, sorry, "water pipe." Although now that weed has been legalized in New Jersey, does that mean we can go back to calling a bong a bong? Who knows.
And, yes, I know in the case of the Middle Eastern joint, they actually deal in hookahs and not the lucite tubular thing that graces every fraternity room shelf in the US. Let me tell you, Antika Grill has the corner on the hookah smoke market. The place is a practical industrial age factory of smoke — especially during COVID when you're jammed in a thin alleyway that lines the side of the restaurant. It's outside, but it might as well be a hot box.
I can't say that Hipster Jr. Jr. enjoyed the smoking. She seemed confused by it. It wasn't like the 70s and 80s when we jammed into the tiny non-smoking section at Sizzler while the smoking section's Marlboro exhaust wafted over to ruin our super burger and chocolate pudding. The kids, they're just not used to the smell of anything resembling that smell.
Now, full disclosure: Ms. Hipster is somewhere in the vicinity of 25% Lebanese. This is ostensibly a Lebanese restaurant. So she has some sort of authority here. I can guarantee, based on the clientele at the time of our meal, that she was the one and only person of Lebanese heritage in the joint. Save Hipster Jr. and Hipster Jr. Jr., of course. It's been a minute since her grandmother made us some homemade Lebanese grub, but we certainly recognized a bunch of the dishes on Antika Grill's menu. Although they also feel the need to bastardize it with things like quesadillas, chicken wings and mozzarella sticks for some reason. You can take the Lebanese out of Jersey, but…
Anyhow, we got some hummus and some baba ghanoush. It was appropriately lemony and texturally fine. We also got some kibbeh — the fried stuff, not the raw stuff. It was a little too much fried and not enough all-spice goodness. But what really shone were the entrees. More specifically the filet mignon shish kebabs. I am not normally a fan of the filet. It reminds me of bad wedding food and are generally flavorless or, when overdone, a Nerf ball. I was a little skeptical about spending $24 each on a dish for children (for me, it's fine), but it turns out there's so much steak on the plates that we were able to make incredible cheesesteak sandwiches for everyone the next day. The meat was buttery soft, but with the flavor of a strip. The way they charcoaled the thing was probably the trick. But paired with great fries, it was a home run.
I would love to say that there was flawless service to match our flawlessly cooked steak, but that would be a lie. I imagine some of it had to do with the COVID stuff, but the service was remarkably slow. Painfully slow. Bordering on terrible. They did get those hookahs out there pretty quickly, however. Must be a high-margin item. The whole experience wasn't a bad one, the food actually mostly surpassed our expectations, but do know that BYOB means 'bring your own booze' and not 'bring your own bong.' Cuz that shiz will cost you.
---
578 Bloomfield Ave. – Montclair
973/744-1300
antikagrill.com
---
View this post on Instagram