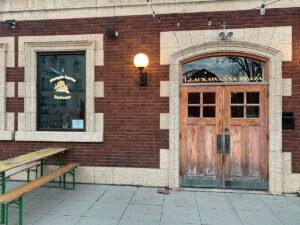 We first experienced Pineapple Express as a pop-up during a block party of sorts in Montclair. As a pop-up, its kind of hap-hazard seating, ordering and just general lack of fit and finish was completely understandable. But now, as what is supposedly a real restaurant, its feeling of impermanence just presents as poor planning and a bit of a conceptual fail. After all, they serve booze, which means they must have shelled out quite a bit of cash for one of Montclair's vaunted liquor licenses. So why the clearly thrown-together approach (not to mention the stoner movie reference?) Especially in a classy, historical space like the one I'm sure they paid a pretty penny for after the previous tenant, Pig & Prince, renovated the joint and then abruptly pulled up stakes when the landlord decided to not support the surrounding businesses. Leaving them and the sad Popeyes as the only operating retail spaces in an otherwise abandoned mall.
And, look, I know that a restaurant's decor and space aren't the only things that make a joint worth coming to, but it's difficult to dedicate yourself to becoming a regular when the place doesn't seem to have the confidence in itself to put down roots and invest in anything more than some wooden picnic tables and a row of Wayfair metal barstools. There's just a disharmony between the casual nature of the food and theme and the more formal presence of this brick-lined, historical train terminal. The lights are wrong, the majesty of the high ceilings… It's just that they didn't really do any work converting it from its former self as a British gastropub, which is a problem when you're essentially trying to present yourself as a communal, walk-up-ordering barbecue joint. The whole thing just feels incongruous.
Now, if you check out the bios of the folks who started this place, you — like me — should be excited. There's quite a bit of pedigree here. Not mainly in barbecue, mind you, but they throw around the Colicchio name and are connected to a local favorite, Turtle + The Wolf. And then you see the menu, which, again, feels like a fledgling eatery trying out something new. Not that there's anything wrong with simple, but you basically get five different smoked things: baby back ribs, pulled pork, brisket, bone-in pork shank and smoked sausage. Along with a couple of those things in sandwich form, a lobster roll, burger and hot dog. Additionally there is fried chicken, hot honey wings and chicken tenders. With the requisite sides. And, yes, I know that doesn't sound skimpy, but on my visit I didn't feel like a pile of beef and don't eat pork product, so settled for some hot honey wings and a mix of shared side orders of Old Bay potato chips and mac & cheese. Kind of a hodge-podge, to be sure.
The food is ordered at an awkward window up front, you seat yourself at one of the picnic-like tables and someone eventually brings out your grub and drops it at the table. Or maybe they had a buzzer and I went back up to get the food. Frankly, I don't remember other than it's basically self-service. While you're waiting for your grub, you can saunter up to the bar and order from a list of about a half dozen beers on tap, mixed drinks / spirits and frozen drinks like margaritas and piña coladas from a machine. Honestly, I'm not certain why they only have six beers on tap given the fact the joint had a bunch more in its previous incarnation, but whatever. I got a Radeberger, as it seemed to go with Pineapple Express' oddball thematic mix of Caribbean/Mexican, Southern barbecue and German beer hall. Just another part of the place's identity crisis.
The issue is the food just isn't that good. The wings were just okay, though eating them was, well, sticky. The mac & cheese was just as bland and kind of eh as most mac & cheese you find at barbecue places. Ms. Hipster makes homemade stuff that blows anything you'd get at a joint like this out of the water, so it's difficult to compare. The chips were fine, but the dip with it wasn't much better than what you'd make with a pack of Knorr and some sour cream. Hipster Jr. Jr. got a burger (of course), which was uneventful and incredibly tiny. Ms. Hipster got a smoked sausage, which looked wet and was also pretty small for $10. To be fair, though, I find all sausages to be disgusting. My beer was fine. Refreshing, even. Ms. Hipster's machine-made piña colada felt a little like something you'd get at TGI Friday's, but I think was at least a little boozy.
To add to the unfinished nature of everything, the presentation of the actual food was very unadorned and somewhat lackluster. I know barbecue is supposed to be down-home, but the red plastic tray with a sheet of wax paper is just so… well, it just goes along with the rest of the we-could-pack-all-of-this-up-tomorrow-and-be-outta-here feeling about the whole place. There's barely even any signage indicating this restaurant is here. I just say if you're gonna commit, commit. And when you half-ass it, the customers can tell. Trust me.
---
1 Lackawanna Plaza – Montclair
973/337-6358
pineappleexpressbarbecue.com
---