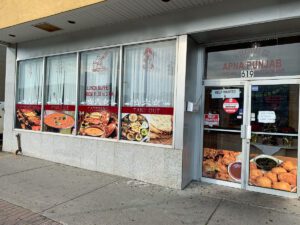 There have been more Indian restaurants in Montclair and Bloomfield than one could possibly imagine. They've opened and closed and moved towns and generally struggled to gain enough of an audience to keep things going. So we move on, as we always do. To another Indian restaurant that only looks like it's half-dedicated to sticking around. Perhaps it's a particular Indian restaurant aesthetic, but most of these joints look like they've barely bothered to unpack should the repo man come calling on a random Tuesday.
I have no clue how long Apna Punjab has been around. But it's just the next in line after all of our other options in Montclair closed, or generally showed a disinterest in keeping us as a serious customer. This place is on a block of downtown Bloomfield that I frankly never gave a second glance, while I was generally on my way to the NJ Parkway South. It's intermingled with sneaker stores, 99-cent places and this Caribbean restaurant that I probably should try. It's drab, to be sure.
Apna uses that wonderful NYC borough trick of putting images of their food on the windows of their establishment. Well, not their food, per se. But some food. Stock food. I was never really clear who these images were for? Like all those joints that have photos of bagels on their awnings. Or like skewers of meat at a halal joint. I assume they think they can entice passers-by with mouthwatering stock imagery of grub? But, really, I know what Indian food looks like. I'm not about to walk by Apna Punjab and be like, "Man, what is that pot of orange stuff?" Because we all know it's Chicken Tikka Masala. I don't need representation of it on your windows.
Look, I can't say that their claim on their website of a "friendly staff" is exactly true. The two grumbly dudes at the front desk barely made eye contact when I came to pick up my to-go order, and seemed almost annoyed by my presence. But, I can say that their want to "offer a mesmerizing experience to our customers" is indeed reflected in the actual food. We've been there a couple times, and the sauces have been plentiful and consistent. Other Indian restaurants in the area have always disappointed us with their inability to maintain the same sauce thickness night after night. Order on a Tuesday: thin, watery chef. Order on a Friday: thick chef with very little protein. You just want to have an idea of what you're getting, and at Apna the sauce has been consistent, the chicken plentiful and the flavor real nice. I was missing some heat from my food (ordered medium), but they probably took one look at my generic white-guy name and dialed it back.
Whatever the case, I don't choose my Indian restaurants based on their bedside manner. It's all about the food. And their naan, raita and Chicken Korma and Chicken Tikka Masala are tasty, filling and somehow doesn't turn my hands as yellow as the old place. So, we have a new Indian favorite for now. Until the inevitable, of course.
---
619 Bloomfield Ave. — Bloomfield
(973) 743-0392
apnapunjabbloomfield.com
---