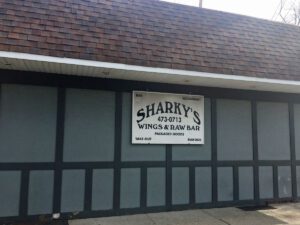 I mean, who isn't up for some fish in the middle of an industrial-looking wasteland in Clifton, NJ? Which, by the way, is nowhere near the ocean and is about the last place on earth that screams shellfish and flounder. But, if you're lucky enough to find yourself in this rather crack-ass part of NJ, you could do waaaay worse than dropping by Sharky's for some fried seafood and wings. And maybe even catch a game on one of their televisions crammed into what they claim is an award-winning sports bar.
Let's get this out of the way to right at the beginning: Sharky's misspells the name of the town they reside in on their website not once, but in at least five different places. The town is not called Cliffton. But we suppose that's an easy mistake to make, since c-l-i-f-f is a word. I guess. Let's get a second thing out of the way: the landscape around this joint is dicey. The fact anyone thought to put an establishment in the middle of this block — let alone one who dared to serve seafood — is like the first guy who cracked open an oyster and was like, "Yeah, this snot-like substance would make for an awesome delicacy!" It's daring.
But, as it turns out, the interior of the restaurant is well-worn, inviting and everything you'd hope for in a Jersey bar set next to a house and across from some sort of loading dock. It's overcrowded and slightly claustrophobic in a homey kind of way, with televisions and some real brick and some fake brick and signs all over the damn place. It just has a lot of different surface types and exposed everything on the walls and ceiling. So, it's not exactly a marvel of design. Which is totally fine. There's a not-huge bar crammed with people up front and then like ten high-top tables with four seats each spread across the rest of the space. It's tight.
But, really, do you comes to joints like this for the atmosphere? Which, by the way, was just lovely. A neighborhood sports bar with what feels like locals and some slightly off "tourists" like ourselves. But the atmosphere was sufficiently comfortable and the servers very helpful and amiable. What else could you ask for? Though I can imagine the place getting entirely too loud and crowded on a Sunday afternoon for football or whenever it is the Yankees play, or whatever.
The food. Ms. Hipster and I ended up ordering the same thing, I think. We had to try the shrimp po boy. Because who the hell doesn't love that? And we figured that nobody has ever gotten sick eating shrimp, right? Turns out popcorn shrimp in a bun with lettuce, tomato and a good cajun mayo-type thing is really tasty with a cold beer or two. Like really tasty. And Hipster Jr. got the wings, of course. He loved them. I had one or two and they seemed like the real McCoy. Not that deformed, flaccid bullshit you get from the local pizza joint. Like honest-to-goodness Buffalo wings. To add to Hipster Jr.'s pleasure, there was, in fact, an Arsenal game on right on the wall in front of him. He was in heaven. I'm sure Hipster Jr. Jr. got a burger or something, but she kind of sucks when it comes to ordering anything interesting.
Anyhow, we were pleasantly surprised with our culinary adventure to the outskirts of Clif(f)ton. And we felt no ill-effects of our time there, despite our initial apprehension about eating anything from the sea in a land-locked bar that looked from the outside like it had seen better days. I'd say it's a hidden gem. But probably not so hidden if you know the "real" Jersey.
---
545 Highland Ave. — Clifton, NJ
973/473-0713
sharkyswingsnj.com
---