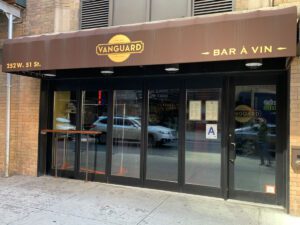 Ah, the wine bar. The prime Midtown backlash to the Irish pub and beer joint. Discernibly feminine in its approach and its description. Often offered up as a "cozy" place with small plates and French influences.
And, voila, that is literally how Vanguard Wine Bar describes itself. And, honestly, it's pretty accurate. I was unaware that this is a chain of sorts, with four bars in Manhattan. I'll assume they all follow the same template as this Midtown West location, which certainly feels like a place someone put some thought into.
The decor is definitely French influenced in the most generic way. Lots of wood, subway tile and marble. The walls lined with French posters and those tin street and advertising signs. And plenty of reproduction lights that give it a little bit of an old world flavor. Shit, it's downright cozy.
A group of [mostly young, female] co-workers and I came here for a quitting party and there seemed to be a pretty satisfactory list of wines for them to imbibe by the glass. I stuck to beers, of which they have a small menu of local bottles. Despite that, the bartender definitely had a handle on what each was and seemed to have some connection and knowledge of the both the wines and the brewers, which is always a plus.
We sat at a couple high tables in the front of the restaurant and had the joint mostly to ourselves during happy hour, with some other groups of after-work people rolling in throughout the evening. They looked a lot like us — ad agency types with a taste for the grape. I'd say it's really a pretty pleasant hang. I don't generally order wine outside of dinner, but I could see myself picking something from the easy menu. Just not this time.
I think some of the classy, clean touches in wine bars — with their shelves of bottles, their even lighting and their consistent stemware — gives that kind of feminine touch that is missing in the bars that are generally gathering places for after work parties. The wooden board of nice-looking meat (that I don't touch) instead of the bleeding burger on a white plate or basket of fried gunk. There's just a cleanliness and an order to things at this and most wine bars that make it feel just a little more special. If that's the kind of thing you're into.
---
252 W 51st St. (at 8th Ave.)
212/399-WINE
vanguard-nyc.com
---