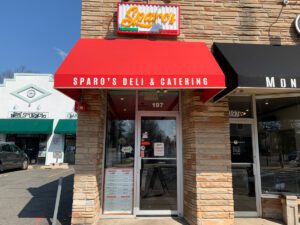 I'm not certain what this space was originally supposed to be. I remember ordering a slice in it in some former iteration. But the way-skinny dining room with the glass case and kitchen at the very end doesn't make for a super-inviting hang. Luckily, I'm going to assume that Sparo's is mainly a takeout joint. Granted, during COVID in Montclair, pretty much everywhere is a takeout joint. Especially these deli / sandwich restaurants. That food is meant to take away.
This area doesn't have a shortage of Italian delis. An Italian deli being the Mediterranean version of a Jewish deli. So, way less white fish, and way more pork-inclusionary sandwiches and hard cheeses. Frankly, I don't dig on swine, so I'm out on the predominantly pink meats. Leaving me generally ordering beef related things like roast beef or pastrami, turkey, grilled chicken or tuna. I try to mix it up so as to not bore myself, but I often find myself reaching for the sandwich with the most embarrassing name. And, yes, Sparo's names their signature sandwiches. Mine, oddly, has the same name as a chicken sandwich I used to eat at a NJ diner: Lady Di. Thank god they have online ordering, because I can't order that shiz without turning red.
And what is a Lady Di, you may ask? It's a 12″, twelve dollar grilled chicken, fresh mozzarella, roasted red peppers, arugula, balsamic vinegar and olive oil sandwich. And we all know what makes and breaks a sandwich. It's the bread. Sparo's has two options: Italian or semolina. I find semolina and seeds distasteful in a way I can't describe. Something about the texture distracts from the food. So, Sparo's Italian bread is good. Not too crusty, not too soft. The chicken is the more authentic type with the grill marks and the char and some curl on the edges. Which leaves it a little dry, but flavorful. And nothing a little honey mustard can't solve. The thing was pretty decent all things said. And large. But the "premium" sandwiches, which includes the "Sparo" (which is essentially an Italian) ordered by Hipster Jr. (without anything on it) was a whopping $14. Kind of pricey for a joint in suburban NJ. But, hey, it's premium.
---
197B Bellevue Ave. – Montclair
973/509-0807
sparosdeli.com
---