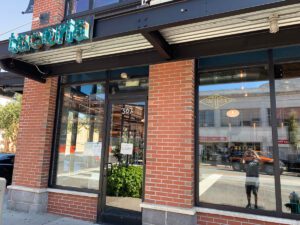 Bro tacos. Yes, that's a thing. And this comes as close to that paradigm as possible. Including the intentional misspelling of the word "taqueria." The anglicized Tacoria seems like a solution for dumb, bro Googlers. And perhaps that's because this five-location Mexican street food (their description) joint was started by a couple bros from Rutgers in their campus town, New Brunswick.
I know it sounds like I'm shitting on this place (which probably isn't a verb you want to be using around Mexican food), but I do, in fact, like their food. I wouldn't exactly categorize it as "street food" per se. Especially when they rock the Chipotle-like burrito boxes, Mission burritos and quesadillas. In other words, it's all pretty traditional fare that you'd find at any Mexican chain. Hardly unique in any kind of way.
So the question becomes, does it taste good? It does. It's not like gourmet or anything, but they manage to get some heat in the chicken tinga and milk a lot of flavor out of the salsas and proteins. Honestly, I'd eat here a lot more if I had a metabolism left. And at $8.75 for a burrito, you don't feel like you're being completely ripped off. In 2020 those are prices even a student can afford.
That all said, the guacamole side could be larger. And the parking at the Montclair location is absolutely atrocious. They are building a gigantic parking garage across the street, but as it stands now, I'm surprised they've been able to stay in business with the parking that currently serves this block. In fact, Tacoria replaces several restaurants that lasted mere months because people clearly couldn't get to the food. They do seem to have a pretty young audience (I see a lot of high school and college-aged patrons), which is good for them, as they're probably not arriving by car anyway. Anyhow, it's a welcome addition to the Montclair landscape. Let's just hope they can make a long-term go of it.
---
367 Bloomfield Ave. – Montclair
937/893-5220
tacoria.com
---