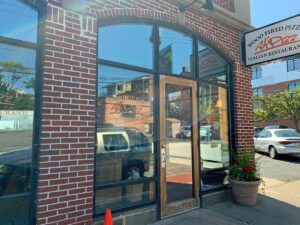 Ah' Pizz is actually a long-standing eatery in Montclair (opened 2010) considering the ups and downs of the neighborhood culinary adventures. It seems even the hottest restaurants go under. But apparently there's some revenue-positive advantage to pumping out personal wood-fired pizzas for between $13 – $18. After all, you only have to build that Tatooine-looking stone oven once, your main ingredients are flour, water and cheese and your core food takes exactly 90 seconds to cook. Seems like a winner.
Ah' Pizz is often filled with long tables of teen girls, middle-aged couples with their remarkably young children and couples on first dates. The BYOB thing is pretty excellent for those of us who rarely drink wine at home, but like to feel like adults by drinking it with our casual pizza stuffs. The restaurant is rarely empty and frequently busy and bustling, loud and lively. This ain't no old-school red sauce joint. Though they do apparently serve non-pizza Italian food. I've never ordered it, but it's there for you gluten-free and/or lactose intolerant folks. Or if you just don't dig over-fired, thin-crust pizza. Weirdo.
The space is relatively modern and has expanded over the years. There are a lot of hard surfaces, including brick walls, lots of windows and tiles floors. So the warmth, both temperature and feeling-wise, is a little lacking. And, again, you're not about to have an intimate date night here, as everything is pretty open, and the noise levels hover somewhere near a cafe off a jet runway.
But you come here for the pizza, not the ambiance. Their pizza menu has changed somewhat over the years, which is fine. They clearly used to focus more on pre-planned pizzas, their menu offering a decent list of differently named pies with different configurations. Some with sauce. Some without. I used to get a Pizza Di Montclair, which has a porcini and truffle oil spread, pecorino sardo, grape tomatoes and wood-fired mushrooms. It was pretty intense and super-umami. Thing is, if you want pizza, this is something else. And sometimes I'd get the three-cheese Pizza Di Formaggio, which has caciocavallo, fontina and mozzarella cheeses and nothing else. These are both sauceless pizzas. And both very good. But you kind of want something different than traditional pizza if you're looking at these. The odd part was always the fact that they didn't have pepperoni. Not on a single pie. Not sure why. But this last time we went, it seems they changed up their menu, still offering these "special" pies, but also allowing you to configure your own traditional pizza with more traditional toppings. Like pepperoni. Finally! So I did a margarita (which has sauce) with mushrooms and pepperoni. And it really hit the spot. Because pizza is awesome.
The kids — and Ms. Hipster — love the Pizza Alla Nutella for desert. Which is basically a pizza crust with Nutella and powdered sugar on it. You can also get it in a s'mores setup as well, which adds marshmallows and graham crackers. Kind of overkill if you ask me. But that shit is admittedly good. Although eating an entire pizza — even if it's made for an individual — is pretty filling. So the Nutella pizza is pretty gluttonous. Although, if you can pull it off, definitely do it. Side note: it's oddly good with red wine. Some people do get Ah' Pizz to go, but I've found that thin crust like this travels very poorly. I definitely suggest eating in the actual restaurant. If you can find parking and have patience to potentially wait for a little bit for a table. I'm still a little confused about the name, if I have to be honest, but someone must get the pun or whatever is going on. I'll eat the pizza, you solve the puzzle.
---
7 N Willow St. – Montclair
973/783-9200
ahpizz.com
---