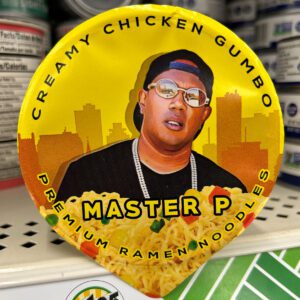 This ramen makes me say "Uhh! Na-nah na-nah (na-nah na-nah)." Priced at $1.25 per cup, I'm not sure this is gonna cover Master P's gold tank lease payments, but it's probably every music mogul / rapper's dream to be featured on the cover of an Asian noddle snack. Isn't it? This wonderfully odd product comes courtesy of a company called Rap Snacks, which decided putting this 90s icon's visage on some really gnarly-sounding "creamy chicken gumbo" ramen would help sell instant meals to somebody somewhere. Because the kids are all clamoring for those No Limit noodles.
It seems this Rap Snacks company has a bunch of rappers in their stable. Thought their line of ramen noodles feature Master P and a couple dudes named E-40 (beef prime rib) and Boosie (Louisiana hot & spicy chicken). The latter two I've never heard of, but I'm sure are fine members of the hip-hop community. Though E-40 looks to have been born in 1967, so I imagine he's a member emeritus at this point. Hopefully retired to wherever ramen millionaires retire to. Admittedly I've never tried these noodles. Mostly because the word "creamy" is not something I enjoy in my ramen. However, had they had that Boosie hot & spicy joint, I may have sprung for the $1.25.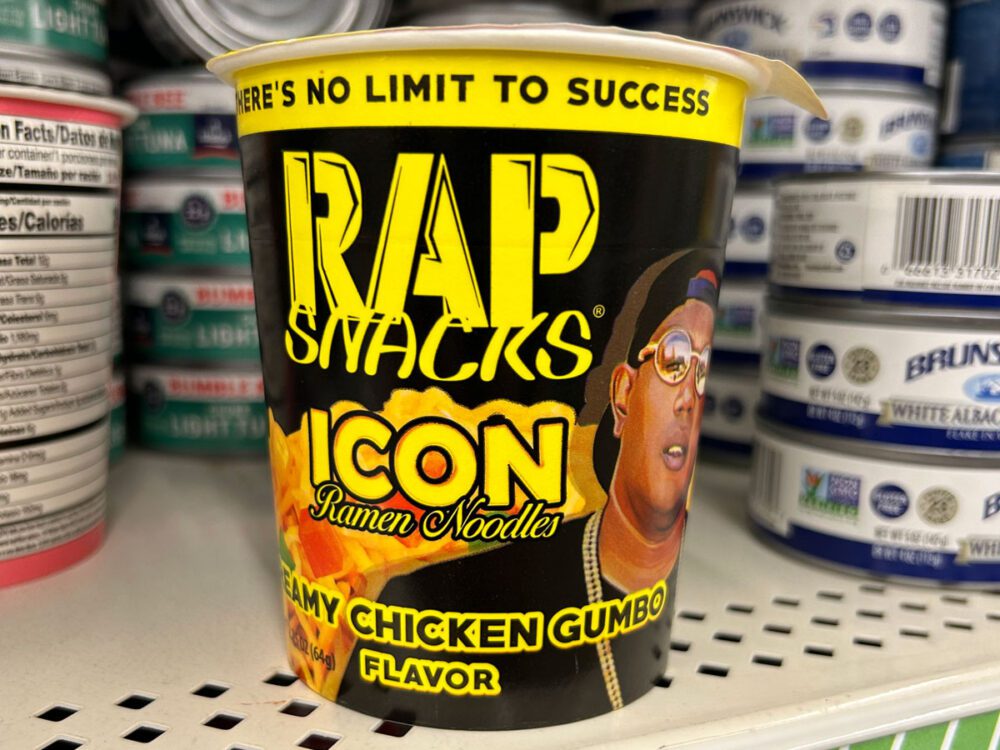 I do appreciate the "There's No Limit to Success" tagline on the packaging. It's a clever tie-in. I don't, however, understand exactly what that has to do with noodles? Perhaps by eating them, you'll become rich and vaguely famous like Master P? Or, perhaps, you too can end up on a shelf in a dollar store next to plain wrap tuna fish and off-brand sugared cornflake cereal with Tori the Tiger on it?
And, look, Master P may not be the most high-profile and relevent Rap Snacks face — they have chips and popcorn flavors with Lil Baby, Snoop, Rick Ross and Nicki Minaj, among others — but he is certainly the most rando Gen X character one could stick on a tub of goopy sodium. Shit, I might actually buy some Snoop Dogg Cheddar BBQ Nocho Nachos if I knew where to look for them. I'm not sure I know what a "nocho" is, but putting rappers' faces on anything and everything is a good idea. I just found it super-odd go see this man, Percy Robert Miller Sr., staring up at me from a cup o' noodles. Soldier on you no limit soldiers.