It's your middle-schooler's spring break and she doesn't like anything. The beach. The lake. Anywhere where the food might be "weird" or foreign-ish. The only place she's willing to go, weirdly, would be China or Tokyo. We're not going to China. And our bank account isn't going to Tokyo. The one other place she might be willing to go is Seoul, but her grandmother still seems to think the US is in a war in Korea. Despite that war ending seventy years ago. When she was six.
Ms. Hipster decided that we'd stay domestic. And book a kind of half-and-half trip. The first half hanging out in nature. And the second half hanging out by the pool at a resort. All in the state of Arizona. A state I haven't been to since I was in college and went to see the 1993 Fiesta Bowl in Tempe. This vacation, however, would primarily take place in Sedona and Scottsdale. With some road trips to places in between, and some unplanned visits to towns and vistas for both Hipster Jr. Jr.'s pleasure and Ms. Hipster's ad-libs.
Day 1
Travel: Phoenix Sky Harbor International Airport
Going to airports that aren't ours is always eye-opening. Granted we took off from Terminal A at Newark rather than our usual Terminal C. And they are night and day. The whole experience was unusually pleasant. Sky Harbor is also clean and modern and has one of those sky tram things that takes you directly to what I think is a brand new rental car complex where all of the different rental companies house their automobiles in covered parking garages. It's been a minute since we rented a car, and it was weirdly easy. Almost too easy. We chose a Mazda CX-5 over some of the lame American-made options sitting there. It was a great choice.
Pre-Lunch: McDonald's (Phoenix)
Hipster Jr. Jr. was starving after the flight and was insistent we stop somewhere for sustenance. Some fries and a drink did the trick. The McDonald's workers were friendly, if not a little slow. All reports were that the fries were hot and well-salted. Win-win.
Lunch: Rock Springs Cafe (Black Canyon City)
This is where we hit our first snag. Granted, Ms. Hipster did some Googling about restaurants on the way from Phoenix to Sedona, and this place is apparently very popular. In the way roadside joints in the middle of nowhere can be. We expected a crowd, but found none. I looked at the fish and chips, but felt that ordering that in the middle of the desert was probably a bad call (despite the server telling us it was delicious). I ended up with the smoked brisket Philly. Nowhere near Philly. It was better than I expected it to be, frankly. Hipster Jr. Jr. — a city girl at heart — came to some existential realization as we sat there in this kind of honky tonk cafe amongst the cacti that we had dragged her on Spring Break to a sunbaked, godless wasteland. And she was not happy about it. She ate nothing.
Now, it's said that this place is famous for its pies. Which is always a red flag for me. But, after being surprised by the okayness of my sandwich, I figured I had to try it. It had been years since I'd had banana cream pie, so I went with that. I proceeded to watch the waitress walk over to a freezer, take out a pie, pop it in a microwave and walk back with my slice. Not like a pie at a diner in a case or spinning display thing, but what amounts to a pre-packaged pie on ice. What the ever-loving hell am I experiencing? The slice was… wimpy. The filling was minimal. And the crust was not flaky and not firm, but like kind of very light and crumbly. I would call the whole pie not substantial. Bordering on unsuccessful. The tiny amount of pie that actually existed tasted fine, but there was so little to taste, it was honestly pretty shruggy. Hipster Jr. Jr. ate some ice cream (that was probably meant to accompany pie) and was fine with it. But, overall, it's a tourist trap. Though still one thousand times better than Cracker Barrel.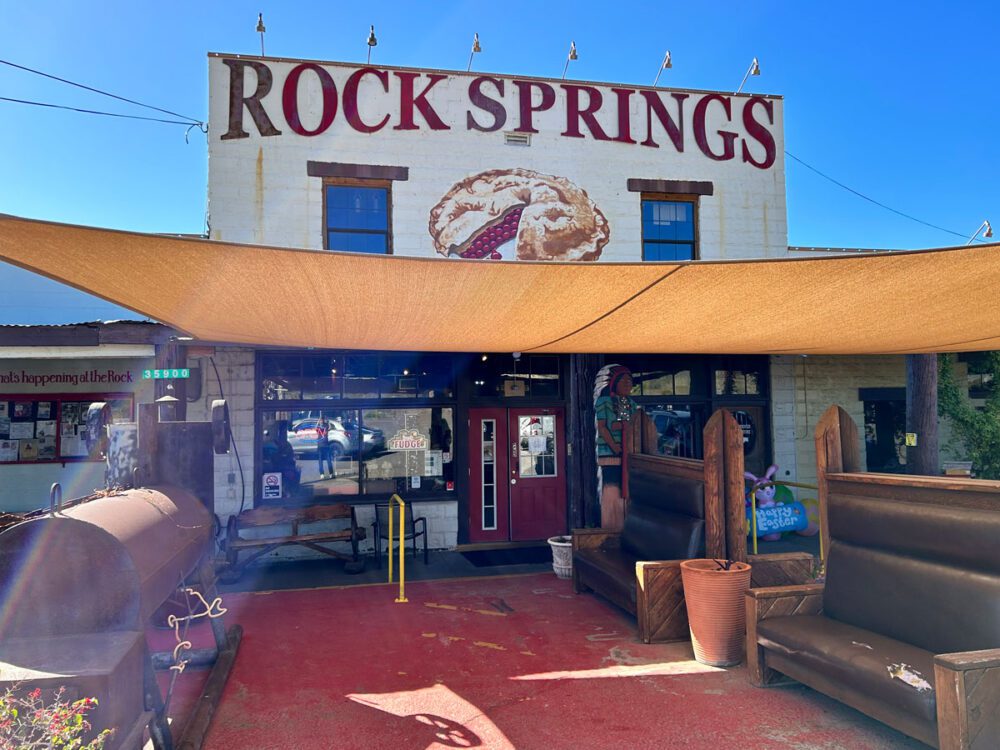 Lodging: Best Western Plus Arroyo Roble Hotel & Creekside Villas (Sedona)
This is a motel. To call it anything else is absurd. I suppose you can have these kind of multi-leveled, outdoor structures out West. Not as if it doesn't snow in Sedona, but I suppose it's not the North East in terms of climate. So it feels less bad walking out of your pretty mid room into the fresh air. The room — which we shared with Hipster Jr. Jr. — was the most basic two-full-sized-bed motel room you can imagine. It could have been a Comfort Inn in PA or a Days Inn in Upstate NY. And the breakfast was your standard Sysco, make-your-own-waffles, juice machine and a couple hot dishes and cold cereal type setup. The advantage was the view from our small balcony, I suppose. Which was pretty nice.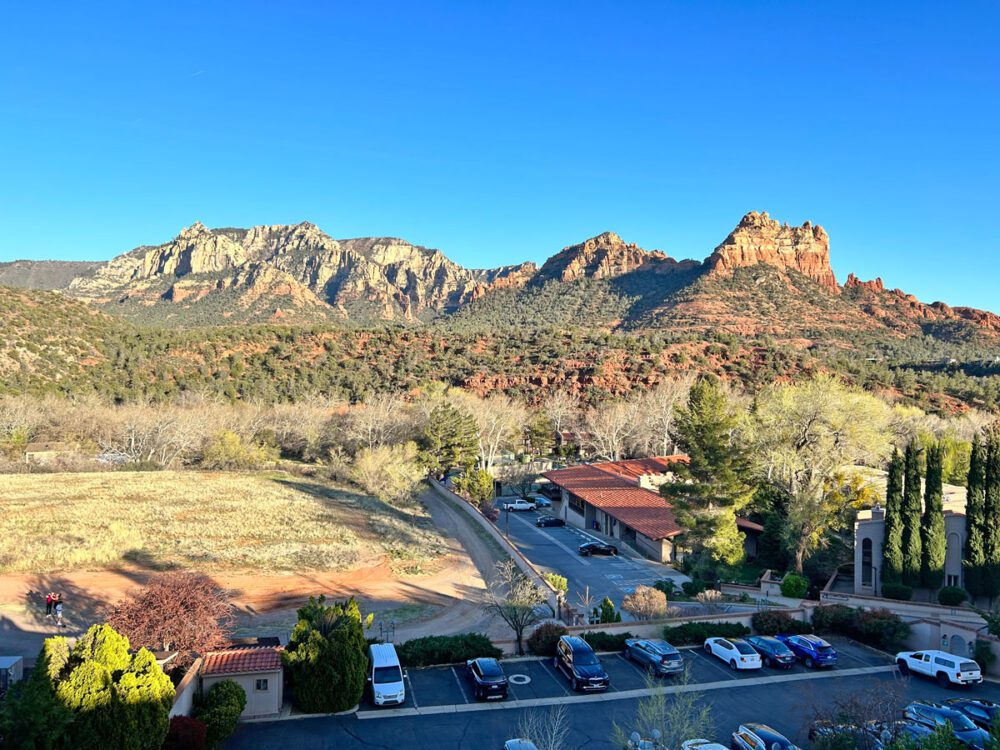 Day 2
Lunch: Cowboy Club (Sedona)
This is where we started our culinary adventure for real. And realized quickly that tourist towns charge tourist prices. And that Southwest cuisine is all pretty much the same shit everywhere you go. Honestly, a lot of these menus are interchangeable. Same apps, same entrees, same everything. The Cowboy Club is smack dab in the middle of downtown Sedona and clearly collects serendipitous diners like us. You walk by, look at each other with that "are you as hungry as me" face and walk into what amounts to this Western themed bar & grill. Which is just dandy. We had a beautiful day, sat at a table in a kind of indoor/outdoor space overlooking the bustling sidewalk and settled in. And while I hate to say it, my bison chili (ground bison, corn, black & kidney beans, poblanos, green chile cheddar & cornbread crumbles with chives) was really fucking tasty. I know… It came in a small metal cauldron thing and had tons of flavor, some heat and texture that was actually decent. I was really surprised, frankly. It wasn't a ton of food, but I scraped that thing with my spoon until it cried mercy. Paired with a Four Peaks Brewing Co. Golden Lager, it was a pretty pleasant experience.
Adventure: Pink Jeep Tour Sedona – Broken Arrow and Scenic Rim Combo Tour
This is what you come to Sedona for. And Ms. Hipster went for it and signed us up for the longest and most rugged of the Pink Jeep tours. Does it feel tough riding around trails in a pink Jeep? Not exactly. But this is apparently the original trail tour company. And our guide seemed about as knowledgable about stuff as you could get. Rock formations. History. The whole thing. Including some light, old-school misogyny. But, hey, what rugged white guy of semi-advanced age doesn't devolve into whatever when he's accompanied by a couple hot wives? Amiright? That aside, he was kind of like your know-it-all uncle who means well, but definitely thinks he knows more than you. But nicer.
I must say, though, I'm impressed with what those Jeeps can conquer. My low-pro tires and pseudo sports car would have bottomed out after three feet. But we went up some impressive rocks and down some pretty steep trails. It was definitely not for the faint of heart. Like I wouldn't have sent Hipster Mom on that trail. She would have been very unhappy. Like being subjected to my post-hardcore music unhappy. Or — god for bid — Hipster Jr.'s 2023 rap playlist. But we enjoyed being jarred and jostled and sometimes wondering if the dude was purposely aiming for shit. It was a several-hour trip, but it was pretty cool. So cool, in fact, that Hipster Jr. Jr. ran in front of my panoramic shot from Submarine Rock and became some sort of weird hair ghost.

Dinner: Don Diego Mexican Cafe (Sedona)
This wasn't our first choice for dinner, but the joint next door had an extraordinarily long wait. So we sat outside here, which probably would have been fine if the weather wasn't bizarrely cold for a state we thought should theoretically be warmer than the East in April. My enchiladas were incredibly underwhelming. The shredded chicken had about as much taste as your grandma's boiled chicken soup chicken. I was really hungry and it still made me wish we'd hit up Taco Bell instead.
Day 3
Adventure: Jerome, AZ
For some reason I was under the impression that Jerome was a ghost town. Being from out West, I knew this was an actual thing. But my assumptions were completely off — sort of. Turns out they do, in fact, call it a "ghost" town, but it's only because there are apparently ghosts here. Probably mostly of the miners who died in inhuman conditions way back when. But, really, it's kind of a combo tourist town and funky biker, hippie somethingorother. I'd compare it to like a Lambertville or New Hope. But way less Eastern and way more frontier-ish. You know, lots of bars and an oldey-timey candy shop and at least one store that has bones and taxidermy. And, of course, the goth store. And lots of new stuff vaguely masquerading as antiques. Apparently, though, the dude Maynard from Tool lives here and owns a record store/barber/wine bar called Puscifer the Store? Which was a really odd mashup that came off exactly how it sounds. And there's the "world's largest kaleidoscope store" called Nellie Bly, which is apparently housed in an old brothel and is owned by a woman not named Nellie and her partner, Sally Dryer, who was the voice of Lucy in the old, 1960s Peanuts cartoons. So, yeah, it's that kind of town. And had we not had Hipster Jr. Jr. with us, I think a little bit of old-fashioned bar hopping could have been fun.
Lunch: Haunted Hamburger (Jerome)
So, bit of advice. If you're going to have the word "hamburger" in your name, you should probably make decent hamburgers. In fact, you should be able to make a burger, period. Because this is — without any caveats — one of the poorest excuses for a burger I've had in some twenty years. And the one I ate was actually their second try. The first one showed up looking exactly like (and the same size as) a Hostess Ding Dong with some translucent orange stuff caked on top of it. The other two burgers delivered didn't look good, but they at least resembled something akin to meat. And while I don't normally complain about stuff, this was a bit too much. I finally caught the server's eye from our perch on the outdoor, but covered, deck and she kind of looked at me like I was insane. I laughed and said something like, "C'mon, this barely resembles a burger." I watched as she walked it over to a dude who must have been her manager, who looked at it and shook his head like one might do to a child who just ran through the mud in his brand new white sneakers. I would call it disappointment. But I think the look, in retrospect, was more akin to shame. The second try looked a little better, but it was dry, tasteless and generally low quality in that gristley kind of way. The only thing haunting these burgers was badness.
That all said, there are lines to get in this place. It seems like fun — and the space kind of speaks to it a little bit — but the food is just plain gnarly. Plus, we didn't sense any ghosts or anything. Even the story of Haunted Burger is kind of dumb. Someone once heard a noise somewhere years before it became a burger place, and instead of thinking that maybe a mop fell over, they blamed it on a ghost. Sure, dude. But, hey, at least they comped our sodas. And the view was pretty cool.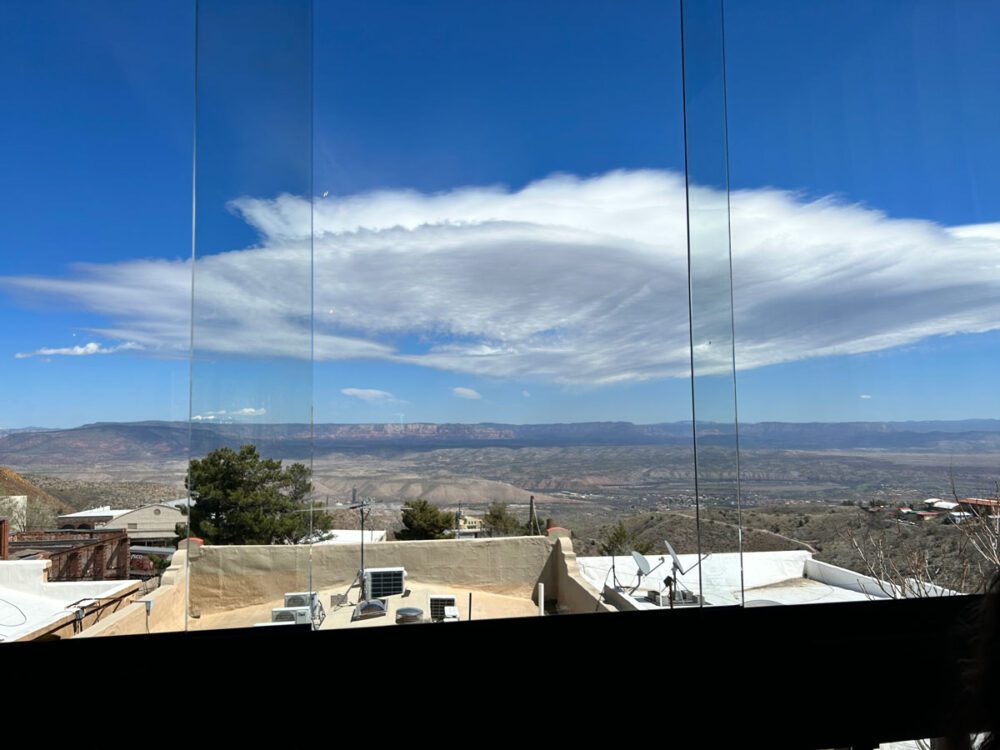 Dinner: Open Range Grill and Tavern (Sedona)
Dinner in Sedona was a constant struggle. The restaurants are all very crowded, kind of samey-samey and Hipster Jr. Jr. is impossible to please. I'm pretty sure we left her back in the hotel and ventured out on our own and promised to bring something back. Luckily our hotel was pretty well situated in downtown, so we could just kind of walk the strip looking for something that we could eat and might have something on the menu for her. Open Range was very much like a lot of other restaurants: vaguely Tex-Mex, Southwestern and meat-heavy. American, I guess. It's basically a bar & grill on the second level of a mini-mall. Which, from the front, is a little depressing, but like a lot of joints in the area, features really great views of Arizona desert plateaus and whatnot out the rear. After the debacle of our Haunted Burger lunch, I played it safe and got a French Dip. Because, meat. I didn't have great faith, but it was remarkably decent. I paired that with a Barrio Tuscon Blonde and was happy as could be. Hipster Jr. Jr. enjoyed the Buffalo wings we brought back, too. Though $16 for six wings was a bit steep.
Day 4
Shopping: Tlaquepaque Arts & Shopping Village (Sedona)
No matter how many times we mentioned this place we had to make the Jobu Tupaki, Everything Everywhere All at Once joke. It's not a funny joke. In fact, it's not really much of a joke at all. It's more word-play than anything else. But we amused ourselves despite being vaguely culturally insensitive. Of course it's better than our other sophomoric "Farts & Craps" nonsense that we always say when Ms. Hipster inevitably makes us go shopping for Arts & Crafts. Because nobody likes that shit. And technically Tlaquepaque is "An Arts & Crafts Village." Hoofa. Which essentially means there are some galleries, some trinket stores, some "artisan" stuff, and even a year 'round Christmas store. Which seems almost like Ms. Hipster catnip and kind of unfair entrapment for middle-aged Christmas-celebrating types. Not being either of those things, I hung outside with Hipster Jr. and enjoyed some light Arizona snow in April. The village itself is pretty cool with its Spanish architecture and unending patios and villas. In fact, it's a little confusing walking around the joint. The parking is also a bit of a nightmare, but the people and surroundings are outdoors and pleasant. Even if there is very little in the way of stuff you might want to buy.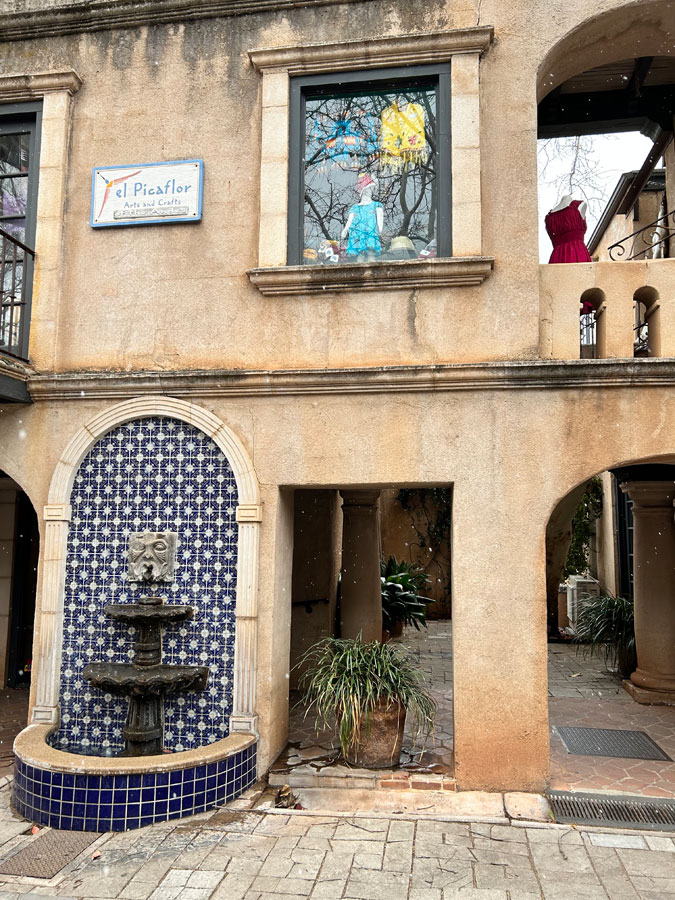 Lunch: Oak Creek Brewery and Grill (Sedona)
Found in the confines of Tlaquepaque, this brewery has a kind of Sizzler feel to it. I'm not quite sure why, but it kind of adheres to the Sedona non-design design. Honestly, it's like the place lacks both architects and interior designers. Everything in this whole area is brown and tan and oddly dark and kind of 1970s dreary. Including this second-floor brewery / bar & grill. Granted, it was like 11:30 a.m. and it had snowed a little earlier in the morning. So it wasn't exactly a sunny-ass day in the middle of the afternoon. To that end, I felt it was a little early for a beer. So I can't comment on their brew. I can comment, however, on the fact I'm old and just can't handle my booze anymore. Diet Cokes all around! That all said, their individual, wood-fired pizza hit the spot. Were they like John's level good? Absolutely not. But it being neither meat, nor fried made them feel lighter and less gut-busting than what we'd been eating for days. I mean, it had pepperoni on it and whatnot, but that's only semi-meat. I certainly wouldn't call this place a destination target, but it's fine if you're shopping at Jobu Tupaki and have worked up an appetite. I would get there when it opens for lunch, however, as I imagine it gets pretty crowded.
Adventure: Airport Mesa (Sedona)
Who doesn't love hiking at an airport? Of course, this ain't LaGuardia. And, honestly, any place you put a structure in Sedona is prone to be in the middle of something nature-related and desert-y. It's one of the few hikes we were able to drag Hipster Jr. Jr. on. And we did one of the short loops. Which was still challenging enough, honestly. The trails are pretty thin and uneven and you kind of have to watch your step, or you'll most definitely roll an ankle. There were some people out there who definitely were not prepared for that. Especially the end part where you have to climb a rock crevice while holding onto a cable. It's not like hard-hard, but I imagine older folks might want to sit this one out. The day we went, the wind was incredibly intense, and once we climbed out onto the mesa, I felt I needed to hold onto Hipster Jr. Jr. for fear she'd blow away and end up a coyote snack. Honestly she's way hardier than that, but that's just me being me. I think we might have continued on and done one of the bigger loops, but we're like NYC out-of-shape and the temps were a little daunting. All in all, though, it's a good hike and the view is pretty sweet once you get to the end.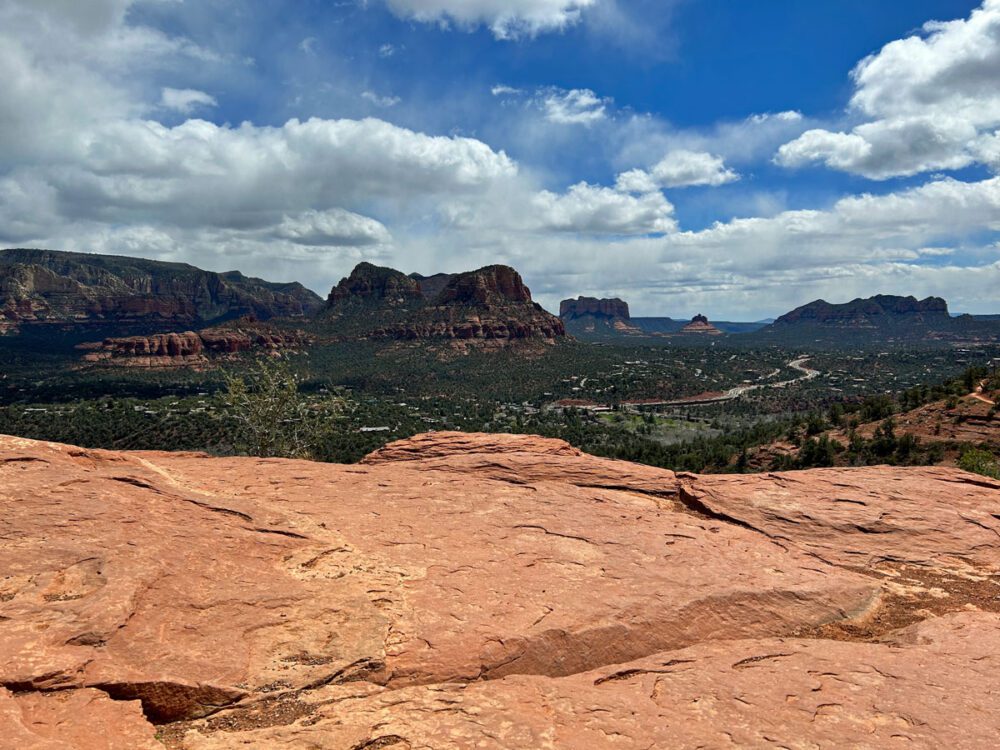 Adventure: Oak Creek Vista (Sedona)
We took what was a pretty cool drive to this spot. Unfortunately it closes at 4:00 p.m. And is also often closed for various random reasons (according to their site), including clouds, birds, dust and too much sun. So it was unclear when we showed up in semi-drizzle the reason for the barred entry. Shame, as it sounded like a pretty cool scene. At least the drive, with a bunch of switchbacks and hairpins, felt like an adventure in and of itself.
Dinner: Canyon Breeze Restaurant (Sedona)
More of a cafeteria than a restaurant, really. Order at the counter, find a seat, answer the buzzing puck and go grab your shit. Another entry in the confusing Sedona dinner experience. Honestly, I was happy to not have to sit down and peruse a menu. In my split-second decision, I went with chicken fingers and fries. Like a child. It was either that or a burger or "pizza," which I can't imagine was even remotely pizza. I don't know, it seemed like the best bet. And while I wasn't in love with the idea of paying $4 a tender, it was what it was. At least I didn't have to tip a server. Which brings me to the weird extra sales tax that seems to only apply to Sedona. I imagine it's basically a tourist tax. But the combined sales tax is a whopping 10.4%! This shit ain't London, but apparently it thinks it is. Weirdly, though, the tenders were actually decent. Or perhaps my standards were pretty dented and my hunger stoked by some nature excercise.
Adventure: Jordan Trailhead Observation Area (Sedona)
Seems the only thing Hipster Jr. Jr. cared about was seeing stars. We live in a place that has a lot of light pollution and you're lucky if you can see anything in the sky that isn't a plane taking off from Newark or midtown Manhattan bouncing off the overcast sky. So we drove into some neighborhood somewhere searching for a trail that leads to a field where the stargazing club of Sedona apparently meets sometimes. The Internet was right; it was dark out there. We parked in what I think was a trailhead — or maybe it was the end of one road and the beginning of another, rougher road — and got out to wander around. We stuck close to the car because there are lots of wild animals in the Sedona desert, and it was dead silent and pitch black save the moonlight. Honestly, it was pretty cool. If it wasn't so damned cold, we could have stayed for multiple hours instead of the hour-and-something we did stay. Looking at stars, planets and satellites, using an app to see what we were looking at and testing out the functionality of our iPhones. It seems you can take photos in the dark if you hit some buttons. Nice.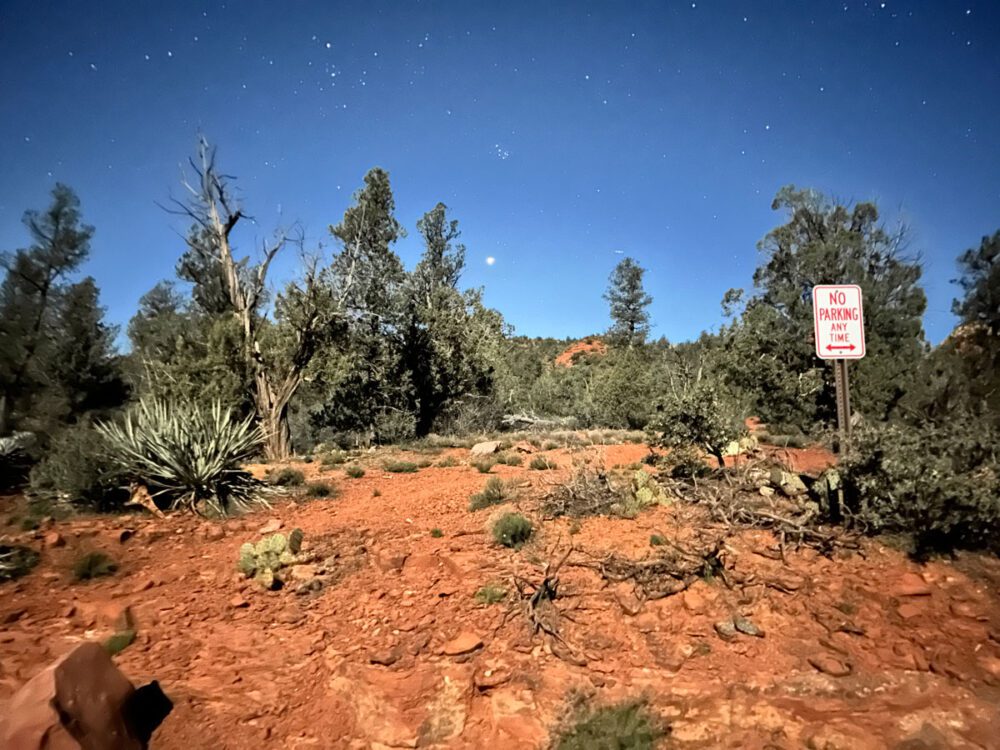 Day 5
Shopping: Outlets at Anthem / Outlets North Phoenix (Anthem/Phoenix)
Done with nature, Hipster Jr. Jr. decided she only wanted to shop. She is not a "shopper," mind you, but for some reason is obsessed with outlet malls. This one — as far as outlet malls go — is pretty fucking depressing. Granted, it was the middle of the week, but the football field sized parking lots were pretty much empty. Same goes for the acres of stores. This was more of a ghost town than the advertised ghost town we went to. Southwestern humor! We bought some socks. And Hipster Jr. Jr. tried on every pair of jeans from every store ever. It felt a bit like the zombie apocalypse and made me super-uncomfortable. The Vans store was cool, though, for what it's worth.
Lunch: Fresca's Mexican Grill (Anthem/Phoenix)
The mall has a really sad food court. One of those sad places is this joint, which is ostensibly Mexican? I mean it's in the name, so it must be. But imagine if you took a Chiptole chicken bowl and sapped it of any kind of taste whatsoever. Like somehow there are beans that taste like weak, soggy salt, rice that might as well be sawdust and some chicken that was boiled, blanched, poorly drained and then thrown on top of the other two items. It was tragic.
Shopping: Kpop Star H-Mart (Mesa)
Hipster Jr. Jr. loves K-Pop. The girl stuff, not the boy stuff. I don't really get it. She could not be more different than the women in the groups she watches and listens to, yet she can't seem to get enough of their merch. And that merch is plentiful and multitudinous. They actually sell physical CDs, but it's not the CDs the fans are after. The albums come with all sorts of goodies, like trading cards, posters, stickers and these fancy photo books. Her room is plastered with images of Korean women. I mean, there could be worse things. That said, she will look for any and every opportunity to buy these things in a brick-and-mortar store. It's not as if she doesn't also buy them online, but there's something special about walking into a store packed with all your favorite things. So she found this one on Google and I — the every-loving father — decided I'd drive her to it, despite it being nowhere near our hotel in Scottsdale. At least I got to see Arizona State on the way as I fought through insane rush house traffic. The store was not much more than one rectangular room with K-Pop stuff demurely laid out on shelves and bins. I think she lost her mind a little. Which was the whole idea.
Dinner: RA Sushi and Bar (Scottsdale)
What kind of sadists order raw fish in the middle of a land-locked desert? These sadists! At least this was the first of the "trendy" places we went to on this trip. It wasn't brown and dusty like the joints in Sedona. No, I imagine it does a robust, young-person bar business on Fridays and Saturdays. The dining room was decked out in red lanterns, the tables shiny and the music both good and absolutely terrible. Our server was upbeat and friendly. The place — which is a chain, mostly in Texas — felt like fun. I got a giant Orion lager, which was way tastier than it needed to be. We started with some garlic edamame — which, being a bean purist, I'm generally opposed to — but it was delicious. Then we just got a whole mess of rolls. Some normal, some "special." One of Hipster Jr. Jr.'s rolls had cream cheese, which I have avoided to this point in my life. As usual, both she and Ms. Hipster couldn't finish all their fish, so I ate mine and their leftovers. The cream cheese thing is still weird. But, overall, the sushi matched the atmosphere and lively nature of the restaurant. Faint praise, I know, but what is it you expect from Southwestern sushi?
Lodging: Hyatt Regency Scottsdale Resort & Spa at Gainey Ranch (Scottsdale)
Now this was a proper hotel. And resort, I guess. It definitely felt like I should have rolled up with a golf bag, but that isn't me. And isn't us. But our room was considerably nicer than the one in Sedona. Modern and clean. The hotel itself was bustling. There were live performances in the open lobby, kids fucking everywhere and even a guy walking around with a hawk that Ms. Hipster got a photo with. I think he was there to entertain the aforementioned kids, but Ms. Hipster can't resist winged creatures that even remotely resemble owls. And elephants. Anyhow, I think we were supposed to have a view of something, but we had a room with a view of something else. It was pleasant. All-in-all I'm certain it wasn't worth whatever we paid to stay here, but the vibe was positive and the room not entirely depressing. I do hope our next vacation will not involve sleeping in the same not-so-large room with one of our children, but it wasn't like we were going to pay to have a young teen have her own space.
Day 6
Lounging: By the Resort and Spa Pool
While this is both a resort and a spa, we took very little advantage of either. What we did do is take one look at the main pool and walk our asses straight over the "adult" pool. The other one was filled with those same children, splashing and doing what children do on vacation. The adult pool didn't necessitate you be an adult per se, but I think there's an understanding that small children, rambunctious children and splashing are not allowed. Unspoken rule, I suppose. So we just chilled on lounge chairs, read a little, talked a little and swam a little. The outdoor spaces here are nice. The pools are large and not too bad. They are definitely showing some age around the cement sides and there are a few grottos that are conspicuously broken or something. I think I read somewhere that they're due for a large rehab project soon, which would definitely be a welcome thing.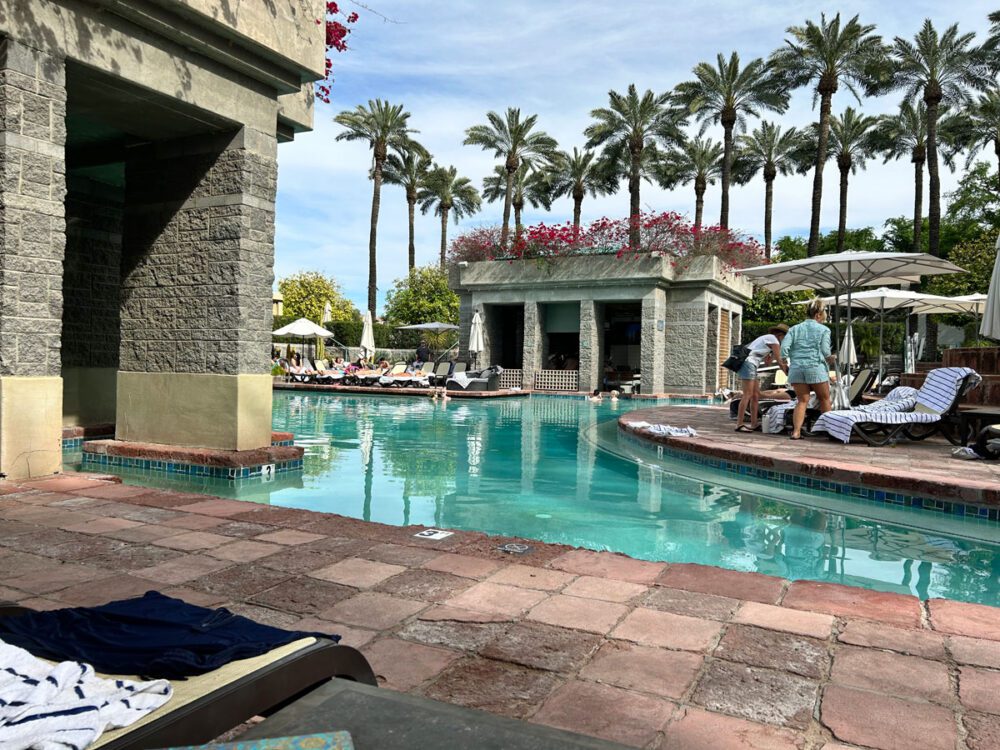 Lunch: H2Oasis (Scottsdale)
Eating by a pool is always dicey. You got your chlorine and your small end tables and slippy hands from suntan lotion and stuff. And the melty sun and just the general awkwardness of eating while lounging. But my chicken panini was surprisingly tasty. And not impossible to wolf down. As far as poolside lunches go, one could certainly do worse. Also beer.
Dinner: Pubblico Italian Eatery (Scottsdale)
So we leave New Jersey to eat Italian food in Arizona? I mean it's bad enough we ate sushi in the desert, but now I go looking for the noodles-and-ketchup, Henry Hill treatment? Luckily, non-East Coast cuisine has come a long way in the last 40 years. I'm sure they don't pronounce stuff like a proper Jersey wiseguy, but Pubblico made some decent Italian. The calamari was reasonably well appointed, and the meatball app (served over creamy polenta, topped with provolone cheese) sounded better than it was, but certainly wasn't bad. My old fashioned was a fun interpretation and did the right thing by skipping the dumb fruit and shit. Look, I'm a meat sauce guy. Even though I don't dig on swine in its whole form, I can generally ignore/stomach it when it's crumbled and supporting a hearty red sauce. Such was my thinking when I went with the rigatoni in Italian sausage Bolognese, topped with ricotta & mozzarella cheeses and baked in a wood-fired oven. I mean, c'mon. And it too was very tasty. I was a little distracted by the bordello-in-a-strip-mall decor, but at least they went and tried something. Though, honestly, it felt a little like a trashy sweet sixteen party.
Dessert: Handel's Homemade Ice Cream (Scottsdale)
I didn't actually eat the ice cream here, but watched Ms. Hipster and Hipster Jr. Jr. order smalls and basically haul away a wheelbarrow of ice cream. It's maniacal. I think it's supposed to be a single scoop, but they pile it to the brink of absurdity. I mean, it's seldom that you get what you pay for. But in this case, what you're paying for is clogged arteries and a lifetime of diabetes. But apparently the ice cream is actually pretty good.
Day 7
Lunch: New York Bagels 'N Bialys – Shea (Scottdale)
After an aborted adventure to Panera, we ended up at this joint. Which, once again, begs the question as to why we are buying bagels in Arizona when we live mere miles from some of the best bagels in the country? Because Hipster Jr. Jr. eats three things, and bagels are one of them. The folks here were very nice, and the bagels looked the part. Sort of. They accidentally gave me some bizarro bagel the first time around — maybe cranberry or something — but got it right on the second go 'round. Avoiding disaster with Hipster Jr. Jr., she said the bagel was ok, but just wasn't quite right. The facsimile of a NY bagel, but not quite doughy enough (instead of bready). My egg and cheese was just fine, if not really pricey for what we got. Especially for a casual joint in a strip mall. It's good to see my peeps making a living in the desert again, though.
Adventure: Southwest Wildlife Conservation Center – Walk With Wildlife Tour (Scottsdale)
There is a scant amount of obvious wildlife in Arizona. I mean, it's there, but the beige hides the beige. We saw a deer of some sort on our Pink Jeep adventure. And we saw some ravens picking from the dumpster behind our hotel in Sedona. But we saw nary a squirrel anywhere else. Until, of course, we intentionally came to a wildlife sanctuary. To see said animals behind chainlink fences and whatnot. Not that anyone would want a wolf or bear not behind a fence. That said, this place is way better than a zoo. Because it's all volunteer, the folks who work there have been there for a long time and know their stuff. And they're characters. And the animals are there because they were hurt, injured or abandoned in some way. With the intent to eventually return them to the wild if possible. They have mountain lions and bears and wolves and owls and some other cute things that give the red panda a run for its money (but not really). They even have a giant tortoise with a big personality. It was a fun way to spend a few hours. Even if this dude below spent the entire time howling. Which is honestly kinda cool.
Dinner: Roaring Fork (Scottsdale)
What is a trip out West without a steak restaurant? Granted, this is different than a NYC steak joint. It's more big plains and big bucks (the deer, not the dough) and less old school, old world steakhouse. Which makes sense. Like a lot of things out West, the restaurant is in a nondescript office park. Everything is just so new and integrated that there seems to be very few things that are freestanding and/or not part of a mini-mall or larger piece of infrastructure. It saps most everything of character, though Roaring Fork clearly strives for business casual clean and Southwestern modern. It's not charming, but it works. The menu is pretty typical steakhouse, with apps, steaks and sides. And like some fish and chicken for those who pretend to not like cow. I took a chance and got the braised beef short ribs with horseradish mashed potato and tomato jam. Short rib is always a crapshoot. Mostly it's disappointing. But for some reason a giant hunk of meat wasn't doing it for me. And, of course, I was kind of disappointed. But, as I suspected, Hipster Jr. Jr. couldn't finish her medium rare NY strip and Ms. Hipster couldn't finish her fries, so I got those too! And that steak was actually really good. Cooked just right, with a nice crust on the outside, fries crispy, but forgiving… Yeah, I think I'm done with short rib and won't be a dummy in the future. Though I really didn't need that pecan pie a la mode that I was set to share with Mr. Hipster. It was very good, but I regretted it almost immediately. Though not as bad as the person in the weirdo restroom that was down a hallway in the connected office building who apparently didn't like the succotash, or whatever he emptied into the sink (!).
Day 8
And so wrapped up our Arizona adventure. We returned the rental car — which involved just parking it in a garage and leaving the key on the dash — took the sky tram thing back to the terminal and were on our way. I think I ate some overly mayonnaised sandwich in the airport, and our flight home was super-pleasant. Amen.