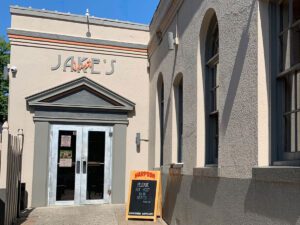 There is a college in Montclair. Not surprisingly, it's called Montclair State. And like any college, it's filled with kids who like and need to drink. I believe it's a bit of a commuter college, but for those students who stick around during the week and on the weekend, Just Jake's provides the perfect venue for those youngsters to imbibe a beer or seven amidst TV screens, live music and decent bar grub.
Not that it's all kids all the time. It is sometimes actual children, as it's one of the joints that Montclair's School of Rock has their programs perform. I've been there on several occasions watching Hipster Jr. and Hipster Jr. Jr. rock out on the drums from their well-equipped stage. Even Ms. Hipster has drummed there with an early incarnation of her current band. So, kid bands as well as adult bands perform regularly. Much to the chagrin of the aforementioned college students, I'm sure.
The afternoon and evening here tends to be dominated first by families looking to grab a decent burger or nachos and gradually by older locals looking to nurse a couple brews and maybe catch an NFL or college football or basketball game on one of the many screens. As evening turns to night, the students start rolling in, the music changes from classic rock to whatever the kids are listening to these days and it becomes a full-on college bar. We've been caught up in that transition a couple times and it's like a tidal wave of hormones that I was just not prepared for.
That all said, the bar has a really decent number of beer taps and the food is better than you'd expect. I can't vouch for the nighttime activities, but it seems over the past couple of years they've made a real effort to staff better servers and have put more focus on customer service. These days the beer I order from their extensive list is usually in stock and/or flowing from the tap, which wasn't always a guarantee in the past. It's a pretty solid bar experience all told. Not a lot of gimmicks or crazy Jersey stuff. Just beer, burgers, sports and music. Just Jake's.
---
30 Park St. – Montclair
973/655-8987
justjakes.com
---