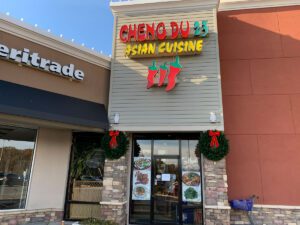 There is nothing like mall Chinese food. You have your Panda Express and something with the word 'Wok' in it… Yeah, I've never eaten mall food court Chinese. I grew up in a city with good Asian food. And depended on it for my Christmas Eve meals for years. So why, you ask, would we go to this Chinese joint at the Willowbrook Mall? Because, man, this thing isn't technically in the mall — it's just around the mall.
And, weirdly, this was a recommendation of Hipster Jr. Apparently he and his buddy had been here to eat their soup dumplings. After I shook off my initial shock that he actually ate a soup dumpling, I agreed quickly to go to this weird, little mall restaurant that is seemingly crammed into a corner of a mini-mall offshoot. Walking in is a little disorienting, as the joint looks way smaller on the outside than it is inside. And there is a fish tank with giant goldfish or koi or something eyeing you from moment one. I'm assuming they're ornamental and not meant for consumption, but perhaps they're some off-menu item that us non-Chinese folks don't get access to. The rest of the restaurant could be best described as upscale college dining hall.
Ultimately you don't go to Chinese restaurants for ambiance. You go for heaping piles of sauced proteins, noodles, dumplings, rice and general tasty foodstuffs. And Cheng Du 23 has it in spades. To Ms. Hipster and my shock, the grub was actually really decent. I watched as Hipster Jr. Jr. ate a soup dumpling! You don't live with us, but I will tell you that is almost miraculous. And she liked it! I, on the other hand, had no interest in eating a pork-filled dough thing with soup inside. So I left that to the swine gang.
Otherwise, our food was quite good. They do have the typical stuff like General Tso's Chicken and Orange Flavored Beef. But they also have a ton of Sichuan specialties that are accompanied by photos on the menu like Chicken with Jingling Bells, Ants Climbing a Tree and and Heavenly Chicken (which we actually ordered). Honestly, it's more of a struggle to find good Chinese in NJ than you'd think. And I suppose it doesn't matter if the actual place that you find is in the corner of a mini-mall or in a place that's more, uh, appetizing. Good food is good food. And despite the fact this is about the fifteenth place called Cheng Du something that we've come across, this one may be a keeper.
---
6 Willowbrook Blvd. – Wayne
973/812-2800
chengdu23.com
---