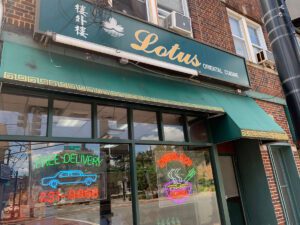 First there was Chinatown East. And then there was some place called Seasons. That was followed by two local Chinese joints named Sesame and then Chengdu 1, both of which closed. Whatever they were called, they were our local Chinese eateries and they are the life's blood of any and all families. Especially one whose patriarch was raised by New York Jews who have some sort of weird Chinese food thing built into their DNAs.
The thing with your local Chinese go-to is that it can't just be any Chinese restaurant. It has to be that perfect balance of price and quality. You don't want to eat from a place that looks and smells more like a rat's nest than it does an eatery. But you also don't want to break the bank for what amounts to a quick takeout meal. After all, it's not sushi. Or steak. Honestly, anything that comes in plastic containers and a greasy paper bag shouldn't cross that value rubicon. You also don't want to have to travel far if you're like me and refuse to do delivery unless being held by gunpoint. Chinese food should be quick, convenient and shouldn't break the bank.
It feels like Lotus – sitting just South of Montclair in West Orange — is a hidden gem of sorts. While it isn't as cheap as it was a couple years ago when we found it, it's certainly priced closer to the junky, smudgey storefront type Chinese joints than your average sit-down establishment. It's not going to win any interior design awards, but what they lack in, uh, furniture or, uh, anything other than a counter they make up for in austere friendliness and efficiency. It's a family affair, of course, with various children and whatnot doing homework at the desk behind the counter, taking call-in orders and grabbing fortune cookies. Not unusual at all, I know, but there's much less angry yelling here than even some of the others I've listed above. I once saw a man almost lose an eye after being startled by screaming when breaking the ends off of snow peas at one of the dining tables at Chengdu.
The food itself is tasty and rarely leaves me with heartburn or an MSG hangover. We tend to stick to things like General Tso's (Hipster Jr.'s fave), sesame chicken, beef and broccoli and like a cashew chicken. All of which are tasty and relatively plentiful. The noodle dishes and the fried rice, especially, are a little weird, which we remember every time we order it. Ms. Hipster is actually okay with it, but they use yellow rice and it's just not right. One of their better things is their brown rice. It's this nutty rice that is especially tasty and robust. They charge two bucks extra for it, which isn't great, but it makes everything it touches taste better.
Anyhow, I've put way too many words behind this greasy spoon Chinese place, but if you too have either lost, or are looking for a new local Chinese, you could certainly do worse than Lotus.
---
444 Main St. – West Orange, NJ
973/731-9968
lotusorientalcuisine.com
---