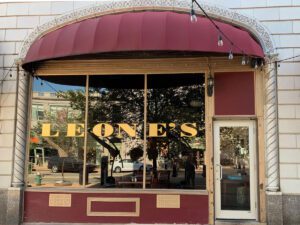 Leone's has been on Gordon Ramsay's show, Kitchen Nightmares not once, but twice. If you haven't seen that program, it entailed shouty chef Ramsay going into a failing restaurant, dressing down the management and staff, showing them all the gross shit in their fridges and then rehabbing their space, their menu and their attitudes. Most of the time, through the magic of editing, the establishment came out way better for it in the other end. I suppose Leone's came out half-better for it. Because when they went back for a second round, they changed the decor from this modern Italian style they did on the first show back to a more traditional (read, boring) state. To be honest, it's probably better this way. It's a family joint and didn't need what looked like WWII-era Russian propaganda artwork on the walls.
The restaurant itself has been around for some time, originally opened by the family matriarch, who has since passed away and passed the store to her son. I'll start with the fact he's seemingly a very nice guy. My issue is he looks just like this dude I went to college with who used to shower in our communal bathroom sans contact lenses. And that's fine until you realize that he had a thing against keeping his bar of soap in the stall with him when he showered. So you'd be standing there at the sink brushing your teeth and all of a sudden a large, wet naked dude would come blindly stumbling out of the shower right toward you to get his soap that was sitting on the counter above the sink you're standing at. So every time I see the owner standing awkwardly in the admittedly confusing entryway of this restaurant, I can't help but picture a mirror image of him squinting in his birthday suit soaking wet and coming at me like a myopic zombie. The guy in college was smart dumb. This guy is, uh, nice dumb.
How's that for an anecdote that has nothing to do with Leone's? Well, that's because there's not a ton else to report. The dining room is high-ceilinged and has large windows overlooking Park Street. It's pleasant, if not a little sterile. They've added a bunch of outdoor seating along the street, which can be pleasant on a nice night. If some jackass isn't holding up traffic trying to parallel park in front of the Urban Outfitters, that is. One server has been there for a million years. She was in the Ramsay show and gives away absolutely nothing. I'd call her a character, but she may be just a little too droll for that. The others have rotated. There was a dude for a while with magnificent eyeliner. But this last time we dined, there was actually a very nice young woman who unfortunately seemed to be the only person working the tables inside and out. Apparently not everything Ramsay taught them has stuck.
But the food. Hipster Jr. gets to-go slices there of their thin crust pizza and seems relatively happy. Mostly because they're fifty cents cheaper than the place across the street. We've had other Italian stuff there over the years and nothing in particular stuck out to me other than nothing stuck out to me. So we just generally get the pizza. It used to be decent. And then it was okay. And this last time it was not great. It's that wood-fired oven style pie, which I know isn't everyone's bag, but is very popular in this part of Jersey. And generally I'm a fan. But the room for error is great. Too juicy. Too dry. Which I guess translates to underdone and overdone. Leone's trends to overdone, which causes the thin pizza to be way too crunchy and the sauce to evaporate in a pretty unpleasant way. So you end up with cheese-covered cardboard and a need to constantly refill your Coke. Which ain't a great description for pizza. Maybe it was just a fluke this past time, but it feels like the quality has been heading that way for some time.
Judging by its trajectory (both service and food), they may be due for another check in from Kitchen Nightmares II, or whatever Fox or Bravo show has taken its place. Its location and space gives it some serious advantages that feel like they could be capitalized on better. C'mon people.
---
19 S Park St. – Montclair
 973/509-9077
leonesmontclair.com
---
View this post on Instagram