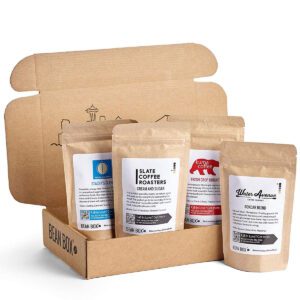 Ms. Hipster was nice enough to buy a subscription for me to Bean Box. It's a bean subscription service that sends you four 5-cup, whole bean packets of coffee on a monthly basis. The coffee bean companies, from what I can tell, are the equivalent of microbrew beers. Each with their own fun name and label. Each from a different bean-growing part of the world. It's like getting one of those beers of the world boxes, but coffee.
Thing is, I don't know much about coffee. I like coffee, but I drink the stuff out of the machine at work every morning. I never thought that much about the different bouquets and flavors and roast. Ms. Hipster took a coffee tasting class at a local coffee shop, which I missed due inevitably to being somewhere else for Hipster Jr.'s soccer. But having these beans dropped at my door once a month made me think more about where my beans come from and how they, like any complex product, can vary so greatly.
Each packet has 12 oz. of whole beans. That makes about half a pot, or about five small cups of coffee. Which is about two cups for normal people. I use a Mr. Coffee automatic burr grinder to grind the beans. I played around with the grind setting and am not sure I really ever got there. But I tried. And then I tried a couple different methods for brewing. I did the whole Moccamaster Technivorm 79112 KBT brewer, which is excellent, but felt like over-engineering for what should be a more humble experience. So I went to the Aeropress for the back half of the subscription. And, honestly, that method, because of having to make it one cup at a time, made me more aware of the smell of the beans, the flavor and just kind of bonded me with the whole experience more. Take it as whatever.
The thing is, I figured out that drinking this much coffee on a weekly basis and getting through all of the packets was next to impossible for me. Ms. Hipster would make a pot on the weekend of the store-bought stuff, leaving me with the choice of supplementing or just waiting until a WFH Friday to make myself a personal pot from one of the packets. And once I fell behind, the packets started to pile up. And even after Ms. Hipster wrote to them to cancel the subscription (for the very fact they had started to take up a lot of space in our coffee cabinet), the packets kept coming for months afterward.
Anyhow, it's a cool idea that can certainly break you out of just throwing whatever you got from Starbucks into the machine. To read the descriptions of cherries and leather and chocolate and actually try to taste that in your cup is a pretty fun learning experience. And while I didn't always connect with the stone fruit or licorice in the write-up, it was fun to try. In these times of being locked in my house and drinking more homebrewed coffee than ever before, I wish I had the service now to see me through.