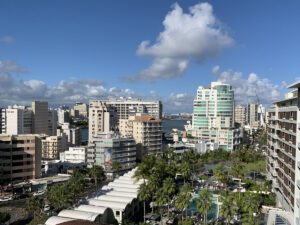 When The Hipsters go on vacation, they like to go right into the heart of danger. In this case it's not a hurricane or Nor'easter, but to a land that is in the middle of a string of damaging earthquakes. Granted, we made the plans months ago and couldn't have possibly know the ground would be shaking when we landed in Puerto Rico. Of course we were up in San Juan, which is essentially on the opposite side of the island from where all the action was. So we had little fear of anything. Though Hipster Jr. seemed inordinately worried about what floor we'd be on in our hotel should a tsunami come to get us without warning. It did not.
Ms. Hipster made a plan for us to be in the heart of San Juan, as Hipster Jr. and Hipster Jr. Jr. have short attention spans and can only take sitting around on a beach or at a pool for about two days before they get bored. This way, we had a city to navigate and streets to walk. It turned out to be a perfect plan.
The hotel: La Concha Resort
Usually Ms. Hipster makes us stay at hotels that have about 20 rooms, no elevator and sometimes require us to pedal a small bike to get air conditioning. Not so here. This is a large hotel that's part of a chain and has multiple pools, conference rooms and a few places to eat. And a tiny casino that I had no interest in entering. It has a late-50s, early 60s style that gave it a cool vibe that reminded me of those Palm Springs hep cat places. I also grew up in a 50s modern house from ages 1-10 and there's something oddly comforting about the style. They've clearly renovated in the years since the resort opened in 1958, but it retains that throw-backy thing. And lots and lots of water features. Everywhere there is water sitting and spilling and flowing. It's cool.
The room itself was small, but clean. We had to share a room with Hipster Jr. Jr. and Hipster Jr. slept in the living room on a pull-out, but it worked for the most part. There just isn't a great deal of variety in terms of rooms and configurations. And it ain't cheap, of course. Everyone who works there is nice and helpful and the folks staying at the hotel were way less party-ish and debaucherous than I imagined. There were definitely some bachelor/bachelorette parties staying there, but they behaved as far as we saw.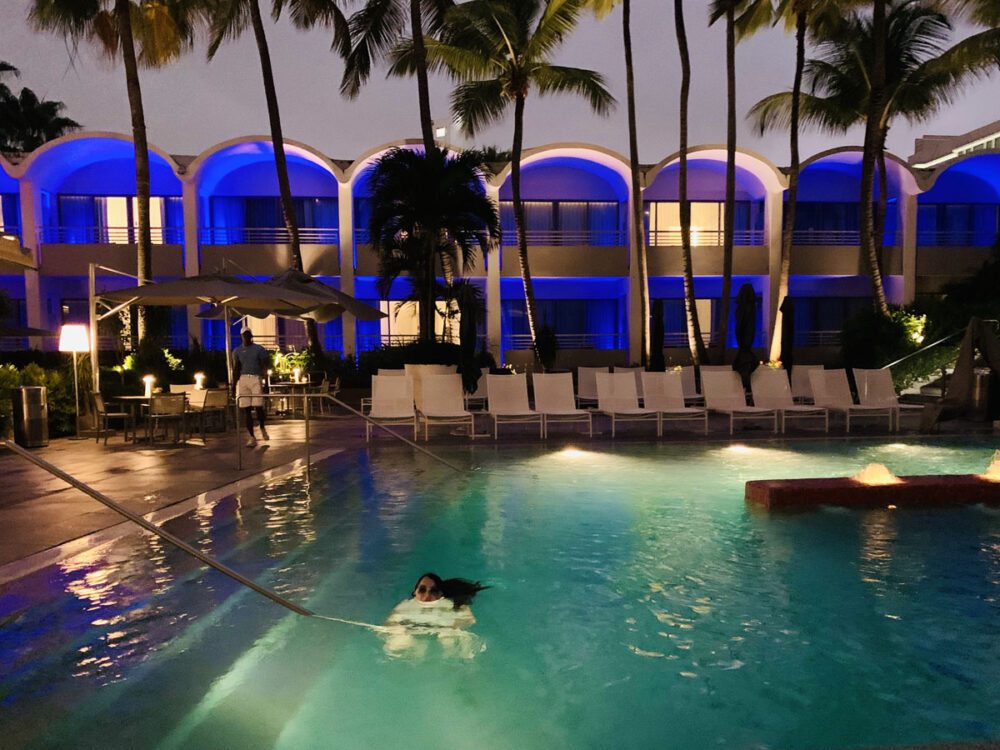 However… we had a room facing the main road, Ashford Ave. And it is loud as hell Friday through Sunday night — even on the 10th floor. To this moment, I have no idea what the hell was going on out there. Despite the double-paned glass leading out to our balcony (and a blaring A Soft Murmur sound app), we could hear drumming and yelling and lots of revving engines. And one night even some things that sounded a lot like gunshots (but were more likely a string of very large firecrackers). So just be aware that staying in the city has its advantages, but also its drawbacks.
Day 1
Midday Snack (after landing in San Juan)
Solera @ La Concha
Every hotel in tropical locations has a poolside restaurant. You know, the casual joint to order a beer or margarita and some chips. And, when desperate, some fried fish bites. This is that. It's convenient and friendly. What more can I say?
Dinner
Ropa Vieja Grill
Conveniently located a short walk from our hotel is this mostly outdoor Puerto Rican / Cuban fusion restaurant. It's a comfortable space on the main drag where mariachi-like bands and a dude on a saxophone played at the CVS across the street. Convenient for our dining pleasure. As with every place in Puerto Rico, the staff was incredibly friendly and accommodating. Though the service is slooooow. Not just here. Everywhere. The food was more than plentiful and delicious. Lots of beans and rice sides, along with more sweet plantains than you could possibly eat in a lifetime. Though we tried. Definitely a decent stop for a casual (though not cheap) dinner if you're in the 'hood.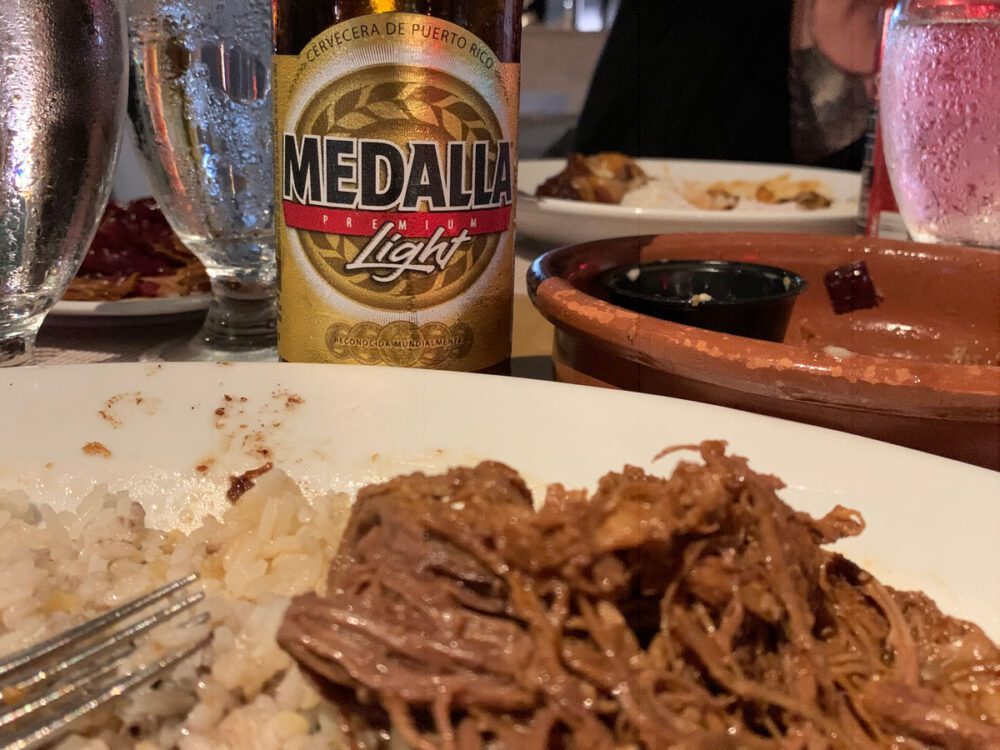 Here's the insanely long list of food we ate here:
Apps: Coronas de Calamares (Fried Calamari) & Buñuelos de Bacalao (Codfish fritters)
Mains: Churrasco Marinado en Jengibre y Salsa Soy (grilled skirt steak marinated in ginger and soy), Canoas de Ropa Vieja (Sweet plantain canoes filled with shredded flank steak and maybe some cheese?), Ropa Vieja, Cuban sandwich (minus all the good stuff because Hipster Jr. is picky)
Desert: Big-ass chocolate cake
Day 2
Breakfast
Pop Tarts and Kind Bars from the CVS down the street. Because we're classy.
Activity
Snorkeling at Vieques with Pure Adventure
We booked this trip through our hotel. I'm not sure why, as we paid a serious premium for it. But that's our problem. Also, the drive from our hotel in San Juan to the Marina from which you have to leave to boat out to Vieques is about an 80-minute drive. Which we weren't aware of — and made up the majority of the cost of the trip. The "limo" driver was a very nice guy, however, and essentially gave us a guided tour of the entire island on the way there.
One we arrived, we drove around what was apparently an abandoned US Naval Station. But is now the home of this lonely dive office and where boats can apparently anchor to take off for these excursions. The Pure Adventure guys were awesome. The rules about drinking before snorkeling are way more strict than they are in other places where we've gone out like in Mexico and Turks and Caicos. But, no worry, we still had a great time. The boat was solid and despite the choppy seas, we got there safe with our 20 or so other boatmates, hung out and saw a Green turtle, an endangered Hawksbill turtle, a few rays and even an octopus. A great day.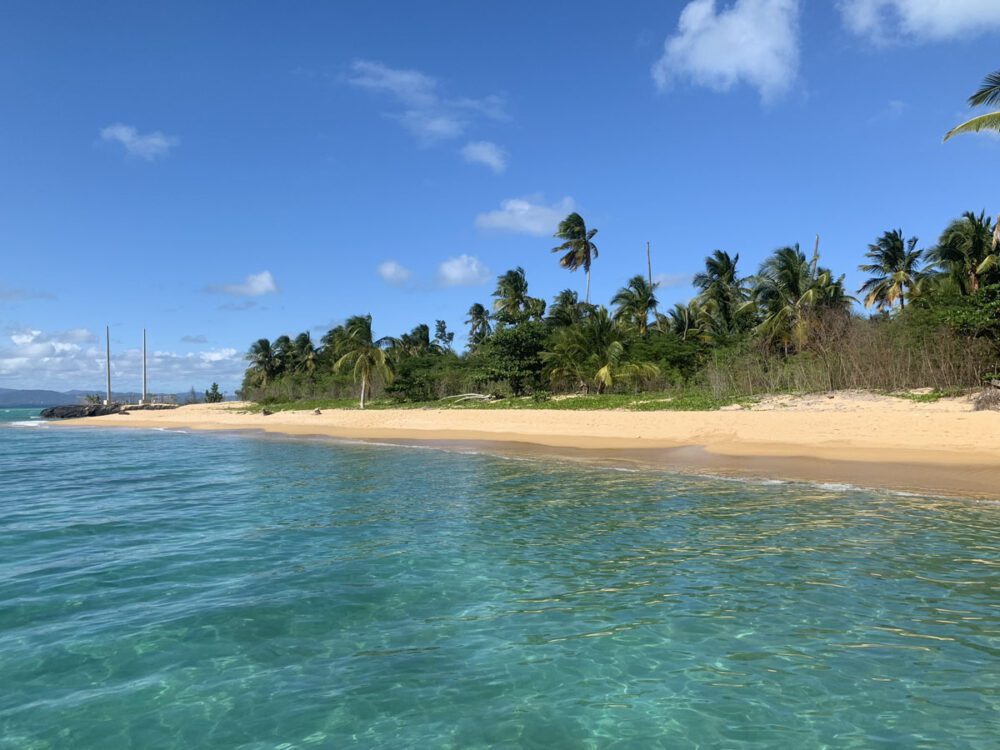 Dinner
Waiter's Bar & Grill
This place doesn't look like much from the outside. In fact, it looks a little sketchy. But inside it's just fine, and the owner(?) is a super-nice dude. We had some coconut shrimp for an appetizer because Ms. Hipster just can't resist. Seriously, there are things on a menu that just make her order them no matter what. They were good. I got Arroz Enchurrascado, which is basically a dome of rice with skirt steak inside. Imagine nice, buttery and oiled rice with well cooked steak in it. It was plentiful. And it was good. Ms. Hipster got the same, but chicken. Hipster Jr. got baby back ribs with a guava mango bbq sauce. We literally thought he was going to eat the bones he loved them so much. Hipster Jr. Jr. got a burger. She doesn't like anything. And, of course, we got some sweet plantains on the side. All in all, this place was a find. Though, like everywhere else, it took longer to get food than we would have expected and cost more than it should. Overall, though, it was a cool little place.
Day 3
Sunday Brunch
The Loft Beach Front
This is a breakfast buffet in our hotel. It's overly expensive and not particularly good. The dining room is fine and the view is nice. But I've had better stuff for half the price. And I'm terrible at buffets. The potatoes were the best part. The omelette bar was understaffed and they weren't great at getting new stuff out when it ran out. It was fine, but that $19 pre-packaged bagel Hipster Jr. Jr. ate seems a little skewed.
Activity
San Sebastián Street Festival in Old San Juan
By complete coincidence, we were in San Juan during the annual San Sebastián festival (San Se 2020). We had planned to visit Old San Juan to see the fort, walk the streets, get some souvenirs and all that sort of stuff. But this was a bonus! Thing is, everyone from our taxi driver to the dude by the hotel pool to the waiter at our restaurant said not to go after dark with children. They hesitated and then sheepishly admitted that people get really drunk and a little out of control. So best not to bring the niños after the sun goes down.
We managed to get an Uber to the bridge that leads to Old San Juan and made our way in. And, as they said, it was a party. Even in the early afternoon some people were well into their cups. It was all friendly and everything, but there are about a 1,000 bars, restaurants and bodegas, all of which were offering three Medallas for between $3 and $5. People carried those stupid yard things (which are actually only a foot, I guess) but most everyone of age was drinking something. Coca-Cola had a huge presence as well. So did the 2020 Census, oddly. Everywhere you turned there were people and music and noise and sloping cobblestone streets and colorful buildings. Apparently there are usually more musicians and artists, but the earthquakes scared some of them off. It was a good time despite that. Not unlike New Orleans. And not only because of the lack of open container laws. It was just a giant party with bands roaming the streets, lots of dancing and an admittedly friendly vibe (at least while the sun was up).
We couldn't get an Uber to where we were, so we ended up walking the few miles back to the hotel. Which would normally put Hipster Jr. Jr. in sour spirits, but she figured out they have some cool Pokémon in PR, so she was happy to stop every five feet of the long walk to capture virtual weird creatures.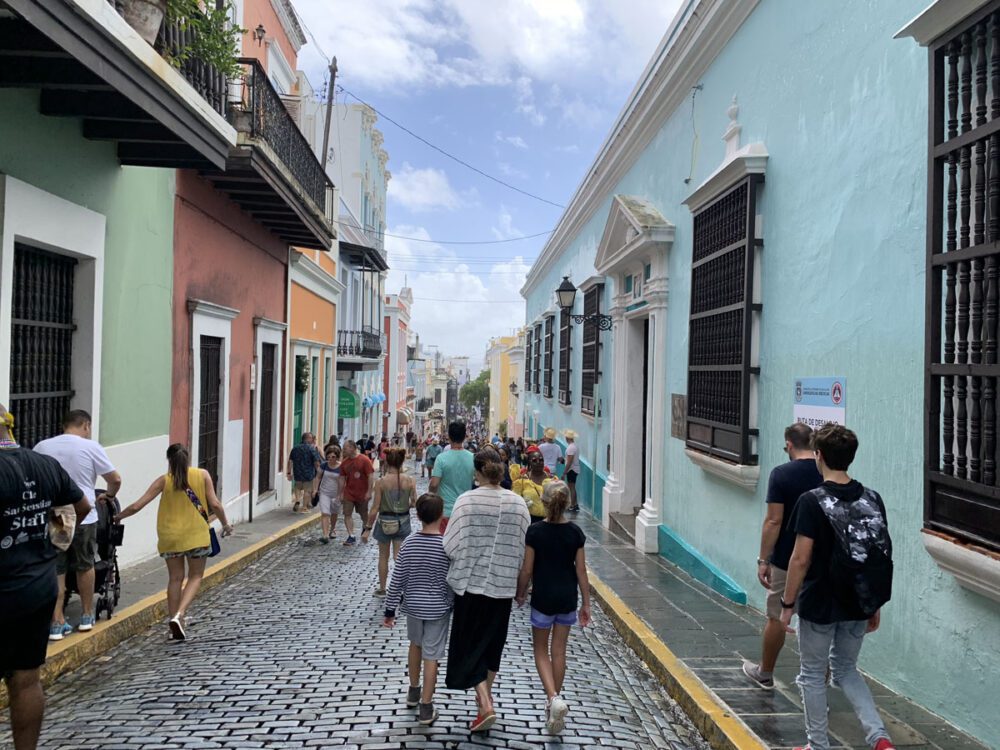 Acitivty
Day By the Pool at La Concha
Unfortunately the seas were particularly rough the days we were in PR. We got the snorkeling right in under the wire, but any water stuff after that was had in the multiple pools on the grounds. Both Jrs. would stay in the pool until the end of time, so Ms. and I got some reading done in the warm weather and enjoyed some cervezas and relaxation while they swam until after dark.
Dinner
Serafina San Juan
We'd done a decent job of sticking to native foods during our meals, but we were beat from walking around all day and wanted to just do something convenient. And also, we knew Hipster Jr. Jr. would most likely be able to find something here. So, Italian. The restaurant itself is sort of attached to our hotel, though isn't technically part of it. It's also confusing because there's an actual Serafina hotel (with the same font face) up the street. No idea what's up with that.
Anyway, I've mentioned how slow the service had been in San Juan, right? Well, this one hit an all-time high. We were there for what felt like three days. I didn't mind because it's a pleasant space and the music was 90s entertaining, but if we were on the mainland, they would have comped us desert or the whole meal for as long as we waited for our food. That said, we got some fried calamari (because, of course) and burrata with prosciutto di parma. I don't eat ham, so I skipped that, but the burrata was nothing to write home about. Lucky we did order that, because it was probably another hour or more before we saw our entrees. The Jrs. got pizzas, which seemed decent. Ms. Hipster got some sort of light pasta and I got rigatoni alla bolognese, which was actually pretty good. Granted, I was really hungry and a couple beers down when it showed up. So it could have been out of a can and I wouldn't have known a thing.
Day 4
Breakfast
Waffler Avenue
Finding a joint around us where we could just get some coffee and some pastries seemed to be very difficult. I'm not sure exactly why. But we walked by this joint on the way to the car rental place and just went in on a whim. They had coffee — which turned out to be pretty good, actually — and like three muffins. Two of which were in the Jrs. wheelhouse. So we lucked out.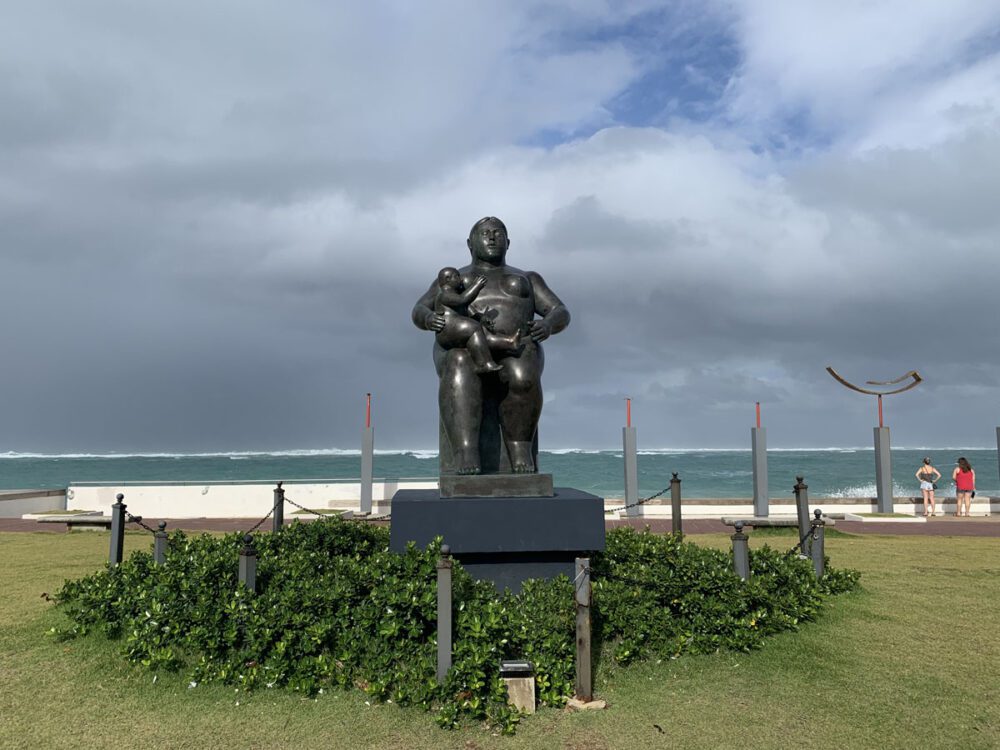 Breakfast 2
Starbucks
Realizing that only the kids had stuff to eat and needing a restroom, Ms. Hipster went to a Starbucks next to the car rental joint and got a pumpkin bread and some other weird shit. It was fine.
Acitivty
El Yunque National Forest
We took our rental car out to the forest, which turned out to be a really easy trip. Driving up into the rain forest was also kind of fun, winding up the mountain to the different parking areas at the bottom of the many trails. I would highly suggest you rent an SUV of some sort if you're planning this trip, as the roads aren't great and it is a rain forest, so the roads also tend to be moist. It was actually raining in the rain forest on and off while we were there, so it certainly lived up to its name.
Unfortunately a bunch of the trails are still closed following Maria, but there is still plenty to see. And, boy, are rain forests cool. The trails we went on were generally thin, rough cement pads snaking through the jungle. If you're going up and someone is coming down, one of you generally has to put one foot into the soft ground to make way. It's not what I'm typically used to in terms of trail surface, but I imagine if they just left it natural, people would sink into the mud and/or end up on their asses more times than not. We've all seen Romancing the Stone. That's pretty much this. But, you know, with roads and stuff.
The coolest thing is that at the elevation of the forest, you can actually look out over the whole island and see where the ocean meets the land. We would have seen more hadn't we basically been stuck inside a cloud at the mountain's apex. But it was still really cool. Oddly, the only animals we saw were a couple lizards and maybe a bird or two. The jungle itself is rather silent. Not what you'd expect given the lushness of the surroundings, but that's what it was. Even the frogs around the pool at our hotel that came out once the sun went down provided some nature sounds. But not here.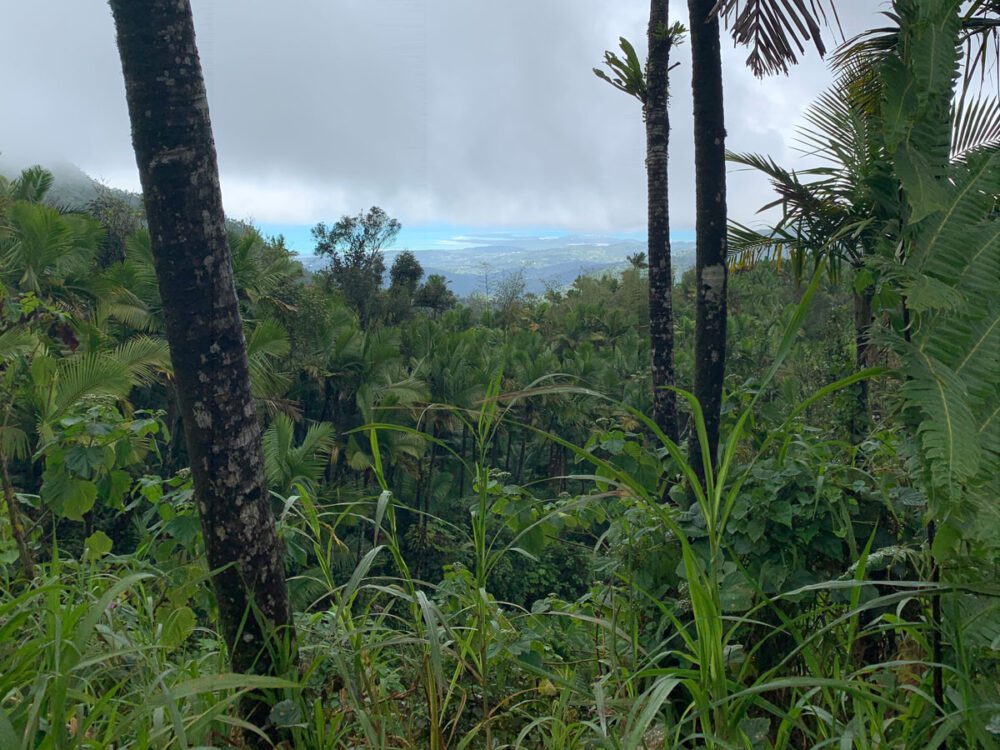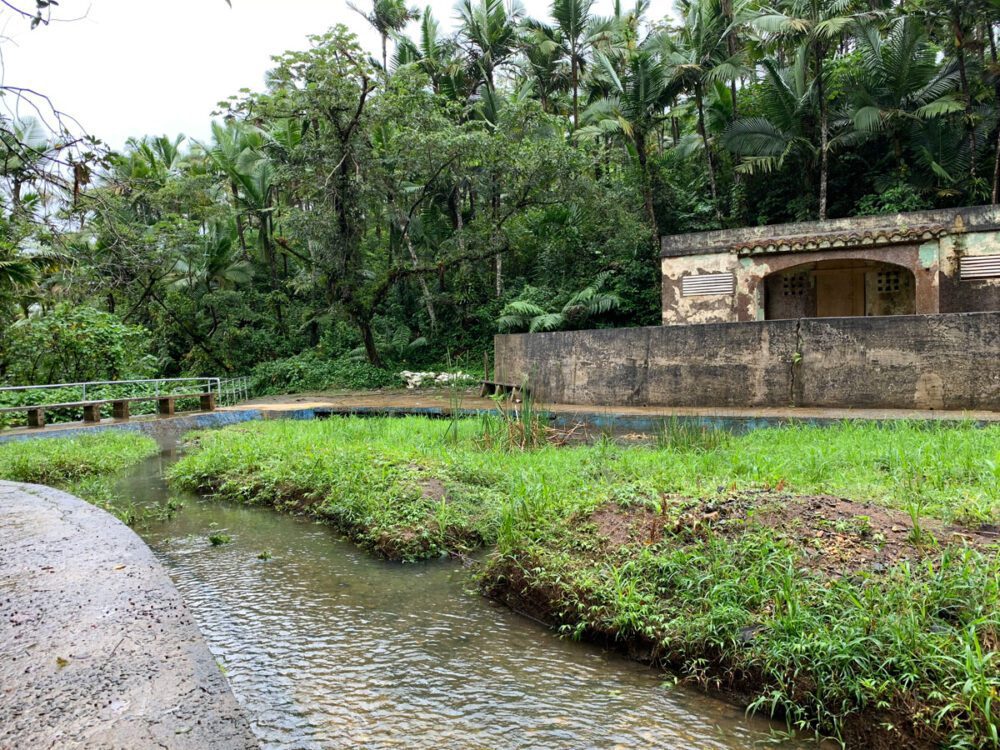 Lunch
Luquillo Beach Kiosks – Terruño # 20
Apparently these beach kiosks are a kind of famous thing in Puerto Rico. They are what you'd imagine. Bars and restaurants all in a row. Sixty in all, I believe. They run from street food to full service restaurants. But all are relatively rustic and open on their backend to a beach. We parked at one end and walked the line. All the street food kiosks seem to serve similar fare. Fried things. Fish things. Meat things. Mostly in fried shells of some sort. I can't say they looked particularly clean, but I suppose that's what makes them street food. Some kiosks were still closed during lunch time, but had what were clearly bottles of beer strewn in front of them from the night before. So, this place must be hoppin' at some point later on in the evening.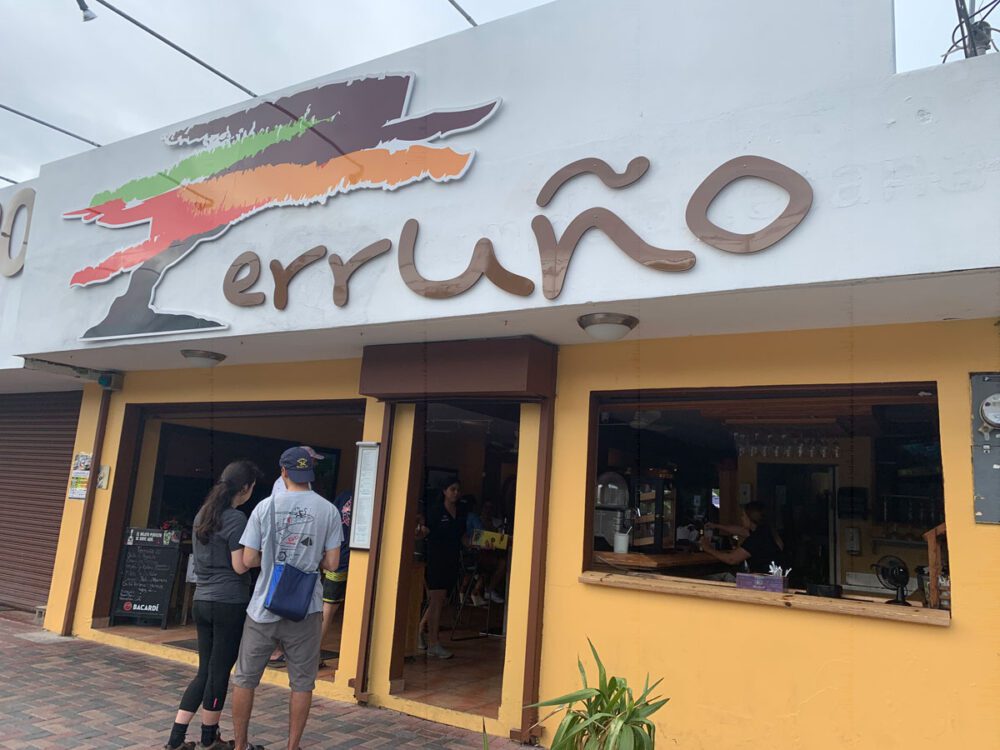 We ended up at Terruño, a full-service restaurant that our driver to the snorkeling adventure had suggested. I think we bet wrong. Again — and I know I sound like a broken record — the service was sooooo slow. Like eye-rollingly slow. And the food more expensive than it should be. Hipster Jr. had mahi-mahi with some sort of sauce on it. I had chicken mofongo, which tasted pretty good, but a couple chunks of chicken were a little more spongy than I would have liked. Ms. Hipster had fish chunks and some other weird grilled sausage appetizer. I don't think she was thrilled. But — and this is a first — Hipster Jr. Jr. got wings and really liked them. So let's call it two out of four. Anyway, there's no sense in coming to this joint when you can enjoy some way cheaper street food from one of the other kiosks. My whatever for a time machine.
Early-evening snack
Ben & Jerry's
Because nobody seemed particularly satisfied with their lunch, we hit up the ice cream place on the walk back from the car rental place. You know what this place is. The only thing I realized is that Ben & Jerry's mint ice cream isn't minty enough. So at least we learned something. And also, it's a reminder that despite the foreign-feeling surroundings, we are still essentially in America. Oh, there's also this: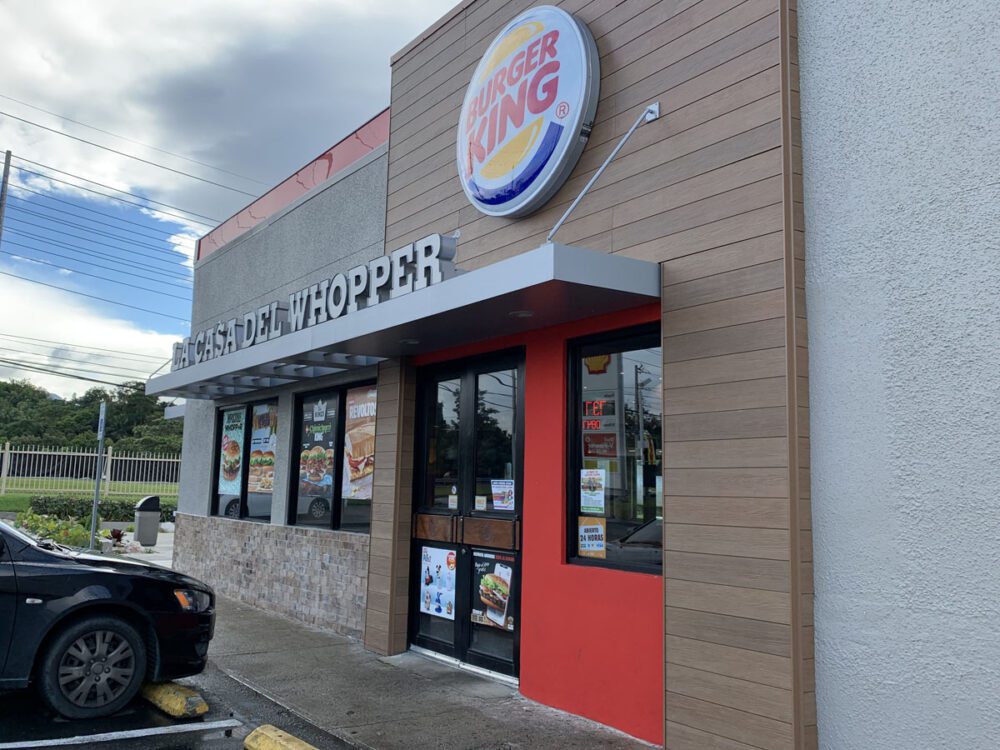 Dinner
Kabanas
So, another slow experience. But another pleasant one. Sitting outside on a side street around the corner from our hotel, we went kind of pseudo Mexican? I got a couple ahi tuna tacos and a steak taco, Ms. Hipster got steak tacos, Hipster Jr. got a steak sandwich and Hipster Jr. Jr. got another burger she didn't like (because, again, she doesn't like anything ever). And, let me tell you, those tacos — while not at all traditional — were delicious. Especially with a couple beers. The taco shells were almost like fried pita or something. I can't really describe it, but the shit was tasty. Everyone else, save Hipster Jr. Jr., was happy. And despite everything taking way too long, it was a chill place that I enjoyed thoroughly.
Day 5
Breakfast
In our wanderings to find Band-Aids for Ms. Hipster's flipper-damaged toe on night 4, we went back to that musical CVS. And to our excitement, there was a big sale on boxes of candy (four for a dollar). So we got SweeTARTS, Gobstoppers, Sour Mike & Ike and Sour Patch Kids. There were still some Gobstoppers and SweeTARTS left, so I think we mostly ate those for breakfast.
Lunch
Buns Burger Shop – Candado
We needed something that wasn't going to take two hours. Thus this fast casual four-store chain burger joint. We figured since Hipster Jr. Jr. had essentially rejected the last two burgers (one for being "weirdly marinated" and the other for being "too mushy") we were fine trying for the third time in five days. The burgers were fine. Better than Burger King, not as good as a Five Guys or Shake Shack. As usual, I ordered way too many fries. And then we left for the airport and went from 85 degrees to 25 degrees within a matter of hours.
CONCLUSION
Puerto Rico, in our experience, was an incredibly friendly and inviting place. Coming from the East Coast and from the US in general, it's very convenient. You can obviously spend US dollars, everyone speaks English and they drive on the correct side of the road. I'd compare the driving to NJ in terms of the quality, however, so if you plan to rent a car and are from a state that has decent drivers, you may want to think twice.
Anyhow, I would highly recommend the experience for individuals, couples or families. There seems to be something for everyone. If you are more adventurous than us and want to ride horses, zip line and do that kind of stuff, there's certainly that. If you want more rustic, non-city experiences, they have that too. And it's all relatively accessible and within driving distance. Just do it.