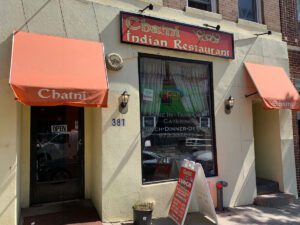 The history of Indian restaurants in Montclair is a bumpy one. They've come and gone. And then opened almost right next to each other only to disappear again. Chatni is the sole survivor now in the Montclair city center scene. An uninspiring one, but when it's all you have, it's all you have.
So, what can we say about Chatni? Well, they make and serve Indian food. Which you'd hope is a baseline for any Indian restaurant. It's honestly hard to tell the difference between Chatni's chicken tikka masala and the few neighbors it's had over the years. Sometimes the sauce is thick, but mostly it's too thin. Some of the korma or madras you wish had a little more flavor, a little more heat, or the chicken a little better texture.
But mostly you wish there was some consistency. Too thick. Too thin. Too little chicken. Mostly that. Honestly, Indian used to be a relatively inexpensive meal. Now one dish is $17? That's way too much for what you get. Way too much. We always get this to go and when I open the container, I can count like four chunks of chicken and a couple other, smaller chunks. Add it up and it's like maybe two thigh's worth of chicken. Maybe. That's $8.50 a thigh. Not okay.
That all said, I do love Indian food generally. Chatni's naan is actually pretty decent. And the food isn't bad per se. But just unimpressive, uneven and not a great value. Frankly, the town could use some new Indian blood. I think as of the beginning of 2020 that the town is down to two Indian joints, this one and Brick Lane Curry. That's fine, but Montclair is a town that likes choice. And god forbid if we have to drive to Bloomfield to satisfy our curry cravings.
---
381 Bloomfield Ave. – Montclair
973/337-5753
chatnimontclair.com
---