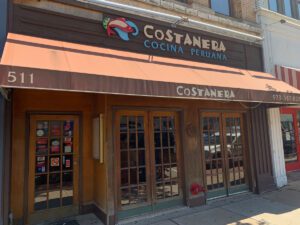 [CLOSED]
I can't say that I had a ton of experience with Peruvian anything before eating at Costanera. I think those dudes with the pan flutes at the Third Street Promenade in Santa Monica when I was a teenager were maybe Peruvian? And apparently Paddington Bear is Peruvian for some reason? Otherwise I'm sure they've exported some soccer players and maybe a writer or two, but I don't even think I can locate that country on a map. Also, I'm bad at geography.
My general ignorance and Peru-specific blindspot aside, they make some really tasty grub. Especially if you like seafood and steak. And who doesn't love fish and cow, besides maybe vegetarians and, well, fish and cows. Especially when they're generally doused in flavorful pepper sauces, salsas or chimichurris. You know, the stuff with sautéed onions and pickled things. Spicy and textural.
The Costanera space itself is relatively small, but is packed with personality. There are funky animal art things hung about, and the walls are lined with architecturally cut tree stump sections. It's a little odd, but at least someone made the attempt. It's a comfortable dining room when not packed and is relatively darkly lit with windows only in the front of the restaurant, so it's a cozy place to pour yourself a big glass of red wine and settle in for a multi-tiered meal.
I've been here a few times and have tried to mix it up ordering-wise. And everything I've had has been pretty excellent. Of course we had to have sweet plantains. They're like god's bananas. And we've had crispy yucca, which can shock the shit out of you if you think you're biting into a French fry, but once you get used to their starchiness are pretty good. I believe Ms. Hipster even did the chili-dusted crispy potatoes with spicy pork chorizo appetizer, which, if I ate swine, would probably be delicious. I've had the lomo saltado, which is sliced hangar steak cooked in a wok. One of the few oddball Asian-influenced things on this menu and apparently common in Peruvian cuisine. I also had this crispy cod thing, and when I hear "crispy" and fish in the same sentence, I'm in.
This is one of those joints where you really can't go wrong. It's unique and not especially expensive for what you get. I have definitely left here full as hell every time. Starch, seafood, rice, sauces. It's a formula for yum.
---
511 Bloomfield Ave. – Montclair
973/337-8289
costaneranj.com
---