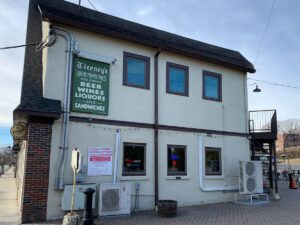 If ever there was a local watering hole, Tierney's would be it. The bar that every band in town — and Montclair has about one million of them — has played at. Including the one or two iterations of Ms. Hipster's band. The bar that still has a couple standup video games and a jukebox and has been run continuously by the same family since before WWII. And — thank god — has updated their tap selection in recent years, maybe cleaned the lines and has managed to morph with the times without really changing a damn thing.
The outside is clearly nothing fancy. It's basically a box along a mixed residential/commercial road that looks not unlike the multi-family homes in the area. But, again, that gives it that neighborhood feel you want in your local bar. The crowd varies depending on time and day of the week, but it's certainly a mixture of middle-aged-to-older locals early in the evening, to middle-aged to college students in the later evening and night. That's downstairs in the bar area. Which is basically a large, square central bar with stool seating all around it and tables against the walls. The bar is the older dudes, the tables are sometimes families and then sometimes groups of 20-somethings. There are TVs with Yankees/Mets and Devils/Rangers games on. I'm sure there's also soccer and golf as well, but I'm not often there to watch sports.
The upstairs room has a small stage and is usually booked for those musical acts I mentioned above. There's a smaller bar up there with a limited number of taps (so I always order downstairs and bring my beers up). I've seen so many shows up there, I don't even recall the number. The wife's band, friend's bands. Strangers' cover bands. The sound is pretty decent given the room, although I've also left there with some ringing. The stairs going up and down were clearly constructed before they had any kind of regulations — or maybe understood how gravity works. I'll just say that it's a good thing there's a railing, as descending with a couple drinks in you is like watching one of those mountain goats clop down a sheer cliff.
Did I mention the burgers? I didn't! I should have led with that shit, but I'm a professional and I wanted to build suspense. There is nothing quite like a Tierney's burger. Coming out of a kitchen that is more like a closet with an ancient flattop grill, these burgers are the quintessential bar burger. I'm not sure how often they clean the grill, but we all know that the less you clean, the more layers of flavor you get. And when you order that thing medium rare, it's a true medium rare. On a paper plate. Which soon becomes a blood-soaked mess. Perfect! Throw those together with some fries and rings — which come out of a fryer that probably also hosts mozzarella sticks, wings and perhaps some crack cocaine without an oil change — and you have a great meal to pair with your IPA or Guinness or whatever you choose from their evolving and revolving menu of beers.
Tierney's is a comfortable meeting place that is low on pretension and has a high quotient of familiar faces. If you're looking for the hipster joint, this ain't it. If you're looking to meet your Grinder date, you may want to suggest another spot. In fact, if you're looking to pick up anyone of any quality, you may want to book it to another, trendier establishment. But if you dream of bloody cheeseburgers, crispy fries and a couple brews with friends, this is the Montclair classic.
---
136-138 Valley Road – Montclair
201/463-3052
tierneystavern.com
---
View this post on Instagram