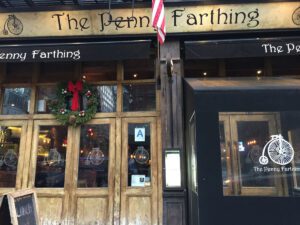 There are bars out there that you only end up in late at night and can't seem to recall with any type of sharp clarity. These are generally those pubs that are large enough to fit a group of co-workers who have decided to stick it out well after the main event has waned. You know the place. The cavernous, but poorly set up, generic space that is really only useful because it can seemingly fit the eleven people you have with you, including that one asshole who can't stop swaying and staggering. And he needs his space. It could be any place. It could have any personality, as long as there is room. This, Penny Farthing, is such a place.
A bar that seemingly has a bunch of beers on tap, but the most "out-there" brand they stock is Lagunitas. The sheer disappointment you feel when you walk in and see a bunch of taps and then realize everything is an Anheuser-Busch, MillerCoors or Heineken product borders on soul crushing. And you stand there staring incredulously at the bartender wondering how they have the balls to call this atrocity a "gastropub" when they can't even give you a decent pint. And he shrugs and tells you that he knows gastropub is a bit of a stretch and that they really kind of go half way to being a sports bar, but call themselves a gastropub because they can markup the prices of their brews that way. It's all kind of a lie.
And it's all just a bit sad. Maybe it's just the situations in which I've been here, at the dying hour of an evening grinding to the inevitable pooling of Irish goodbyes. Or maybe it's the bar itself, with its lack of personality or inattention to its booze and wonky setup. Either way, the potential of the space, with its immense amount of wood, exposed brick and iron work has potential, but ultimately feels like that Crate and Barrel table you love when you get it home, but loses a lot of luster once you see it in five of your friends' apartments in subsequent weekends.
---
103 3rd Ave. (bet. 12th & 13th St.)
212/387-7300
thepennyfarthingnyc.com
---