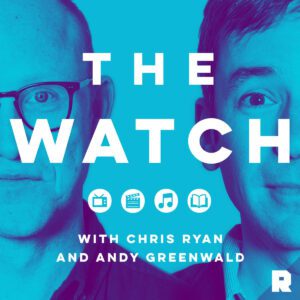 Apparently this podcast is officially 300 episodes deep. In fact, this isn't even the first iteration of this pop-culture podcast. Its original title was Hollywood Prospectus, which involved the same duo, Andy Greenwald and Chris Ryan, back when Grantland was a thing. After its demise, the duo followed Bill Simmons to The Ringer network, Simmons' new venture. Actually, of the two, only Ryan is a Ringer employee. Greenwald is like a permalancer or something, but the two of them seem pretty inseparable since their Philly days together as young men in the 1990s. Years on, they've both ended up in LA and like to talk about dumb, esoteric LA stuff, but quickly seem to pull back as their East Coast homerness kicks in. Greenwald, a relatively recent transplant from NYC, blanches more than Ryan, who looks to have embraced his LA-ness in an almost ghoulish fashion.
The podcast was started by these two former music writers and in Greenwald's case, media critic, to review and talk about television. Which, up until about fifteen years ago, would have been a waste of time (unless you wanted an all-Sopranos TV pod). Of course there were no podcasts fifteen years ago, but maybe it would have been fun to get those deep takes back in the day when Alf or Airwolf were the only games in town. As it stands, TV has come a long way in the past six to ten years with HBO and FX and AMC and Netflix and Amazon and all the other networks and platforms who understand the rise of peak TV. Or that the focus, as everyone gets bigger and better televisions, on home-viewing and the understanding that television can actually compete with cinema like never before. So it opens up a whole world for two heady guys to cover the genre on a weekly basis.
But, luckily for us, there is great television out there for us. And The Watch really acts as a great map of what is and isn't worth our time as the ever-expanding landscape gets amazingly complicated. Netflix drops an awesome show out of nowhere on a monthly basis and, depending on the algorithm, you may never see it surface on your home screen. So listening to these guys talk about what's in and what's important is a great guide. And while I don't necessarily always agree with their takes (I find Greenwald a little precious sometimes and Ryan a little too into stuff I don't care about like comic books and horror) they definitely have a great rapport and bring what appears to be ad-libbed knowledge and recall that is goddamn amazing. And it's just high-minded enough to make it way better than my shitty, bottom-feeder takes in television, but they're also really loose and funny and engaging. I've tried some other pop-culture podcasts from Vulture and a couple others and just couldn't hang with some of the stiffness or formality around them. Or the patter just didn't feel natural. These guys are clearly comfortable with each other, are old friends and their inside jokes have become ours.
The podcast does stretch beyond television at times. They do, of course, bring film into the conversation often. They also have a book club, The Double Down Bookclub, that suggests mostly crime fiction for their listeners to read and discuss on the pod. It's super manly. Ryan is also a big basketball and soccer fan and turns up on other The Ringer Podcast Network on those subjects. Greenwald was actually a staff writer on season one of Legion and just wrapped production as a writer and executive producer on a pilot for a TV show adaptation of the book, Briarpatch. They are also huge music fans, as both of them worked at Spin/Spin.com and love old hip-hop and alternative music. Greenwald even wrote a book or two on music and appeared in Meet Me in the Bathroom as himself. So sometimes they'll mention and talk about albums, which is always great. They do interviews on occasion with showrunners, network execs, directors and even a few actors or musicians now and then. Friend of the pod, Sam Esmail (of Mr. Robot fame) was first a fan of the pod and then ended up calling in and challenging them in their Mr. Robot takes, and subsequently takes in other TV. In fact the Briarpatch pilot Greenwald wrote is also being produced by Esmail, presumably through their relationship built through the podcast. They also had a Game of Thrones aftershow called After the Thrones on HBO. And, on a personal note, they now record the podcast from Sunset Gower Studios in Hollywood, the site of my first post-college gig working as a PA on a show for a season in the mid-nineties. It's definitely not as sexy as it sounds.
Anyway, with more and more TV coming out every month, there doesn't look to be any end to this pod. You can jump in at any point and enjoy their witty banter. I feel like if I saw one of these dudes on the street I would wave like he was an old friend, forgetting for a moment that he was just another voice coming through my Momentums on the train.