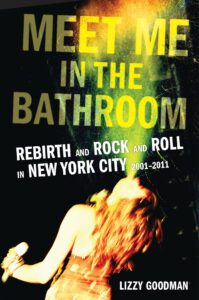 This book is the real deal. And, look, man, I know of which I speak. I interned at Capitol Records in 1992, I.R.S. In '93. I worked at Interscope in '97/'98 and Island/Def Jam from 2002 – 2004 and Sony Music from 2009 – 2012. And somehow in all that time I was never even remotely — even one ounce — as cool as any of the people in this book. I wasn't meeting The Strokes in the bathroom to do coke. I wasn't doing Ketamine in the bathroom with famous DJs. In fact, the only thing I was doing in bathrooms during this time was peeing really quickly and trying to get the hell out before something jumped from the urinal onto my junk. I was, however, at some of the same bars mentioned in the book, as is evidenced by the reviews on this site. In fact, a lot of my time at these bars actually predates 2001, where the narrative of this starts. So, maybe I'm a trend-setter? Anyway, here's a sampling of some of the bars and venues talked about in the book that I happened to also go to:
2A (at which Ms. Hipster and I once threw a joint birthday gathering in the 90s), 7B, Bar 13, Black & White, Bowery Ballroom, Darkroom, Hammerstein Ballroom, Irving Plaza, The Library, The Magician, Max Fish, Mercury Lounge, Niagara, Nightingale, Northsix, Parkside Lounge, Slipper Room, Whiskey Ward
Plus the participants brought up places long-gone like The Academy, Coney Island High, Maxwell's (in Hoboken) and Tramps, which I totally went to way before the Internet and this website and, in the case of the Troubador in LA, went to in high school — waaaay before the Internet. Of course, this is an oral history, which means that the narrative stars the characters who actually lived it. The issue being that most of them were really, really high or drunk when these things were going down, so a lot of the stories involved things like "we were at this dive bar somewhere in the East Village that I think was somewhere on Avenue A, maybe…" so I'm sure there tons of other joints I've been to that they were referencing that I can't quite be sure are what they are.
Anyway, this thing wasn't about me, it was about them. Them being the bands, record industry folks, journalists and hangers-on who lived through the rebirth and cooling off of the rock 'n' roll scene in NYC between 2001 and 2011. The main stars of the book are The Strokes and Interpol. Or at least they're kind of held up as the two bands that brought the rock scene back to prominence in a city that had long been dormant in that arena. Its not as if rock music wasn't being played in Manhattan, it's just that none of it was coming out of Manhattan. So people came through the city from other places (Seattle, Chicago, LA, etc.), but we weren't exporting anything of our own. There was no buzz. It was a wasteland according to those who participated. And then along came The Strokes, who not only looked the part, they played the part, making cool-ass music and partying like rock stars! Interpol brought their own vibe, putting a more sophisticated play out there, but also enjoying their drugs, ladies and late nights as much as their filthier-seeming brethren.
There are many others who figure prominently in the 640-page book, bringing their own unique experiences, drama and influences. For instance, the germ of what would become the NYC aesthetic and really the birth of NYC cool was traced back to Jonathan Fire*Eater and the bizarre effort of major labels to court a band in 1997 whose music had absolutely no commercial appeal, but whose front man and his cohorts just oozed cool. They begat The Strokes, who ultimately were huge in NYC and huge with the critics and fellow bands, but somehow managed to not parlay that pinnacle of rock coolness to world-crushing popularity. This became the story of the whole scene: not necessarily style over substance, but a scene that meant more to the inhabitants of the city that needed and wanted it so bad than it did to the rest of the world. And in these bands they had their totems. But they, like everyone, are just humans with human frailties and a Behind the Music just lurking over their shoulders.
An oral history is hard to encapsulate in a post. It's a bunch of people talking on the record about a topic. In this case you have all sorts of people from this world telling stories about their life and times in New York City, their tours, their band formations and break-ups. Their dealings with managers and labels and everything in between. Sometimes the same story will be told by multiple people from multiple angles with opposite or varied results. You've seen this a million times in sitcoms where several people tell the same story from their own point of view, and depending on who's telling the story one person can go from hero to villain and back based on who's telling iot. The book's author stays completely out of the way as far as I can tell and just lets artist after artist admit drug use, bad behavior and generally bad decision making. It's kind of fascinating getting a glimpse into that world, even though I was kind of living on the periphery of it and a being one of those fans who didn't realize all that was going on with the cool-people set.
My question is: who is this for? Who, beyond someone like me, or anyone who kind of lived in or around NYC during that time would be interested in this book? Sure, there's some voyeurism, but there is a lot of inside baseball and I have a hard time imagining that this would be even one quarter as interesting of a read without the nostalgia factor. As it stands, my interest ebbed and flowed depending on who was telling the story. I cared not a bit when they were talking about the weird DJ club things and most of the DFA stuff, but my ears perked up when it revolved around the rock bands that entered and left the picture. It's also interesting reading this in an era where mainstream rock has all but died in our culture. They do allude to it as we entered the Vampire Weekend and Grizzly Bear era of anti-rock, bands that on the surface play rock music but are far from interested in being rock stars (and acting like them) like their predecessors. The whole thing comes off as kind of bittersweet, as it was a time that was super-cool and super-fun for those involved, which we are unlikely to see again. But, honestly, do we need coke-addled rock stars, debaucherous clubs and more difficult people inhabiting the public consciousness? Perhaps we don't. But perhaps we do, if it meant that rock and roll could come crawling back from the primordial ooze from which it came.
Here's a list of some additional bands who either contributed to the book or were mentioned whose albums I've reviewed: Bloc Party, British Sea Power, Kings of Leon, LCD Soundsystem, Liars, Libertines, Courtney Love, The National, The Rapture, TV On the Radio, The Walkmen, The White Stripes, Yeah Yeah Yeahs.