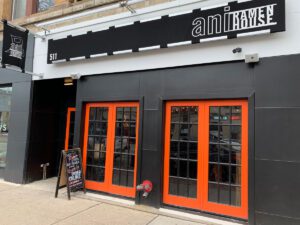 If you ever felt like you needed to eat ramen inside a comic book, Ani Ramen might be your thing. The lighting, the noise level, the high-contrast black-and-white paint and busy wallpaper. The murky lighting, combined with the Halloween color scheme and dark everything certainly doesn't scream ramen joint. Honestly, I'm not sure what exactly they're going for. Maybe like hipster, emo anime?
Anyway, the space is small. It's blisteringly loud. And because of this there is often a wait to get a table. They try their best to make things uncomfortable with these metal chairs. And they bring out your food pretty damned fast. But it's popular mostly because of all the things I've mentioned. I mean people seem to love ramen, that's for sure. But is this the ramen they like? Honestly, I don't know. Because I generally don't eat ramen. In fact, I've barely eaten ramen before. And going to Ani didn't add to my numbers.
Instead I did the Don Buri Bowl. Which, to the best of my recollection, is basically a chicken and rice bowl with some pickled veggies in it. It was fine. Not bad, not great. It seemed like something put together on a conveyor belt and not individually considered if that makes sense. It's a volume business, after all. I also had some soy-glazed bao buns. Something that I'd first had at Momofuku Noodle Bar in the city — though they were short rib. So I was spoiled. And, as expected, Ani's were nowhere as good. Again, they were just fine. But nothing memorable. There was also some edamame, which everyone seemed to like but me. It tasted kinda chemical-y. I'm an edamame purest and just like 'em steamed with some sea salt. Anything more just kind of takes away from the experience.
Look, I don't eat pork parts. And the only ramen on the menu without pig is the veggie broth. Which I'm sure is fine, but sounds kind of boring. I guess beef or chicken just isn't a thing? Though I did have chicken in my ramen at the aforementioned Momofuku and the now-closed Ramen Lab in NYC. So I know they can do it. Anyhow, it's not all as bad as I've made it sound. The place is fun. And I think would have been a little better with some BYOB rather than the room-temp bottled sodas and cups of ice they brought us (a pet peeve of mine). Look, it's a lively place. It's hoppin' and is probably a good joint to go yell over the din at some friends. Food is secondary. And sometimes that's just fine.
---
511 Bloomfield Ave. – Montclair
973/707-2085
aniramen.com/montclair
---