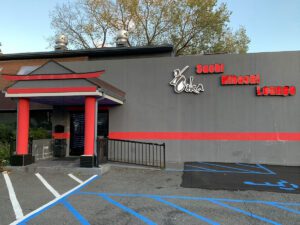 There is no way this place wasn't once a strip club. From its oddball parking lot placement to its location along a non-descript road, to its interior that feels remarkably like the back of a bachelor party limo, it has all the hallmarks of a gentlemen's club. In NJ.
But, let's put that aside, because there were definitely children present. Lots of them. At our table, in fact. A couple were ours. A couple were not. And those who were not were not known to us. Because this is hibachi, which means sharing a large cooktop table with strangers. In an ex-strip club. Sorry, I just can't get past that.
Like most hibachi joints, I'm pretty sure this one is popular. We went early evening and got right in. But by the time we stuffed our faces, there were many willing customers milling about the lobby waiting to take our place. I advise getting there early, as I imagine it can get pretty packed. Despite the space itself being pretty large.
So you enter into this big, dark restaurant (or is it a "lounge" as its name implies?) and are seated at a very Benihana-like table with some other folks who are just as horrified to be sharing that table as you are. There is a definite pacing thing with the servers that lets you know they need to turn the table as quickly as possible. Which is fine. Come hungry, eat quick, leave stuffed. That's what I always say.
Assuming you're doing hibachi, it's a pretty simple process. You order your meat choice, which comes with some other stuff. A little salad with that orange/yellow Japanese dressing to start. A little soup. And then the show starts. The chef comes out and throws a bunch of veggies and eggs and rice and noodles on the steaming table. He shoots sake into your mouth several times from great distances. The kids get Sprite. Because they are responsible that way. They do a little show, chopping things with a spatula and occasionally throwing stuff in the air and creating walls of fire. It's a thing. We also ordered a couple appetizers because we're gluttons: spicy garlic edamame (which were a big hit) and rock shrimp tempura (which Ms. Hipster can't resist and were fine, but nowhere near as good as the edamame).
But, ultimately, you get some really tasty fried rice and noodles, a bunch of veggies, some shrimp and whatever meat you ordered. In our case everyone got strip steak. I got a strip steak and chicken combo. The meat was pretty darned good. And plentiful. The show could have been a little flashier, but the two Kirin Ichibans and several gulps of saki had me digging at the porcelain plate. So I didn't care that our server wasn't like the David Blaine of hibachi magic. The rest of the Hipster clan enjoyed their meals as well, but ended up bringing back a bunch of food, as they are cowards and care about making themselves ill by overeating in a dangerous way.
Anyhow, we had a fun time. The food was decent (and not horribly priced) and sent us away satisfied. Plus, it's a place everyone in the Hipster family was happy with. Little do they know that the whole place used to smell of powdery perfume and was covered in sticky glitter and dollar bills.
---
166 Main Ave. – Clifton
862/899-7005
ookahibachiclifton.com
---