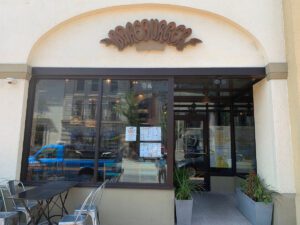 I first had Bareburger at their Chelsea location back in the day. Ms. Hipster and I were in the middle of some modified paleo diet in front of a trip to Anguilla. So I ate a burger wrapped in a lettuce leaf. I don't suggest it. The hot fat just sits in the veg, creating a flood of scalding grease on bite one and it just goes downhill from there. That was like seven years ago and I have moved waaaay away from that paleo nonsense, so I've gone full bun for the Montclair experience.
Let's get this out of the way: Bareburger is some nouveau hippie shit. Like Ben & Jerry's type shit. Their restaurants, including this one, are all wood and homey and kind of barn-like. I'm surprised they don't have a CBD burger on the menu. And what do you pay for their rustic charm? Twelve bucks for a basic burger. Fifteen bucks for a burger with some bacon and mushrooms. And that comes with absolutely nothing. No fries, no drink. Maybe some water out of a reusable glass pitcher. A side of frings (fries and rings), which serves one, is six bucks. In fact, just a side of sweet potato fries is six bucks. A milkshake? Eight bucks. A shake with some junk in it? Ten dollars!
Now, I wish I could say their burgers suck. But they don't. They're actually quite tasty. Nothing fancy, but tasty. I wish I could say the burgers were big. They are decidedly not big. I've heard the shakes are excellent from Hipster Jr., and he has become quite the shake connoisseur. And the fries and rings are decent, though inconsistent. You know, sometimes the rings are overdone or too fried-ish. But, ultimately, the food is decent, the help is friendly and for a while they made their own sodas, which was kinda cool. Now they just serve single Boylan bottles at $3.50 a pop.
So, if the grub is good and easy for the family, why don't we go there all the damn time? Well, because for a family of four, a single bill comes out to around a hundred bucks for some burgers, fries and drinks. It's verging on absurd. And these, once again, are not overly generous portions. Seriously. A hundred dollars for a simple lunch in New Jersey is not ok. Obscene, I tell you. But, hey, Daddy Warbucks, if you're down to clown, you could do worse food-wise than our friends at Bareburger. So fire up that platinum card and mosey on down.
---
480 Bloomfield Ave. – Montclair
 973/509-2273
bareburger.com
---