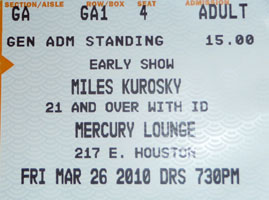 When one of my favorite bands of all time, Beulah, broke up I cried. Okay, I didn't cry, but was kind of bummed out, but not surprised. After all, their last album was titled Yoko. Kind of a precursor to bad things, right? Where would I place my cup of sunshine now? Now I would never get the opportunity to repeat the incredible experience I had at the Bowery Ballroom back on 10.16.2003 when Beulah headlined a show at Bowery Ballroom, John Vanderslice opened and we were all treated to a mind-blowing experience that still ranks up there with one of the best shows I've ever seen!
I mean, I knew Kurosky would be back at some point spreading the indie rock love, but year after year went by and nothin'. And then the album announcements, the sneak EP and the album itself! And then the show at Mercury Lounge full of dudes in black-rimmed glasses and chicks who just didn't care that their side ponytail was neither ironic nor stylish. Kurosky himself, in his short-sleeved button up, looked liked any number of dads on a soccer sideline, but chattered in between songs in an oddly Tarantino patter. Checking his watch after each and every song in order to not run over the bands' time limit as the early act, you could just feel the crowd waiting for him to bust out into a Beulah song or fifteen. The horn section stood ready. The sardonic smile on his face said it all. And then "Landslide Baby," one of the best break up songs of all time, enthused the crowd and got it higher than a seventh-grade me watching Springsteen in the pot-smoked choked confines of the old L.A. Sports Arena. He went on to play a couple more oldies but goodies and quickly bid us adieu and took off.
The show cemented both Mercury Lounge and Miles in the annals of my music watching history. It should have been much longer and more people like me should have jumped on the Internets to purchase their tickets the second they went on sale for fear they'd sell out. It turns out that hipsters have a short memory and don't recall what was essentially indie rock hipster's hipster band (with a touch of nerd) once they stepped form the spotlight and took jobs working at like the Dairy Queen or whatever. Anyway, Mr. Kurosky is back, and is hopefully up to big things in the future.