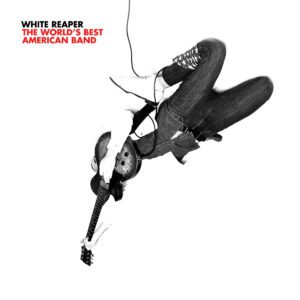 Like The Strokes in acid wash jeans, White Reaper tear it up on their latest album, keeping a weird hipster streak alive despite sounding like dudes who are most definitely wearing white t-s, red-and-black flannel and a jean jacket with another tied around their wastes a la John Bender. This would definitely be his favorite band. And who was cooler/not-so-cool as John Bender?
The mix of classic rock power chords, guitar slides and vaguely familiar riffs makes this an all-around people pleaser. It's soulful enough to satisfy the old-school Black Keys fan, guitar-riff-heavy enough for your AC/DC fan and rough enough around the edges and the production for your indie rock aficionados. The production manages to somehow support all three aspects of the music without making any of them suffer. It's really a feat. Plus the fact the thing is jam packed with hooks. Like great pop hooks that make the songs really feel timeless. This could be 2017, but it could just as easily be some time decades earlier, as the guys meld everything into a really great amalgam of musical deliciousness.
It's funny, it owes as much to Jay Reatard as it does to Springsteen and even Jackson Browne. If you can imagine that all kind of put in a really weird blender with a sprinkling of some of the more tuneful Ramones songs blended on in. It's American jukebox music. It's parking lot Camaro music. It's the band that kids in the seventies and eighties would etch into the cover of their notebooks or scratch into their school desks (kids these days with their laptops). Maybe I'm a sucker for the nostalgic sound and feel of the music, but I could honestly listen to this album over and over without getting sick of it. "Judy French" has been on heavy rotation for me of late. It carries me on a rock and roll cloud on my walk to work through NYC every morning and starts off my day with a blast of positivity and awesomeness. (See the video, starring the engaging Alexandra Daddario, below.) Definitely high on my best-of list for 2017 so far.