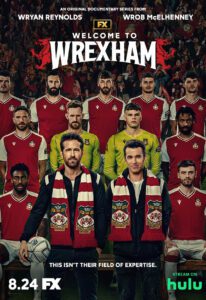 Let's put the controversy to rest: it's soccer. But really only because we already have a sport in the US called football. Which is a sport that is almost exclusively played with your hands. Except for two specific dudes on the team who come on every once in a while to kick off, kick a field goal or punt. So, two dudes on a team of 53 guys use their feet in a game that is literally called football. This logic would tell you that kicking is the most important part of the game of American football. It's not. Why not call it puntball? Or kickball? Oh, right, we already have "sport" called kickball. In which the main action is kicking a ball. So, why isn't baseball called hitball or batball? Anyway, that's not what Welcome to Wrexham is about.
What the show is really about is Ryan Reynolds and Rob McElhenney. A Canadian and a dude from Philly who is a huge Eagles fan, but seems to know next to nothing about the "beautiful game." But regardless if their North Americanness, the two men — who were supposedly strangers to one another prior to joining in this endeavor — decide to buy a depressed Welsh soccer/football team, Wrexham A.F.C. Why? Because they are famous comedic actors and someone at FX thought it would be entertaining to watch these two dudes struggle to understand what they'd gotten themselves into. Kind of a rich-guy, fish-out-of-water documentary. Where two out-of-touch Hollywood types take this institution that's been a part of a super-blue-collar town in Wales since 1864 and attempt to not come across as out-of-touch and ruinous of the one thing some of these people still have left in their lives.
But, of course, that's the cynical interpretation. And certainly not how the producers sold it. Instead they looked at this sports documentary as the love story between a town with very little going on and their football club that closely mirrors the flavor and fortunes of the town it reps. The town of Wrexham that was once a thriving hub of the industrial revolution, but has fallen on hard times as the world has moved away from the particularly dirty mining industries that this area supported. The club, too, has seen their prominence decline to the point where they find themselves in the National League — which is the fifth tier of professional English football. That far down, I believe it's considered semi-professional. There is a big difference between the fourth and fifth tiers in terms of money, prestige and all sorts of things. So the setup for the season is for Wrexham to finally win their league and get promoted into the fourth, professional tier. Only by winning can they change their trajectory and finally overcome decades of administrative and ownership turmoil off the pitch and disappointment on it.
Insert two rich dudes with money to burn on the crumbling stadium (which is apparently the world's oldest international football stadium), buying some decent players and a new manager. Not that money solves all ills, but in football it seems to solve more than most sports, what with their oddball transfer rules and weirdo ways dudes move around with no consideration for loyalty. It helps to attract talent, of course, when you have guys who can tell anyone coming to the team (including new sponsors, TikTok, Expedia and Reynolds' Aviation Gin) that they'll have global exposure on a television series and spokespeople who, in the case of Ryan Reynolds at least, is one of the most overexposed stars we have. The dude is absolutely everywhere.
The series kind of switches back and forth between our two stars and their realization of what it takes to run a [semi]professional sports team and the stories of the players and coaches over there in Wales. Essentially Ryan and Rob fret over the hundreds of thousands of dollars they have to pour into stadium improvements, getting some players who actually know how to the play the game, an experienced GM and a coach who comes down a couple pegs to try to manage a bunch of weekend leaguers. None of which you know would happen if it weren't for Deadpool buying the team. When we're not watching them in their manicured yards and beautiful houses in LA, we get the backstories of a bunch of folks either on or affiliated with the club in Wrexham. The longtime supporters, the dude who owns the pub where everyone watches the games, volunteers and, of course, the young men who go out there to play every weekend. The weird part is that those two sides of the equation don't really come together until well into the season. There are some Zoom calls and whatnot, but mainly we see Rob watching matches with his young son in the very early morning PST from his couch. And Ryan being a goof on the set of whatever 27 movies and commercials he's filming every day. There's a disconnect there that kind of kills a bit of the impact things could have. These are not dudes with a passion for soccer/football. Rob is clearly a passionate Philly sports fan, but his knowledge of the sport is pretty much nil. We see it grow over time, but the real story sits with the inhabitants of the town and their ups and downs that mirror the club's.
Like any sports documentary, the underlying tension comes from the team's performance on the field. So while we get to know the players and fans, we have to watch some kind of garbagey soccer between some sad teams in some dreary locations. But, quality aside, good filmmaking could make the fate of a Pop Warner team feel important. They did do a good job of making us understand how much this team means to people — and the expressly British concept of it being the hope that kills you. We get the passion of the fans, and the impact the team's struggles have on them. But I did find the actual soccer action and focus on that goal of promotion to be a little lackluster. Or just inconsistent. The season is 18 episodes long, and there are a few weeks where the energy just waned a bit. Those episodes tend to be the ones without any match play. Sometimes there'd be a couple episodes in a row with no actual football being played. So the pacing could feel a bit sluggish when that tension wasn't amped up. I imagine some of that is because they didn't have decent footage from every game, considering some of the matches look like they were played in pretty antiquated surroundings. Or perhaps it was just a rights thing? Of course, even some of the footage they do have wasn't even remotely up to the quality of the Premiere League stuff we're used to seeing. It looks more like dad filming the high school game.
Whatever the case, I think the human side of the story is certainly a good one. Having been schooled in English soccer by Hipster Jr., I have a pretty good idea of what's what in terms of the business of it. And having played the sport for a bunch of years, I know how hard it is to be really good at it. And no matter the fact that I knew this was a documentary, and not a scripted series, I still expected things to work out for the team in a very specific way. And was surprised when it didn't. But I guess the biggest compliment I could give is that I cared. I cared that they didn't get everything they wanted. The townsfolk and players alike. Even if some Hollywood machers gave them every possible advantage. And I guess that's what makes sports interesting and exciting. On to season two.