So, I've finally beaten the jinx of the weak-ass celebrity sightings! Or have I? What kind of props do I get for spotting one slightly worn-out, slutty diva? What do I get for spotting her at a meat market like Houston's? Does it mean as much if a friend actually saw her first and pointed her out? Does it diminish the coolness if I craned my neck and exclaimed, "Are you out of your fuckin' mind? That chick is in her fifties and completely bizarre looking?"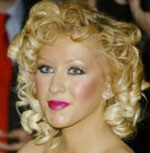 This is basically what I saw sitting in the booth, but way more orange. She had the same exact blonde, curly mess going on, but her skin was an odd orange color that I can only associate with fake baking–although this looked more like she took a trip to the Cheetos factory and made out with Chester Cheetah. The Betty Boop look was also very, um, strange, and I couldn't help but think that the thing on her head had to be a wig.

I obviously haven't kept up with my Christina news in the past five years, as I was still under the impression she looked like a blonde version of Jennifer Aniston. What the hell happened to her? Look at most of your teenage celebs out there. They generally start off cute and fuzzy and then transition into cute and sexy. Then, maybe they start shaking some ass or appear in a pillow-fight scene in their underwear (or in a wet t-shirt kissing an upside-down Spiderman). Then they realize the error of their ways, and want to be taken as a serious artist, so they start wearing sweater-sets, go to India to pet some starving children (with Entertainment Tonight in tow), or get arrested protesting an animal testing lab with PETA. It's not until much later, when several of their albums and/or movies tank that they start entertaining the offers from Playboy (which by that point doesn't want them), and they end up living out their days as the spurned lover in late night Cinemax movies with Marc Singer, Eric Roberts and Jeff Fahey. Apparently Aguilera skipped that whole process and went directly to weird, Dracula sextoy.

"Why can I still see my reflection?"